Outdoor Resin Wicker Dining Sets
Having a large area for outdoor dining, try one of these Outdoor Resin Wicker Dining Sets from Walmart by Baner Garden.  The set will include a large table and six chairs with cushioned seating.  The chairs can be used for casual sitting after dinner and will slide all the way under the table when you need to store them between uses.
If you are looking for a dining set with the wicker look, I think this set will work well for you.  We will look at the details of this set and what makes it one of the best resin wicker dining sets for outdoor spaces.
I have a link below if your just want to know the current pricing and details of this set.  If you are looking for a more detailed look at this set. read my details below before going to the purchase page.

Resin Wicker Rattan Garden Dining Set
Price when article was written:  $622.52 (brown)
Where to get for the best price online: Walmart.com
Details on this dining set
A steel frame that is powder coated will support the chairs and table.  The resin wicker is available in two colors, brown and black, you can choose one that works best for your outdoor space.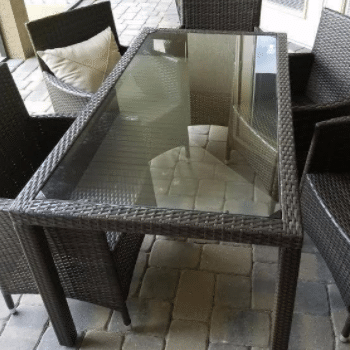 The table will have a tempered clear glass insert, if broken it can be replaced.  It is 59 inches long, 31.5 inches wide and 28 inches tall.  Resin wicker will cover the square legs and the table top surround.  No hole in top for umbrella, no lower leg support.
All of the chairs will have flat top arms and an arched design on the bottom skirts.  The resin wicker will cover all surfaces.  Cushions will have zippers on the end to let you remove the cover for cleaning.  White cushions are included for the chairs, some customers said the cushions are not thick enough for long term sitting.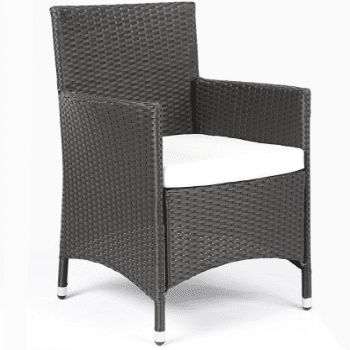 Each chair will support 350 pounds.  They are 24.5 inches wide, 22.75 inches deep and 34.25 inches tall.  The chairs will store under the table when not in use.  They can also be used for conversation sitting around a fire pit or other feature in your outdoor space.
For the price, you will not find another resin wicker set that is better or as nice as this.  Having seating for six and great looking dining table.
Pros
Resin Wicker look
Looks like an expensive indoor set
Glass top can be replaced if broken
Cons
Assembly can be though for some
No hole in table for umbrella
Some did not like the thickness of the cushions
---
For current pricing and availability click the following link

My final thoughts on this set
For those with a larger outdoor space and the need for a big dining table, one of the Baner Garden Outdoor Resin Wicker Dining Sets will work well for a good price.  For under $700 you can get a great looking dining set with six chairs and a glass top table for your patio area.
Some complaints about assembly and cushion thickness by owners can be over come with the low price.
Thanks for reading my information on this set and if you found this information helpful, pass along on your social networks.
Have a question or comment on my article, use the comment form below and I will return an answer shortly.