Wicker patio furniture sets
When spring gets here, what kind of resin wicker patio furniture sets are you going to get for your patio? For those needing help with their choice, I will outline two collections that will not break the bank and still let you choose a lot of different styles with some color combinations.
By the pool or just a few pieces for your balcony, there will be something for everybody here. Need seating or just small dining set for occasional snacks and drinks you will find it here.
Now let us look at these two collections and see what works for you.
Azalea Ridge resin wicker patio furniture
The Azalea Ridge collection has the most varied selections on all the lest expensive resin wicker patio collections. At a reasonable price you could set up your patio with all the patio furniture you will need in the same style. Now let us look at the types of furniture set you can get in this collection.
Steel frames with a powder-coated finish will be covered with a woven resin wicker finish. All pieces in this collection will have thick arms, backs, arched skirts on all sides and back cushions for great looks and comfort.
Several colors of cushions (red, blue or green)are available in this collection, with a choice of wicker colors (white and brown) as well. Blue cushions are only available with the white wicker at this time.
Bistro Sets
Seat selections will start with the simple bistro set for the smaller areas. The bistro set in this collection will have a smaller table (20 inches across) than most, it is considered a side table in other sets in this size. Two swivel chairs will give you seating in this set. Thick cushions in this collection will give you long seating comfort for your buns.
High table bistro set
The high bistro set is available with two straight leg chairs a tall table. The round table is 28 inches across and 38 inches tall.  The bar height table will give you a tempered glass top for your drinks and meal.
Conversation set
A four-piece conversation set will also be available, two straight leg chairs, a love seat, and a coffee table. Coffee table will have a resin wicker shelf for leg support for extra storage for reading materials and snacks.
This conversation set is also available with the 54-inch rectangular gas fire pit for use during cooler weather. I have a more detailed look at this conversation set in a post here.
Dining set
Four seat dining set is also available in this collection. With four swivel chairs and a square top table with a tempered glass top, you will have plenty of room for four to eat a meal. The table is 42 inches across and will have a resin wicker arched skirt for leg support. The top will have a hole for an umbrella.
Swivel chairs
Swivel chairs are available for extra seating or standalone seating. These are the same style chairs for the regular bistro and dining sets. They would be a great addition to the conversation set for additional seating by the pool.
Porch rocker
A porch rocker is available in this collection to give you traditional porch seating that will match the other seating in your patio furniture. Arched rockers will give a full rocking motion for those relaxing moments in your outdoor space. Add a side table for drinks and snacks.
Porch swing
The porch swing will give you seating for two, it can hang from the included chain. No hanging hardware is included with this piece as each application will be different.
Side table
A side table will give you an extra place to store drinks and snacks. It will be 20 inches across and 24 inches tall with a tempered glass top insert.
Two-seat glider
A glider can be included for seating for two for a relaxing seating with motion. Steel bars will give you a simple forward and back motion that will take little effort.
Chaise lounger
Adjustable chaise lounger will give you a place to catch a few sun rays. The back can be adjusted to fit your need to relax, no wheels to help move this lounger when needed.  When you want to chase the sun for extra tanning, you will have to drag it or have a friend help you move it. Straight legs and thick arms will give you the style to match the rest of this collection.
Ottomans
For extra seating comfort, you can get ottomans in sets of 2. You can use them for extra seating or just to prop your legs up when relaxing in one of your seating pieces.
Storage Bench
If you need some extra storage in your patio area, a backless bench is available with storage below the seat. Just lift the seat with cushion and you will have room to store yard stuff that just sits out in the weather.
Put it by the BBQ pit and you can store your cooking supplies out of the direct weather. It is not big enough to store cushions from this collection.  You can use this bench for extra seating or just to prop your feet up when you relax.
The Azalea Ridge collection has many pieces available. You can fill your entire outdoor space with seating pieces that match in design and color. For more details of this collection, I have a post on the Azalea Ridge collection sets here.
Pros
Great price for resin wicker patio furniture
Many selections of wicker and cushion colors available
Thick cushions and back pillows included in all seating pieces
Cons
Cushions will need storage when not in use
Customers find it hard to replace cushions in the same color and style
Bistro table is a little small
---
Click on the following link for more information on the Azalea Ridge patio furniture collection
Colebrook wicker furniture
Steel powder-coated frames will have a rich woven resin wicker cover. Arms of seating pieces will have a loose weave to give a more open feel. This collection will have one color of resin wicker, dark brown with blue cushions for all the seating pieces. New for this year are white resin wicker finish with tan cushions that are available in some pieces. We will see if all the pieces come out in this color combination before the spring of 2019.
Now let us take a look at the details of this collection to see if it will work for your seating and outdoor decor needs.
Conversation set
This traditional set with two swivel chairs, a love seat, and coffee table will be the starting point for most when selecting patio furniture sets. Seating for four and the comfort of the swivel chairs will be a great starting place for most.
Coffee table will have a tempered glass insert and a resin wicker shelf for extra storage and stability. Each sitting position will have thick cushions and throw pillows for extra seating comfort. I have a more detailed look at this conversation set here in this post.
Chat set
The chat set will start with a pair of the same swivel rockers and add a side table. A square top side table will have a tempered glass insert for the same look as the coffee table.
This set will be great for those with small areas that need style and comfort for two people. A small table will give you a place for drinks.
Bistro set
A Bistro set will have the same two chairs with a bigger table. The table will be 26 inches across its square top and 29 inches tall. The size of a regular bistro table.
The bistro set will work well for those who want to dine on a small meal on a balcony or smaller outdoor space.
Dining set
If you have a needed for a large dining set in your outdoor space and have the room for a full dining set, this set with its six chairs and a large dining table will work. Two chairs are the same swivel rocker and it will include four straight leg chairs.
A large full-size table, 66 inches long and 39.5 inches wide will give you the room to layout a Thanksgiving meal for your six eaters. A hole in the tempered glass top insert will let you place a patio umbrella for shade. A resin wicker shelf will give you leg and umbrella support.
Three-seat sofa
For extra seating a three-piece sofa is available in this style. It will match the love seat in style, just give you room for one extra butt. At over 80 inches in width, you will need a large space for this seating solution.
Porch swing
A porch swing this style is a great addition to any front porch, Just add mounting hardware (hanging chain included) for your application and you will be ready for hours of swinging comfort. This piece is available in both color combinations.

Chaise lounge
Looking for a chaise lounger for by the pool for sunbathing, this set will provide you a choice. With wheels for mobility and several positions for your seating comfort. It will have similar arms and arched skirting match other seating pieces in this set.
Thick cushions will move when you are ready to change your angle of seating, you can lay this flat for a nap if you choose. Cushions for this piece are available in the blue and red options.
Glider chair
If you are looking for a single chair with motion, this glider chair will give you forward and back motion. This piece will be available in both color combinations. A two-seat glider is also listed, it is out of stock at this time, use a link to Walmart to check availability.
Serving cart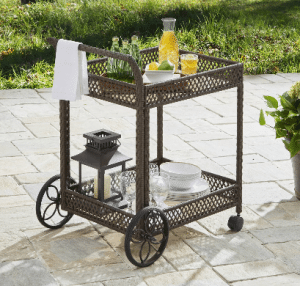 A serving cart is available with wheels that match the lounger on one end and smaller steering casters on the other end. A handle will curve out on the wheeled side for pushing your cart around.
It will have an upper and lower shelf for moving your food and accessories for your eating and drinking pleasure. The shelves will be tempered glass with resin wicker panels to hold your stuff secure around all four sides. Each storage shelf will be about 25 inches square.
This piece will be great for moving anything from area to area in your outdoor space, you just cannot do steps with this piece.
Side table
The side table can be added to any sitting piece to give you a place to store your drinks, snacks or reading material. Just add to your lounger to keep your suntan lotion handy. Smaller top at 20.5 inches square with a tempered glass insert. A lower band will stabilize your legs of your table.
Gas fire pit
A round gas fire pit is available for this collection. It will have resin wicker around the outside and a steel top. A round fire bowl with glass fire rocks will give you some heat on those cool nights. I have more details in a post here on the Colebrook gas fire pit.
Pros
Replacement cushions may be available from the manufacturer
Many pieces to choose from
Some color options are available
Cons
Storage will be needed for cushions
Loose weave underarms are easier to damage
---
Use the link below for more information on the Colebrook patio furniture collection
My thoughts on these two collections
Both of these collections of resin wicker patio furniture sets have a lot of choices for seating and relaxing in your outdoor space. Both will offer a fire pit solution for heating on cool nights and large dining sets. Color selection and style will give you a direction for your choice.
I think both of these collections will be a great solution for those looking for the wicker look in their outdoor patio furniture and want several matching pieces or sets.
I have more details in another post on my site on pieces and sets in these two collections. Both styles have their look and will fit most outdoor decors. You can also use these patio furniture collections for your indoor spaces and get the matching design to get the indoor-outdoor connection in your home decor.
For any further information on these sets let me know with the forms below. All questions will be answered shortly.