Wicker Patio Egg Chair
When looking for that perfect chair for relaxing, reading a book, or having your favorite cool adult beverage, a Wicker Patio Egg Chair is a great way to escape in your outdoor space. This egg chair is different than most as it has legs and does not hang from a stand. If you want to look at some examples of egg chairs that hang, see my post here.
This chair will be easy to move and has thick cushions for long-term seating comfort. Get a side table for your drinks to sit on and an umbrella for shade, you will be able to sit for hours without only thinking about who is going to get you a fresh cool drink.
Now let us see what sets this chair apart from its hanging brothers.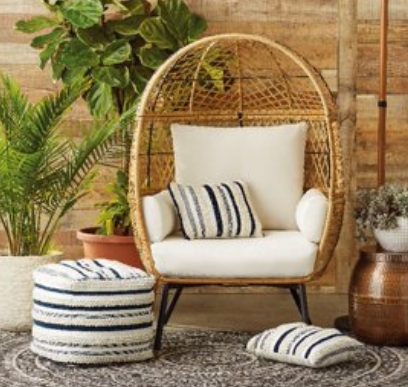 Product: Better Homes and Gardens Ventura Egg Chair
Price when this article was written: $347
Where to get the best price online: Walmart.com
What do you get in the box?
In one large box, you will get an egg chair that has four legs, deep seating, thick cushions, and an open resin wicker weave. The deep seating will allow you to lean back and enjoy a relaxing time.
The chair will be 42 inches wide, 37.5 inches deep, and 58.5 inches tall. It will weigh less than 50 pounds and will support 250 pounds of weight. The metal frames will have a loose woven resin wicker finish that will allow you to get a cool breeze while you are relaxing.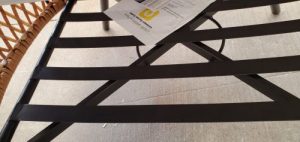 The seating area is 31 inches wide, 25 inches deep, and 13.25 inches high without the cushion. Metal slats will support the seat cushions.
The cream-colored cushions will have ties to hold them in place, flat square corned cushions for the seat and back, with round pillow-type cushions for the armrest. The cushions will have a polyester fill and covers. This is not the strongest material for outdoor furniture if you want them to last more than a couple of seasons, you must have a storage solution when not in use.
With the great look of the egg shape without having to hang this chair from a stand or ceiling, you can place this egg chair on any smooth surface in your indoor or outdoor space. Many people will use this chair indoors for a long-term seating solution and only take it outdoors in the best weather. Great for a bedroom seating solution.
Assembly and care of your egg chair
The assembly of your chair should only take less than 1/2 hour for most. The one box will be 44 inches tall, 38 inches deep, and, 20 inches wide. It will weigh about 65 pounds, you may need a large truck or SUV and a friend if you pick this up at your local store.
The body will come in three pieces that stack and screw together. The feet attach by screwing them into the bottom of the seat base. Add cushions and you are ready for a cool drink.
Taking care of your chair will take cleaning spots with a damp rag. Only use a mixture of mild soap and water if you need to wipe off the frame as any harsh chemicals will damage the painted frame.
Cushions will need a storage solution to last very long in outdoor weather conditions. I would take my cushions to a storage area that protects them from the sun and rain. See some of my storage solutions here.
Pros
Thick cushions for long-term comfort
Easy to move
Deep seating
Cons
No movement in the chair while sitting
Cushions will need a storage solution
Needs a side table for drink and snack storage
FAQs about stationary Egg Chairs
Can Egg Chairs be left outside?
The simple answer is yes. The cushions are the weak point of most outdoor furniture sets. If you have a storage solution for the cushions, the frame and the woven wicker of these egg chairs will withstand a little outside weather.
I would not leave any piece of furniture out all the time, my patio furniture other than the wrought iron goes in a shed during the winter months to make them last longer. I have had some of my patio furniture for over 15 years using this method.
Are Egg chairs the best seating solution for your patio?
They can cost more than regular chairs, even chairs with motion. They will take up more floor space. If you need seating for two, it will cost over $700.
---
For more information on this or other patio seating solutions, follow the link below
What are my final thoughts on this egg chair?
This patio egg chair will fit in any place where you need a seating solution. Many people will use this chair indoors, it will fit in almost any decor with neutral cream-colored cushions. This is one of the best stationary patio egg chairs that I have seen, it fits most decors indoors or out.
I would get a side table for putting my drinks on, the Belfair gray wicker would look great with this chair and it has the ability to hold an umbrella if you need shade. For more information on this side table, see my post here.
For under $600, you can get two and share your favorite outdoor space with a friend.
Any comments or questions, please use the forms below and I will get back to you shortly.