When you have a high banister on a deck or balcony, you may want to look at this selection of high sitting Bistro Pub Sets for your outdoor seating for 2 and relaxing solutions.
Each of these sets will be a little different and have different options for sitting and tables. From the simple round table to the full bar with lots of storage, you should be able to find something that will help you with your choice.
Use the chart below and hit the item description to go directly to that item in the image. If you need more information please use the link below to go to the website selling these items.
Bistro Pub Sets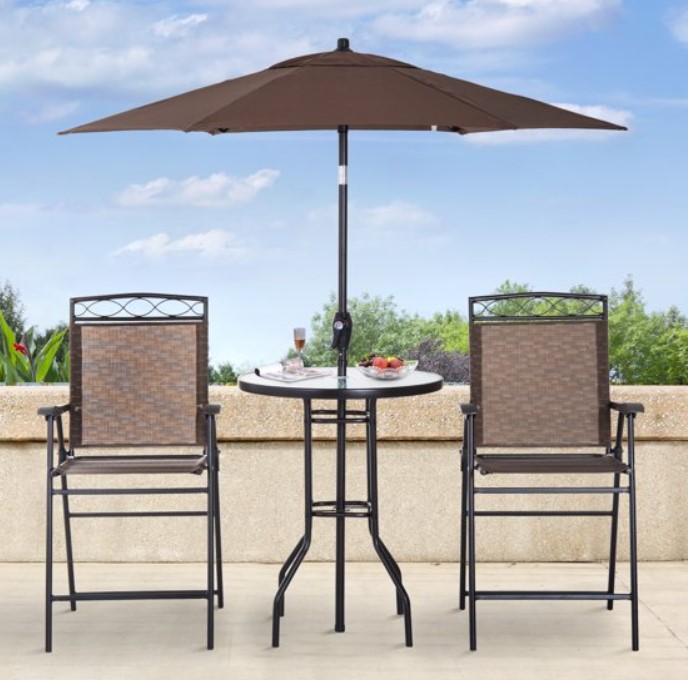 Htovila Folding Pub Bistro Set with Umbrella
This simple set will have chairs that fold for storage and a small umbrella to provide some relief from the sun. Steel frames will have a powder-coated finish to help them keep looking good in most outdoor weather conditions.
The table will have a tempered glass top and will not fold. Four legs with dual supports will help keep your umbrella stable.
The umbrella will have both the tilt and crank to raise and lower it. The fabric color for the umbrella will match the fabric for the seating. No umbrella stand is included for this set.
The chairs will fold for storage and have sling fabric for seats and back. I like this fabric for outdoor seating as it is comfortable for long-term sitting and takes little care to keep looking good outdoors. Each chair will support 250 pounds of weight.
Pros
Chairs fold for storage
Sling fabric for sitting
Tilt umbrella included
Cons
Glass tabletop may be hard to replace if broken
The table does not fold for storage
No umbrella stand included to keep umbrella in place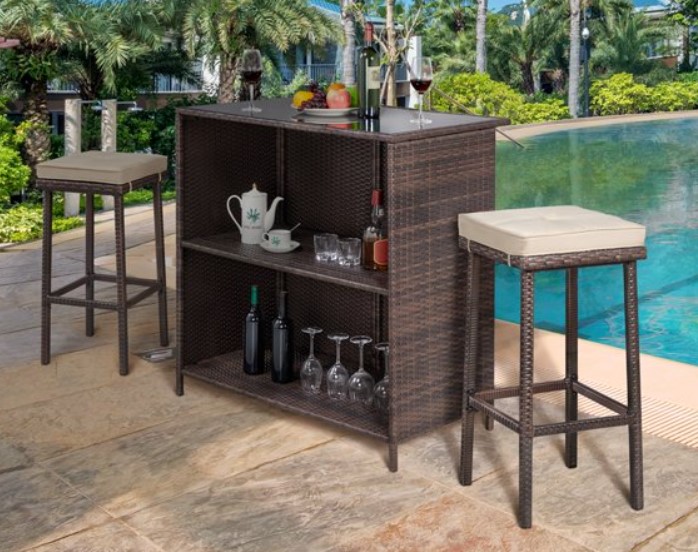 Yaheetech Rattan Wicker Bar Set
This resin wicker bar set will give you a great addition by the pool or any other entertainment area. Lots of storage on the two shelves under the tempered glass top.
The bar will have resin wicker panels for all sides and shelves. This material lasts very well in outdoor weather conditions. The steel frames will give the stools and bar a great deal of stability.
The barstools will have foam cushions with polyester covers for seating comfort. Straps will hold them in place. No backs to help with comfort, you can sit in any direction though. Each stool will hold 276 pounds of weight.
Pros
Storage area on the shelves of the bar
Cushions for comfortable seating
Resin wicker finish
Cons
Cushions will need a storage solution
Glass top may be hard to replace if broken
No back for the chairs for comfort
Outsunny Pub Bistro Table Chairs Set
A simple pub set with a small back for extra seating comfort. The seats will have sling fabric that is very comfortable and easy to take care of for outdoor furniture.
The table will have a round top with a tempered glass insert. Four legs with two center supports will hold up the table.
The frames will be steel with powder-coated for outdoor weather durability. This will hold up well unless scratched, need to repair if damaged.
This set will work well for smaller spaces as the small table will not take up much space.
Pros
Sling fabric for seating
Great for smaller areas
Powder-coated finish last well in outdoor weather conditions
Cons
Glass tabletop may be hard to replace if broken
Low backs in seating
Chairs or table do not fold for storage
LastDan High Back Swivel Bistro Chairs and Square Table
If you have a bigger space and like a little movement in your chairs, this patio furniture set may be for you.
This set will have powder-coated steel frames. Each piece will have a ring support brace with the table having two.
The high chairs will swivel 360 degrees and have padded sling fabric for seats for extra comfort. The chairs will have arms for extra comfort. This set will take more space than other sets with the arms making it harder to get out without turning the chairs. The padding in the sling fabric will take longer to dry after rain.
The tabletop is bigger than most bistro sets at 31.5 inches wide. A wood grain top will have a hole in the middle for an umbrella, not umbrella is included for this set. The lower support bracket also has support for an umbrella.
Pros
Swivel seating
Cushioned sling fabric
High back seating
Cons
Fabric may take a little time to dry after rain
Wood tabletop may hold water after rain
No umbrella included
Private Jungle Acacia Wood Bar bistro set
This bar set is made from acacia wood that will last very well in most outdoor weather conditions with little work.
The seats, top, and sides of the bar have a slatted wood design. The stools will have no back support and the seats are flat.
The bar will have a cutout on the open side for someone to stand. The two lower shelves will only be 1/2 the depth of the top.
Once a year you will need to deep clean the wood and treat it with the proper wood oil. This will keep the wood looking new for many years.
Pros
The Bar can be purchased seperately
Acacia wood is great for outdoor furniture
Extra storage under bar
Cons
Acacia wood must be oiled once a year
No backs on the chairs
Takes up a lot of space
My final thoughts on these Bistro Pub Sets
When looking for a pub-height bistro set for your patio or balcony area, one of these ideas should get you going in the right direction. Each of these sets will have widely different qualities and designs, your seating needs will determine what direction you go.
I like the LastDan set as the swivel chairs with the padded sling fabric will be the most comfortable for long-term sitting. The table will have a hole for an umbrella (not included) to give you some relief if your set will sit in the sun for part of the day.
If you have any questions or comments about any of these Bistro Pub Sets, leave me a note with the forms below and I will get back to you shortly.