Costway Portable Fire Pit for Camping
When looking for a Portable Fire Pit for Camping, this example from Costway will give you a smaller fire pit that is very portable.  The Costway gas fire pit will give you the ability to have a campfire without gathering or bringing a pile of firewood.
I like this fire pits ability to be moved with ease and the lava rocks will allow you to have the flame at a lower level and still have a good amount of heat.  This will be a great solution to have one fire pit that you can take camping, go tailgating or just use around your home anywhere outside.
Now let us look at some of the details of this item.  If you want a bigger gas fire pit or want to look at other designs, look at my other articles on gas fire pits here.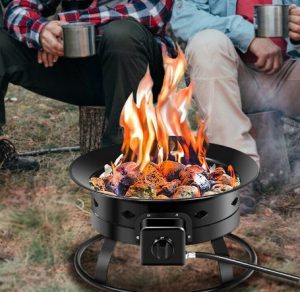 Product: Costway Portable Fire Pit for Camping
Price when the article was written: $105.99 with free shipping
Where to get for the best price online: Walmart.com
What do you get in the box
In the box, you will get the fire pit, 10-foot gas hose, Lava rocks, hardcover for when the fire pit is not in use, fabric carry handles, a tank stabilizer.  Each item will help with the fire, movement of the fire pit or protection of your investment when not in use.
The fire pit will be 18.5 inches across and 12 inches tall.  It will weigh about 20 pounds, with the included fabric handles, it will be easy to move anywhere when it is cool.  A strong round ring will be at the base will give it a great deal of stability.
Lava rocks will fill the fire bowl that has a stainless steel square burner with rounded corners.  An electronic igniter will give your flame a start.  At first start the lava rocks may be a little noisy, a popping sound, this is normal if there is air trapped in the holes of the lava rocks.
Just hook up your 20-pound propane tank (not included in purchase) with the 10-foot gas hose and you are ready to start your fire.  Small vents in the sides will help draw air into the burn bowl to feed the fire.  58.000 BTU's of heat will be produced from this fire pit on the high setting, plenty for most cool nights.
When the fire is over and the fire pit is cooled, just place the hardcover over the burn bowl and attach the fabric handles with the hooks under the bottom of the burn bowl.  disconnect the gas hose and take your fire pit anywhere.
The control panel will allow you to adjust the flame and contains the igniter for the fire.  A stabilizer ring is included to put under the propane tank to give it a bigger footprint to keep it from falling over on grass or other rough outdoor surfaces.  The 10-foot gas hose will allow you to sit the tank away from your chairs while enjoying your fire.
This fire pit will be great for any time that you are going to need a fire away from your bigger fire pit.  You can take it anywhere and set it up in minutes, it will only take a little longer than getting out your chairs and setting them up.  Tailgating, camping, or when you go over to your family's outdoor space and they do not have a fire pit, this product will make you the guy that gets things done.
I just wish it came with a grilling grate for the top to cook some burgers, hotdogs and Smore's are still on though.  This fire pit will be great with your chairs around it for gathering your family and friends for a great time outside.
Assembly and care of your fire pit
The body of this fire pit will come assembled, you will have to add the battery for the igniter, Lava rocks, and gas hose to get to your first fire.  Add your own propane tank with the included stabilizer ring and you are ready.  Turn on the control knob and push the igniter button.  Adjust the control knob to the desired flame height.
The care of your fire pit will be to make sure that the burner ring stays clean, the holes must not clog with debris from the lava rocks or stuff from your food if you cook on this fire pit.  The metal cover will keep the lava rocks in place and the fabric handles will keep the cover in place when installed properly.
Pros
Very portable
Puts out a great amount of heat for a small fire pit
Included strap for easy moving
Cons
Have to drag a propane tank for fuel around with you
Lava rocks may be noisy at first
No grilling grate
What are my final thoughts on this portable fire pit
This is a great solution for a Portable Fire Pit for Camping, tailgating, or just a backyard gathering.  Small enough to carry anywhere, big enough to warm six people or more sitting around it on a cool night.  The biggest thing that I could complain about is the fact that you have to drag a propane tank with you anywhere you want a fire, with the 10-foot hose you can place it out of the way though.
For those who would like to see other gas fire pits, see my post here.  For those who like the smell and fire of a wood burner, see my post here.
Any questions or comments on this or any other information on my site, use the forms below and I will get back to you shortly.