Covers for Patio Furniture
If you do not have someplace to store your outdoor furniture, you should look at Covers for Patio Furniture to protect your investment from the winter weather.  Moisture with the freezing and thawing will destroy your cushions and frames in just a couple of seasons.
The cushions will suffer the most damage quickly,  Having a storage solution for them will not take as much room as the full set.  For some of my storage solutions that will help, look at my post here.
This article is for those who have to leave their frames or whole sets outside and do not want the winter weather or tropical sun to destroy the finishes in a short time.  If your cushions are already faded or starting to fall apart, look at my article on replacement cushion covers here.
Now let us look at the covers that are available from CoversandAll.
Who is CoversandAll
The Covers and All company started in 2015 with a vision to create custom covers to protect almost anything that is outside in the weather.  They use state of the art technology and fabrics to protect patio furniture, fire pits, grills, TVs, or any object that is left outside and needs protection from the elements.
The company is located in Georgia and hand makes all custom products.  Personalization of covers with a logo or special image will make your cover special for you.  Returns are not made unless a major defect or printing error is made, as most covers are custom made.
Customer service can be reached by Phone, E-mail, or Chat on the website.
What am I going to cover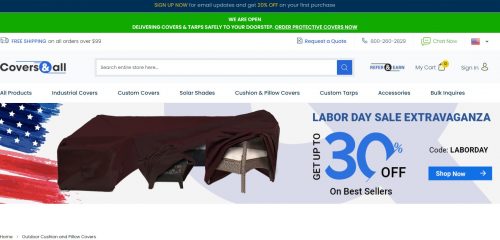 This will be the first thing you will need to determine is what are you going to protect.  Covers and All will make a cover that will cover anything, most covers are custom made to fit your product.  You will not need to just put a tarp and Bungie cord on your furniture and wait for spring.
As all of the covers are made to order, anything can be covered.  The process to get your cover made is outlined below.
What information do I need
After you have decided what you will need to protect from the weather, what information will you need to gather before you place your order?  Follow the steps below for a brief example of a table that I leave out all year long.
My table is 48 inches wide and 28 inches tall.  I will put in measurements of 50 inches by 30 inches as the instructions state to get 1 to 2 inches larger than your object that you are going to cover.
The next step is to select the type of fabric that I will use to cover my table.  The choices are Cover Max, Cover Fab, or Cover Tuff.  The difference for my example is about $22 from the Max to the Fab and about $7 from the Fab to Tuff.  The Cover Tuff is rated for most extreme weather conditions and comes with a longer 5-year warranty.  Colors for your cover vary by the style of fabric that you use.  After you have chosen the fabric, you can select a color from the drop-down menu.  If you wish to have another color, please contact Covers and All directly.
If you want a personalized logo, now is the time to enter that information.  Is great to advertise your company or retrieve your cover if you let the wind take it away while not on your patio furniture.  You will have several options when selecting how your logo will look and where it will be located on your cover.
Next, you will need to select the type of tie to secure your cover to your item.  Drawstrap is the no-cost option, you will have a choice of the elastic strap, clips for the legs, or a combination of these options at an extra cost.  Grommets can be added at 6, 12, or 24-inch intervals at an extra cost, you may need these if you are in a very windy environment.
The next step will be to download a picture of your item that needs to be covered.   This will help the company match your cover to your item.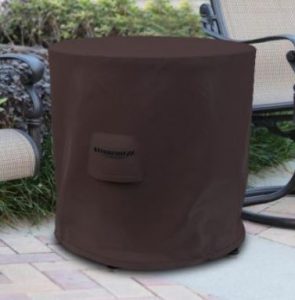 A storage bag is available for your cover when it is not needed at an extra cost.  This is a great way to store your cover and protect it from sharp objects when not needed.
My cover came out to a little less than $100, a lot less than the price of a new table every few years.  If you have an expensive patio furniture set, this is a great purchase to protect your investment.  There is a cover that is available just for the top of the table for a third of the price of the whole table cover.
If your order total is more than $99, You could get free shipping for your products.
How do I order
Just measure your item to be covered and take a picture of the item.  If you feel that you cannot enter the information yourself or just need to talk to someone, Chat and Telephone are just a way to get a live person to talk to.  A Chatbox is available on the left side of the screen and can be turned on quickly.
---
Follow the link below to start the process to protect your patio furniture investment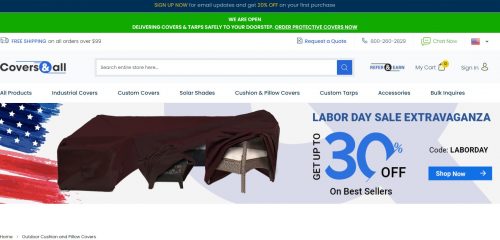 My final thoughts on this method of protection
After you have spent a great deal of money on your patio furniture set, BBQ grill, or fire pit, looking at Covers for Patio Furniture is a great way to protect your investment.  I had a cheap cover for my metal fire pit and it has lasted over 10 years outside.  Your results may vary with the outdoor conditions that are in your location.
If you want storage for your smaller items, please look at my examples here in my storage category.
Any questions or comments on this or any other post on my site, please use the forms below and I will get back to you shortly.