Gas Fire Pit with Table Top
Having a fire pit in your outdoor space is great during the cooler months of the year.  Most people use them mostly in the fall.  Having a Gas Fire Pit with Table Top will allow you to use this area all year long with out purchasing additional patio furniture.
Many gas fire pits come with a top to close off the burn area so that you can use the fire pit as a table.  Far less wood burners have this option.  Most of what is talked about in this post is the gas fire pits.
If you are handy, you can make your own cover for the burn area of your fire pit.  This option is only for the most handy, as making a table top that looks like it belongs is not easy, it does take some skills and time.
Now lets look at some of my information on this subject.
When do you need a patio fire pit table
Most people will never know about or have a patio fire pit table.  For those with small spaces for outdoor social activities, dual purpose patio furniture will be most important.  A gas fire pit on a balcony that converts to a table will make year round outdoor entertainment possible.
Those with little or no outside storage will do well to have conversion furniture also.  You can leave your gas fire pit out and use the propane tank on the BBQ grill during the warmer months, this will allow you to store items where the tank is normally stored.
When looking at fire pits to use as a table, find one with a larger top so that your chairs can sit close when you are eating a meal or snack.
Why a fire pit table is better than just a fire pit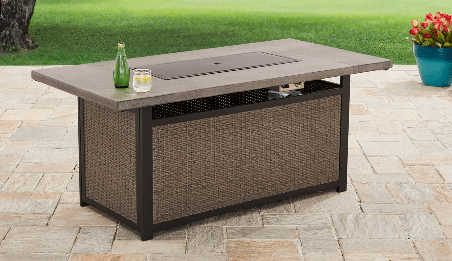 Having an outdoor entertainment area that can be used for more than a few months out of the year with your current patio furniture will make budgeting your purchases easier.
If you have a lot of room in your outdoor entertainment area, a larger patio fire pit table will work.  The Better Homes and Gardens Rectangular fire pit is a good option.  It has a large top surface and is 60 inches long, an insert will cover the burn area when not needed.  I have a full article with information on this model here.
Where can I get one
Most places that sell fire pits will have a few select fire pits that have a table top feature.  Walmart has a wide selection of sets or just the fire pit.
The Better Homes and Gardens Colebrook gas fire pit has a round top and cover for a table. The modern resin wicker is very desirable for outdoor furniture.  I have an article that gives a lot detailed information and purchase price on the Colebrook model here.  Additional items from this collection are available for a matching decor in your outdoor patio furniture.  I have some details on more Colebrook patio furniture here.
For a square model, try the Hiland gas fire pit.  It has a modern bronze metal finish.  A table top insert will allow you to have a meal or share some adult beverages with friends.  I have written a detailed review of this fire pit here.
Can my fire pit be converted to a table
Wood burners do not lend themselves to being converted to a table very well.  They are lower to the ground, burn areas have spark screens for covers or normally do not have places to sit things around the top edges.
Gas fire pits are the most handy when trying to convert to a table.  Most have a lip or table top around the burn area.  If your gas fire pit does not come with a top cover, converting to a table is not that hard.  Just have a piece of wood or metal shaped in the shape of the burn area.  If you are not handy, a local wood or metal shop will make you one if you give dimensions with instructions on what you want.
You can convert if you are willing to make or have a top made on a proper height fire pit.  The best option is to purchase a fire pit that comes with a hard cover to start with.
Conclusion
Having small or multi function outdoor patio areas is not the end of the world when purchasing your outdoor furniture.  Getting a Gas Fire Pit with Table Top will help keep your budget in line.  I personally like patio furniture that you can use for most of the year.  I have not found many that will be used when snow and ice are in season.  I have used my table top for making small snowman when the snow is not too deep.
If you have any comments or questions, use the forms below, I will get back to you shortly.