Hanover Cortez Patio Conversation Set
If you are in the market for a Hanover Cortez patio conversation set, You will get a very modern contemporary set, this set from the Hanover collection will look great in your outdoor space. In this article we will look at the details of the Cortez conversation set to see if it will work for you.
This set will have two straight leg chairs, a three seat love seat and a large square glass table. This set will work well by the pool or on any deck or patio that is at least 10 by 10 feet. Any smaller space it could get a little crowded.
The clean lines of this set will set it apart from many of the other conversation set that are available in today. Now lets get to the details and see where it takes you.
Price when article was written: $1299
What do you get in the box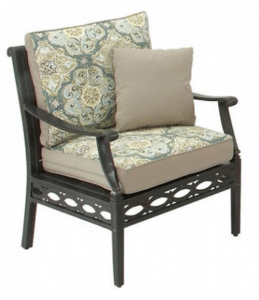 The Hanover Cortez patio furniture set will have aluminum frames with a dark brown powder coating. The scroll design under the seating and table will give a great contemporary look. This set has very clean lines for those who are looking for a simple look. Reversible cushions and pillows will allow you to change up your look from time to time.
A big square coffee table will have four straight legs, a tempered dark glass top for a clean look. The table will be a large 40 inches across and 19 inches tall, this is a regular height for a coffee table. It is recommended that you do not place more than 50 pounds of weight on this table.
Chairs will be 29 inches wide, 28 inches deep and 36 inches tall. Seat will be 25 inches square if you have to replace the cushions. Each chair will support 250 pounds of butt.
Love seat will seat three people with a capacity of 500 pounds. It is 75 inches wide with the same other measurements of the chairs.
Cushions and pillows are made from a polyester material, good for outdoor use. I would recommend have some place to store them when not needed to extend their outdoor life, see some of my storage solutions here. Reversible cushions will have a plain pattern on one side and a flowered pattern on the other side. You can reverse some of them for a mixed look.
This set will work best for those with a medium-sized outdoor space and looking for a modern clean look. The seating for five will give you room for one more butt in your conversation. The large table will give you lots of room for drinks and snacks, it is a little low to play games on.
For more conversation set ideas, see my post here.
Care of your patio furniture
Use a mild soap and water combination for cleaning of your patio furniture. Do not use glass cleaner on your table-top as this will be strong enough to start the paint to peel and lose its color. For best results use a damp rag to clean the glass table-top, wipe up streaks with a towel.
A wax can be used on the metal parts to keep the paint protected from the outdoor elements. A lot of people just recommend using a good car wax.
Cushions should be stored when not in use, to prolong their outdoor life, the polyester material is not the best material for outdoor furniture. See some of my storage solutions here.
Pros
Clean lines will look great for those looking for a modern design
Reversible cushions for changing the color pallet
Throw pillows for extra comfort
Cons
No movement in chairs
Glass top may be hard to replace if broken
Light weight capacity of love seat
---
For current pricing and availability, click the following link
What are my final thoughts on this patio conversation set
When looking for that contemporary look for your outdoor space, the Hanover Cortez patio conversation set should be on your list. With seating for five and a clean look, this set will be a true conversation set for those looking for a modern look. The biggest drawback for this set will be the material that the cushions are made from, it is not the best for outdoor use. If stored it will last for a long time.
Want more ideas for your outdoor space, look at my other articles on Hanover collection patio furniture here.
Any questions or comments, use the forms below and I will get back to you shortly.