Large Pool Umbrellas
Most pools have a shade problem, no trees for shade unless you want to scoop leaves every day.  To get shade why not try some Large Pool Umbrellas for your solution.  You can easily adjust them for cooling shade over almost any patio furniture set or even part of the pool.
I was compensated for this post and this post contains affiliate links. I will be compensated if you make a purchase after clicking on my links.
Easy to open by using a simple crank, then rotate to shade the proper location around your pool.  The canopy is big enough to shade a conversation set, set of loungers, or a dining set.  Available in three shade colors to match most decors.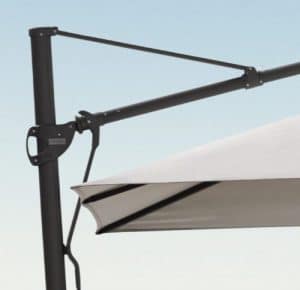 Now let us look at more details on these Cantilever Umbrellas that can be used to shade large outdoor areas.
Product:  Cantilever Patio Umbrella
Fabric Colors: Canvas Coal, Champagne, and Natural
Where to purchase online: Arhaus
Product description
In the fully open position, you will have a 10 foot by 10-foot canopy to shade your patio seating by the pool.  An easy-to-use crank will raise or lower your canopy.  A foot lever by the base will give you the ability to rotate your umbrella 360 degrees for the best shade coverage.
A 13-inch tall base is included that will hold 400 pounds of sand (water is not recommended for a filler) for your security and safety.  With an empty weight for this umbrella of 95 pounds, it will not be easy to move at close to 500 pounds with sand included in the base.  Each corner of the base will have an adjustable foot for leveling your umbrella on some uneven surfaces.
The eight ribs are very solid and will support the canopy when opened.   The stand will be able to tilt left or right 18, 36, or 54 degrees to adjust to your shade requirements.
The canopy is made from 100% Solution-Dyed Polyester O'bravia fabric.  This fabric is treated to be weatherproof, mold- and mildew-resistant, and resistant to stains and fading in outdoor conditions.
Canopy is available in three color combinations-Natural or Canvas Coal canopies with a black finish on the frame and base or a Champagne canopy with a bronze finish on the frames.
A simple thing is to keep the umbrella retracted during high winds or severe weather conditions, you would not want to sit by the pool anyway.  A  cover for your umbrella will also help keep it from UV rays and most severe weather conditions.
Only clean your Umbrella with a mild soap and water mixture, rinse with water to keep a fresh look.  Any harsh cleaning chemicals can damage the fabric and painted surfaces, even glass cleaner has been known to start the painted surfaces to start to discolor and peel.
When the pool is not in use you may want to store your large offset pool umbrella out of the weather, this will let you keep your umbrella ready for the next season.  Folded-up umbrellas will only take up the size of the base.
Pros
Covers a large area
Lots of adjustments to cover your shade needs
Easy crank up shade
Cons
Need to add 400 pounds of sand to the base for stability
Not easy to move to a new location
---
Use the following link for pricing and shipping information on this Umbrella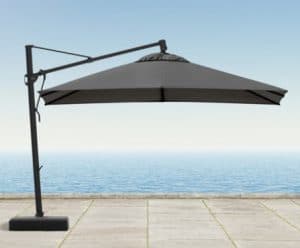 Why do you need this umbrella by the pool?
If you have an outdoor space that needs a shade solution and you do not have a table for an umbrella, A Cantilever patio umbrella will be a great solution.  With an easy operation crank and the ability to adjust your shade during the day, you will spend little time staying in the shade on those hot days.
I like the Large Offset Pool Umbrellas for any shade solution around the pool, my friend has one by her pool and she shades her two chairs and some of the pool on sunny days during the summer.  Do you have an experience with an offset umbrella that you would like to share?
For other of my examples of large pool umbrellas, see my post here.
Any questions or comments please use the forms below and I will get back to you shortly.  For more of your patio furniture and accessory needs, use the following link to the Arhaus website.