Patio Chat Set
When you have room in your outdoor area for a set of chairs with ottomans and a side table, check out the Mainstays Highland Knolls Reclining Patio Chat Set from Walmart.  You will get chairs that have reclining back to almost a laydown position, this is not for everyone some people did not find these chairs comfortable.
By the pool or just on a balcony, you will enjoy the comfort of the sling seating material that has extra padding for comfort.
Now let us look at the details of this chat set and see what works for you.  For other chat sets on my site, follow this link.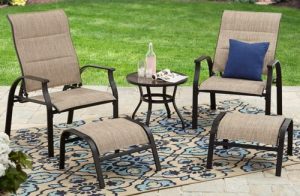 Product: Highland Knolls Chat set
Price when this article was written: $215.97
Where to get the best price online: Walmart.com
What do you get in the box
In the box, you will get two chairs, a side table, and two ottomans.  The steel frames will have a powder-coated Matte Espresso finish that will last very well in outdoor weather conditions.  The seating material for the chairs and ottomans will be two layers of sling fabric with a padding material in the middle.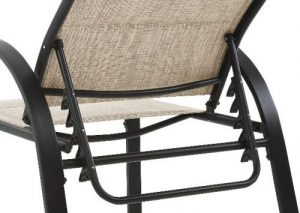 The sling fabric is very good for patio furniture, with no cushions to store.  The padding material will hold water longer than one layer of sling material, it will be longer to enjoy dry sitting after a rain.
The chairs will stack when you want to store them and the ottomans will fit underneath, I do not think you can stack the ottomans and make them fit under a chair. Each chair will be 27.5 inches wide, 31.5 inches deep, and 24.5 inches high.  The back frame will have slots for five positions from straight up to almost flat to ensure your seating comfort.  Each chair will hold up to 250 pounds.
Each ottoman will be 22.24 inches wide, 20.5 inches long, and 13.3 inches tall.  They will have arched legs on each side and a seat panel made of padded sling material for your feet' comfort.  No weight limit is given for the ottomans.
The round-top side table will be 22 inches across and 18 inches tall.  It will have a tempered glass top insert with a smoky tint.  It will sit on four curved legs that have a round support ring at the narrowest point.
Other items are available in the Highland Knolls collection of patio furniture, I have written a post on this dining set here. If you want to add a glider to your patio furniture, see my post here on the Highland Knolls glider that will match this chat set.
Assembly and care of your chat set
Some found assembly difficult due to the chairs being bent in the box, they may take a little adjusting to get the holes lined up, I have found this in several sets of metal chairs that I have assembled.  Several tools are included in the hardware pack that will help in assembly.  Leave all hardware loose until your piece is ready to sit on its feet for final tightening for the best results.
Chairs will need the sets of legs attached to the seat piece and then the rear brace installed between the legs, this brace also is the base for adjusting the back.  Next, install the back with a screw and nut on each side.
The ottomans are just like putting the lower parts of the chair together.  Attach crossbars to each set of legs and then just attach the middle part with the fabric to the arched legs.
The table will glass built into the top, just add legs and secure it with the support ring, make sure it is sitting on the legs for the final tightening of hardware for the best results.  The glass top will be hard to replace since it is built-in.
To keep your patio furniture looking new, only use mild soap and water to clean up when it gets dirty.  The furniture should not be left outside in the cold winter weather if the padding fabric gets wet and freezes it could shorten the life of the sling material.
Do not use any harsh material for cleaning, not even glass cleaner for the tabletop, these materials will damage any powder-coated finish and they will start to discolor and the paint may peel.
Pros
Chairs stack for storage
Ottomans store under the chairs
Chair backs recline
Cons
Stuffing will take a while to dry after a rain
Some had difficulty aligning holes during assembly
Some found chairs uncomfortable
---
Follow the link below for how to get your chat set delivered to your front door

My final thoughts on this patio furniture set
If you are looking for a patio chat set, this selection from the Highland Knolls collection will fit a lot of needs.  The padded sling material will give you hours of comfortable seating with your feet propped up or recline the back and take a nap.  When you are done sitting, the chairs will stack for storage.
The bad things are the sling fabric material may take a while to dry after getting wet and assembly was tough on some people.
Any questions or comments, use the forms below and I will get back to you shortly.