After you have purchased your gas fire pit for your patio heat, you may want to look at Outdoor Gas Fire Pit Accessories to make your fire pit last longer and upgrade your enjoyment.
We will look at covers, wind guards, fire rocks, and other items in this article. None of these items will make your flame last longer or change the look of your original fire pit. To look at the styles of gas fire pits available, look at my posts here.
Outdoor Gas Fire Pit Accessories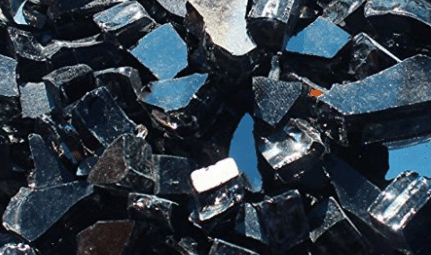 Glass fire rocks
Glass fire rocks can be a great-looking upgrade to your fire bowl. Some manufacturers recommend not to use glass rocks in their burn bowls that originally were filled with lava rocks. The fire rocks will produce a little more heat than the lava rocks.
Glass rocks will come in many colors and shapes. The rocks will reflect the flames of your fire and make it look like it is much bigger than it is. The color of rocks that you have in the bowl can change the mood of your fire experience.
The two big things to look for when buying glass fire rocks are to choose a color and then choose a surface design. The surface design can be smooth and round or jagged with some smooth surfaces.
The amount of reflection will be determined by how clean the rocks are and how flat the surface is. Round rocks will not give the same reflection as a smooth flat surface rock.
Keep your rocks clean with a mixture of dish soap and water or distilled water and vinegar. Either must be rinsed well and left to dry before using in the fire pit again. If your rocks are wet when you start a fire they will probably crack or break.
Having more than one set of fire rocks for your gas fire pit will allow you to change your decor and have a fire when you find out your fire rocks are dirty from rain or debris from a fire.
Remote propane tank tables
For those who have a shorter fire pit that does not have a tank storage area, a remote table for the propane tank will keep it out of sight of your guests and will add someplace to sit your drinks or snacks.
Designer tank tables can match the decor that you have in your patio area or you can contrast the color pallet that you have.
The other thing you could purchase if you are going with a remote tank table is a longer gas feed line. You have to look at one that is proper for your fire pit and burner. 10 feet is about as long as you want to go, this should get the tank behind most of your seating or to the end of seating so that you can use the top for sitting things.
Just remember that a lot of these tables will have a hinged top for tank removal, this would mean that you would have to remove all things from the to replace the propane tank. If you want to leave stuff on top find one with a side door when accessing the propane tank.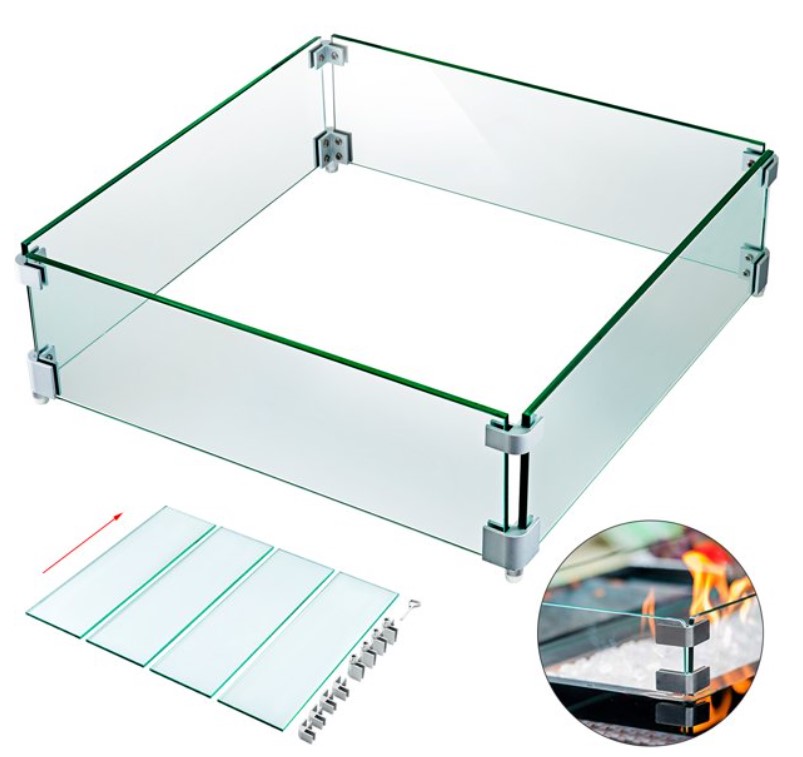 Fire bowl wind guard
If you live in an area that is windy or in a high-rise apartment that is subject to a lot of wind, a fire bowl wind guard will help you keep your fire burning.
The big thing to look out for is that the glass will get very hot when you have a fire and little hands can get burnt quickly if you are not watching them.
You will need to know the size of your burn bowl to get a proper fitting wind guard. They will come in various shapes, round, rectangle, or square to fit your bowl. You will need to purchase your fire pit wind guard to fit your needs as the glass should not be cut.
The wind guard will come in several pieces of glass that will be held together with adjustable clips. Depending on the shape and size of the wind guard that you need, the glass will be straight or curved.
The good news is that you can disassemble your wind guard for storage when not needed, just make sure that you wait for it to cool to the touch as it will get very hot and hold the heat for a long time after the fire is out.
See a bigger selection of fire pit wind guards in my post here.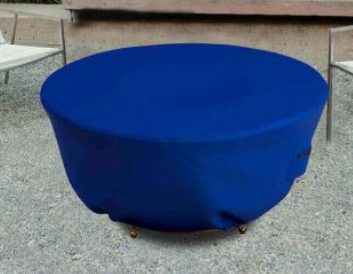 Weather cover for storage
To protect your investment you need to store your fire pit out of the outdoor weather conditions.
Some fire pits will come with an included vinyl cove. I have found these covers will only last a couple of years in the outdoors. The wind and sun will take their toll quickly.
if you do not have a shed or garage to store your fire pit in when not in use, you should look at a better cover.
i have several styles that can be made just for your fire pit. They will cost a little more but will last for a lot longer. They will last quite a few years and protect your investment.
To look at some covers available, see my post here.
Arternative fire lighting devices
If you are having difficulties with the electronic ignition, you may have to go old fashion and use a match or lighter.
Both styles will come in a long version, if you have a fireplace you may already have something available. I prefer a longer lighter as you will tend to burn your fingers less.
I like to keep both on hand as I don't want to try repairs when it is time for a little heat.
What things did you purchase for your gas fire pit
At one time or another, I have used all of these accessories except the wind guard and tank table, both are newer options for a gas fire pit.
I have articles on all of these items except the matches and lighters. Use the search bar on my site to see if I have what you are looking for.
Questions and comments will be answered shortly after being submitted on the forms below.