Outdoor Wood Burning Fire Pits
Looking to spend time with family or friends outside and it's a little cool, try one of these Outdoor Wood Burning Fire Pits for inspiration.  Just add a little wood and a match and you are ready to enjoy some heat in your outdoor space, add some eats and drinks for a great time for all.
Things to think about before getting a wood-burning fire pit is that it produces a great amount of heat for the surface it sits on, do not place on a composite or wooden deck surface.  If you have one of these surfaces, use one of the propane examples in this section of my website.
If you select wood for your heat source, you will need to follow this list of things that will make your outdoor experience something that you will not think of as a chore.
Fire wood-this should be dry and seasoned wood that will not burn too fast.
Storage-A dry place to store your Firewood-firewood rack with cover
Hauling-A way to get wood from woodpile to your burn area-Log Caddy
Tending-Tools for keeping fire burning and safe, poker and spark screen
Cleanup-Tools to help clean up ashes-Ash bucket and shovel
Care of fire pit-Cover or storage container
Now let us look at the details fo these six wood burning fire pits for your patio area and see what looks and works best for you.  I will give you three round fire pits and three square fire pits that will give you some choice of decor and style.
Round fire pits
Sun Joe Cast Stone Base Fire Pit
The Sun Joe fire pit has a cast stone base with a steel fire bowl insert.  The one-piece exterior will look like it is built from stacked stone.  Holes in the sides will make for easy transportation when you need to move to another location.
The cast ring will be 35 inches across and a 29 inch fire bowl that will hold logs up to 21 inches long.  A 24 inch long forked poker will keep you safe when removing fire screen or moving logs to enable a better burn.
Two styles are available, the stone look shown or a wooden plank look that has a metal top for burn safety.  This style will work best for those looking for a more modern look for their outdoor spaces.
Endless Summer Wood Burning Fire Pit
This all steel fire pit will give you the complete view of the fire from any direction with its lattice design in the burn bowl.  A mesh screen covering the lattice design will keep ashes and sparks inside.  The included spark screen will keep your fire under control.
The fire pit is 36 inches across with a 30 inch wide and 12.5 inch deep fire bowl.  This fire bowl will hold a lot of wood for a long burn time without a lot of work.  A steel grate will hold your wood off the bottom of the burn bowl.
This fire pit does not include a poker for taking off the spark screen when you have a fire, you will need to purchase one separately.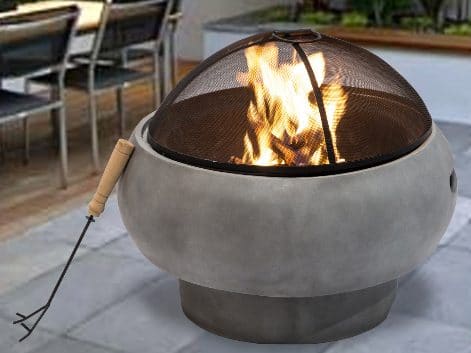 Peaktop Concrete Wood Burning Fire Pit
Not the biggest fire pit at only 21 inches across and 12 inches tall, what this fire pit lacks in size it makes up in style.  With the smooth sides of the concrete base and round top mesh spark screen, this fire pit will have plenty of style for those looking for the modern look.
With hand holes in the sides for easy movement when no fire is present, you can move out of the way when the fire pit is not needed as it only weighs 38 pounds empty.
A wooden-handled poker will allow you to remove the spark screen and stir the wood when needed to keep your fire burning.  Steel fire bowl will hold your firewood and a steel grate will fit in the top for cooking small meals.
This is a great modern looking fire pit for those looking for clean lines for their outdoor decor.  Smaller wood will be needed for this fire pit.
Square fire pits
Pure Garden Marble tile fire pit
This square wood burner has plenty of style with the marble tile top and arched leg supports.  With a 22.5 inch wide square fire bowl you will have to use shorter wood unless you can cross them without the included spark screen.
This fire pit is 33 total inches across with the top with tile inserts all the way around the burn bowl. Total height is 14 inches without screen and 20 inches with a screen attached.  A log grate will keep logs off the bottom of the burn bowl and give your fire some breathing room.
Tiles can be replaced if broken, you may have to replace all of them to match color and pattern.  The four legs at the corners will have an arched support brace with three verticle bars for extra support.
A forked poker will allow you to remove the ember screen while hot and also stir the fire.  A poly cover is included for the times you don't need your fire pit and cannot store out of the weather.
Hiland Square Slate Top Wood Burning Fire Pit
Very similar to the fire pit above, the tile surround on this model is all one piece, very difficult to replace or repair if it gets damaged.  The metal parts are done in antique black.  The four legs are supported by solid arched bottom panels.
The outside measurements for this fire pit are 36 inches across and 22 inches tall with the spark screen installed.  A  forked poker will allow taking off the spark screen and adjust your wood for a better burn.  3 ribs on the bottom of the burn pit will let your fire breath for a better burn.
The big drawback of this design is that the top is one piece and if it breaks, it will be hard to replace.
Axxonn Malaga Square Tile Top Fire Pit
This fire pit is a dual purpose fire pit and table.  The cover for the burn pit will sit on the leg support when not needed.  You don't have to store this fire pit when no fire is needed.
A tile top will cover the perimeter and tabletop and can be replaced if you cut each tile to fit.  Four legs will have lower support for stability.
The firepit is 32 inches square and 22 inches tall with spark screen installed.  Burn bowl is 20 inches square with a log grate for a better burn.  A forked poker will allow for removal of spark screen to adjust wood for a better burn.
This is a great fire pit for year-round use, never have to put it away.  I would purchase a cover for it as it will be out all year round and the sun and rain may take a little shine off of the finish of the tile.
This Axxonn Malaga Square Tile Top Fire Pit can be used as a safe place for a fire or as a convenient coffee table to place your beverages or food on. It comes with a ceramic tile top that adds stylish touches to any garden or backyard. It will keep you and your family or friends warm during chilly outdoor evenings. With a rust-resistant powder-coated black frame and high-temperature painted bowl, mesh safety lid, log grate and poker, the Axxonn fire pit offers durable performance and style. You'll love finding reasons to have your friends and family gather around throughout the year for lots of fun and entertainment. This product has a classic design and will update or refresh any patio or outdoor area and will truly light up the night. This Axxonn Malaga Square Tile Top Fire Pit features a durable, powder-coated finish and comes with a fire poker and log rack and a safety mesh screen.

---
Click on the image below for more information on your next wood burning fire pit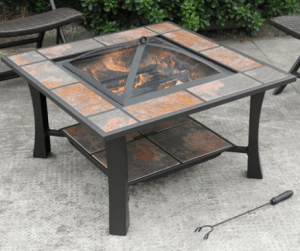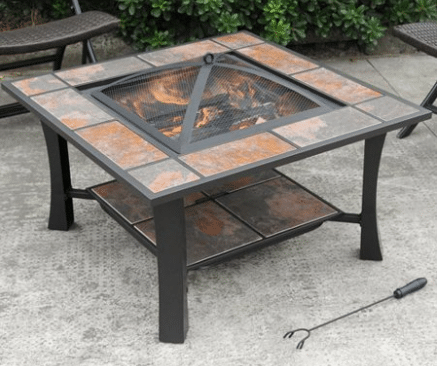 What fire pit will work best for you
You will have several choices in deciding which one of these fire pits is going to be your on your list of favorite Outdoor Wood Burning Fire Pits for your outdoor space.  Each one will have advantages or style that will fit in many patio furniture decors.  I prefer a simple design of the Endless Summer design or the Sun Cast for its stone look.
What choice will you make, do you like one of these fire pits or have one.  Chim in with your thoughts below or if you have a question for me, use the forms below and I will get back to you shortly.