Solar Outdoor Water Features
The sound of running water is a very soothing sound, having several options for your small Solar Outdoor Water Features that will give you that sound of water flowing and will cost you little money to upkeep.  Most will only run when they have sunshine, one example has a power cord for regular electric, these water features will be best for daytime use, none of them use a battery backup.
Having a water feature that has multiple purposes will give you both the sound of running water and a bird bath feature.  Some can be used on a table top, others are best on a stump or on the ground, you choose on how to display your water feature.
Now lets look at some of the details of each solar fountain and see what features work best for your outdoor garden space.
Smart Solar Green Ceramic Frog
Price when article was written: $57.68
This solar fountain will run as long as the sun shines, no rechargeable battery included.  Water will flow out of the mouth and be recycled from the bottom of the bowl.  Great ceramic finish will last a long time outside.
The bowl is 17 inches wide, 15.3 inches deep and 6.5 inches tall.  Bowl will hold one gallon of water that will flow from the low voltage pump.  A ten foot cord will allow you to put your fountain in the shade or someplace that does not get much daylight, just put the solar panel in full sun and your fountain will run.
You can use this fountain anywhere that gets sun within 10 feet.  No outside plumbing, all water runs inside of fountain.  It will weigh under 9 pounds without water, so it will be easy to move to different locations if needed.
Pros
Three styles to choose from
Great ceramic finish
Remote solar panel, fountain does not have to be in the sun
Cons
If used as a bird bath, will need cleaning more often
May be too big for tabletop use
No battery, only runs when sun shines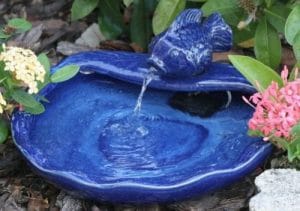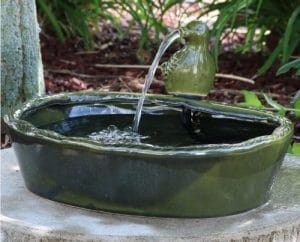 Available in a Koi fish or Dove model also
Koolscape Solar Cascading Fountain
Price when article was written: $110.51
The five bowls of this fountain will give you the sound of water hitting four different tones of terracotta.  Each bowl will drop the water to the next level.
A 15 foot cord is included to power your pump when the solar panel is collecting sun rays for power.  You can sit on the side table or on your dining table and use the long power cord to collect the sunshine.
The bottom bowl will be 16 inches across and the total height of the fountain will be 18 inches.  Water is raised to the top bowl via low voltage water pump, through a clear plastic tube that is visible.
This solar fountain will work best for those looking for the outdoor western look of the terracotta material, it would look great with a cactus next to it.
Pros
Great terracotta finish
Four tier sounds
15 foot power cord for solar panel
Cons
Only works with sunshine
Does require outside water hose to raise water to top bowl
Does require some adjusting to get water to flow down from bowl to bowl
Teamwork Solar Water Fountain
Price when article was written: $193.67
This solar fountain is made from a resin material with a bronze finish.  It shows a little boy and girl working together to pump water into a bucket.  It is made to work with the included solar panel or an electrical adapter that plugs into a 110 volt power source.
The water will flow inside so no external hoses.  This water feature is a little bigger than the others at 16 inches wide, 8.75 inches deep and 28.75 inches tall.  It will be 17 pounds without water, it could be moved with ease.
With the solar power or regular electrical power, you can use this Solar Outdoor Water Feature any time or in any location that has sun or a 110 power source.  Solar panel will have a 15 foot cord for catching the suns rays while your fountain can sit in the shade.
This fountain will work well for those wanting something that will be a visible feature even when the water is not flowing.
Pros
Has electric adapter for night time use
15 foot solar panel cord
Water moves internally, no outside lines
Cons
Higher price than others in this article
Heavier than others
Better Homes & Gardens Calypso Solar Cascading Water Fountain
Price when article was written: $89
Very similar to the Kolidscope model above, the finish of this solar fountain will be of concrete with a white speckled finish, finish will last very well in outdoor conditions.  The five bowls will sit in a steel metal frame and the water will be pumped up to the top bowl through a plastic hose.
A 10 foot power cord will allow remote location of solar panel from fountain.  The fountain will be 17.5 inches wide, 15.5 inches deep and 22 inches tall.  It will weight 20 pounds without water, still easy to move when needed.
This solar fountain will work well on a table top or just sitting by a pathway in the garden.
Pros
Great sound of the four tiers of water fall
Durable steel and concrete construction
Cons
Only a 10 foot power cord
External water line
---
For more information on Solar powered water features for your outside space, use the following link
My final thoughts on these solar powered garden fountains
Having a water feature for your garden areas by using one of these Solar Outdoor Water Features will give you a great sound and a great looking feature when it is not working.  The big drawback is that most will only work when the sun is shining, a little water noise after dark will be a little more cost.  I have looked at remote rechargeable batteries, the cost is well beyond my pocket book.
Once you set these fountains up, they will take little work to keep operating, just change the water when needed.  I like the features of the Water pump with the two kids the best, as it gives you the option of running off a regular 110 outlet and it looks great.
The big thing to remember if you have a water feature outside, is to remove all water before you get any freezing temps, this will damage the pump and any place that still has water inside.  If you want more information on water features for you garden area, see some of my other post here.
Any questions of comments on this post or any other on this site, use the forms below and I will get back to you shortly.