Garden Furniture with Swing Seat
When looking for seating solutions the Garden Furniture with Swing Seat will be a great find.  With motion, your long term sitting comfort will be a thing that you will look forward too.  I will look at several different styles of seating for your outdoor space in this post and give you some details of each.
I have several of these ideas and love each one.  Although all of these ideas will not work for all outdoor patio spaces, you should be able to come up with what will work for you from my information here.
Now let us look at these styles and see what best fits your outdoor living situation.
For a video on this article, use the link below.
Hanging Chair
A frame will support a single chair from a point on top.  Your chair will give you movement in any direction.  The comfort of the chair will determine how long you can sit in it.  Most chairs of this type will have some type of cushions to keep your butt comfortable.
Most of these units are light enough to move for one person.  A wide base will have three or four outriggers that will keep it stable when swinging.  An arm that rotates to the middle on the top so a small chain or hook to support the chair.
The spring in the arm will give you little motion, the chair hanging from a small spring will give you a little up and down motion.  The chair will be able for most swings to rotate all the way around if you have a swivel spring.
This chair will work well for those looking for seating for one and want some mobility.  Cushions will need storage when not in use to prolong their outdoor life.
If you have a tree in your outdoor space, you can hang this swing from a big branch with the proper hanging hardware. For more information on Egg chairs with stands, see my post here.
Pros
Easy to move when needed
Can be very comfortable for long term sitting
Cons
Seating for one
Cushions will need storage
Two or three-person Swing on a stand
A swing that will give you seating for multiple people will be a plus for your outdoor space.  I have a wooden swing on a stand in my back yard and it gives many hours of relaxing time in my outdoor space.
Although my swing does not have cushions or springs on the hanging hardware it is very comfortable for sitting and getting my favorite cool beverage.
Many styles are available in hanging swings, with metal frames, springs for the hanging hardware. cushions on the seats, or storage compartments for your snacks and drinks so that you do not have to even get up.
I just found for this year a swing that has zero gravity chairs so that you can lay back and relax while swinging.  For more information on a zero-gravity swing for two, see my post here.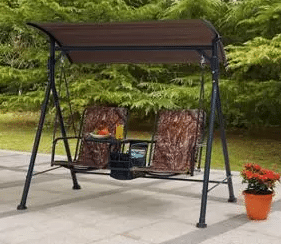 I have written many articles on two or three-person swings on my site, for more information use this link here.  Materials for seating will go from a sling material that is very easy to take care of, to a thick cushion set that can be changed to a bed by laying the backdown.
These type of swings will need to find a home in your outdoor space, it will not be easy to move even with multiple people.  A solid flat surface will also be needed as most of these swings will be between 6 and 8 feet from outside legs on each end.
I like this swing for multiple people that enjoy each other's company for a while.  If you don't want to sit next to each other, try the hanging swing above and sit them far apart.
Pros
Seating for multiple people
Can be moved if needed
Some have storage
Some will recline into a bed
Cons
Cushions will need storage
Take up a large area side to side
Will need several people to move
Must have a solid flat surface to sit on
Glider
Gliders will come in many styles and colors, you will be able to purchase one to match your current patio furniture or outdoor decor.  I have a wrought iron glider at the lake, I have a cushion to put on it if I want to sit for a long time.
You can purchase a glider in wood, metal or resin wicker finishes.  A person looking for retro furniture will like the look of a glider for two made from metal with single chairs hooked together.  For more information on the retro glider, look at my post here, you can get a lot of different styles of seating to match this style.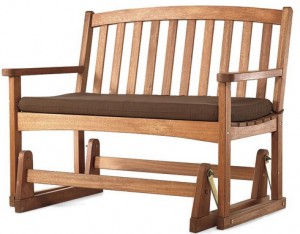 Wood gliders will come with cushions to make them more comfortable for long term sitting.  Painting the wood can match almost any decor.  Getting a wooden glider that is made from very durable wood like Acacia or Teak will last a lifetime.  You can let this type of wood age to a gray patina or keep it looking like new with a coat of tongue oil once a year.
Resin wicker gliders will come in several styles and colors.  Most will have thick cushions that will enhance your sitting pleasure.  Steel frames will give a good foundation and the woven resin wicker will give you a great finish.  Most will have several other matching pieces to add matching patio furniture to your outdoor space.
This type of patio furniture will work for those who like to move their sitting pieces and want seating for two.  The movement will give you hours of comfort.  If you have cushions for extra comfort, make sure that you have a storage solution to keep them looking like new.
For more information on what gliders are available today, see my post here.
Pros
Easy to move
Smaller area needed for two-person seating
Many styles available from retro to a modern look
Cons
Cushions will need storage
May need lubrication on the swinging hardware
Needs a flat surface to sit on
Porch swings
Want seating for two under a cover, a porch swing will work well.  With a proper mount in the ceiling to support your swing, you will have many hours of comfort swinging with someone.
Most will hang from chains that will attach to the arms and lower frame.  The wooden ones will have the chain go through the arms and back to the bottom of the frame, this will keep the chair from falling apart when sitting in it.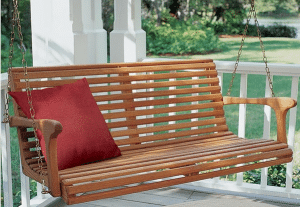 The big point is that you must have a secure mounting for the hanging hardware.  This is a big problem with this type of swing.  You cannot move this swing once installed without a lot of work.
If you are looking for a mobile seating solution this is not the swing for you.  For more information on resin wicker, porch swings see my post here.
The wooden porch swings can be made from several different materials, pine, cedar or long-lasting teak wood.    Depending on the price you are looking to spend will determine the material you will be able to afford.  For more information on wooden porch swings, look at my post here.
Pros
Great for under a covered porch, will not get rained on
The weight limit is determined by the mounting materials and upper bracing
Once installed, not much maintenance to do
Cons
Will need a solid mounting surface above the swing
Cushions will need storage if included
Cannot be moved without a lot of work
Bonus-Hammocks
I like the idea of a hammock for a single person to swing in their outdoor space.  We have one at the lake to hand between two trees, my son will swing and read for hours in his hammock.
Two major styles of hammocks are available, one with a frame and those that hang from hardware attached to a tree or other solid upright surface.  I have not owned a free-standing hammock on a stand, I do know that they are just as comfortable as the ones that hang between trees.
I like to lay in the hammock and look straight up and look at the clouds going by between the tree limbs.  This will give you a sense of motion even if you are not swinging.  Most will dry quickly when they get wet in the rain.
Hammocks that have a solid stand will give you the ability to move to chase shade or sun, depending on your tanning needs.  For more of my information on hammocks, follow this link.
Pros
Very comfortable to lay in
Weight limit will be your mounting hardware and size of the tree
Swings with stands will be easy to move anywhere where the ground is flat
Cons
Will need a tree or other object to hang from
Some will have trouble getting in or out of this time of the chair
Must store complete hammock when not in use, I roll mine up and put in the garage when not needed
What I like about garden swings
If you are looking for the best Garden Furniture with Swing Seat, one of these ideas should work.  I have several of these in my outdoor space, Hammock, two-person swing and glider.  Each has its own space and is used at different times.
The Glider and swing are easy to use, just put out cushions and sit.   The hammock on the other hand takes just a few minutes to hang from the trees, my son does it by himself.  I leave the hooks in the tree year-round, this makes for an easy install in just a few minutes.
I would like to try a hanging chair, just do not have the room for it at the lake now.  I think the side deck may be a great place for one.
Let me hear your ideas for your Garden Furniture with Swinging Seat, or if you have a question use the forms below and I will get back to you shortly.