Having a Zero Gravity Double Swing in your outdoor space that you can share with your favorite person will make you a place that friends will like to come to.   This swing is very similar to the Big and Tall dual swing that I wrote about last year, see my post here for information on the older Big and Tall swing.  I will give you the information on the new for 2019 Mainstays Big and Tall Zero Gravity Double swing in this article.
Those who have a zero gravity chair will know that this swing will be a great addition to any outdoor space.  Your chair can be taken anywhere the swing will be something that stays in your outdoor space at home.  I have a regular swing that is a place to stop and let the world go by and not think about problems for a while.  This swing will make you want to just lay back and not get up for hours.
Now let us look at some of the details of this swing and see if it will work for you.
Zero Gravity Double Swing
Price when the article was written: $251.15
What do you get in the box?
In the large box, 90 inches long, 31 inches wide, and 7 inches thick, you will get many pieces.  I would recommend getting a friend to help with getting the box home and assembly.  You can have a few of your favorite adult beverages after this Swing is put together and store them in the center storage container, you will not have to get up to refuel.
The Swing will have two zero gravity chairs mounted to a swing base that is hanging from an A-frame with springs for support.  A sling fabric canopy will give you shade during the sunniest days.   Sling fabric is available in three colors, Red, Camouflage, or Tan, with the shade, seat, and center storage container matching in color.
A center storage container will have a fabric storage container that will have a hinged lid.  The lid will have cup holders and a tray for snack storage.  You will not have to get up very often, you may just live in this swing during the summer.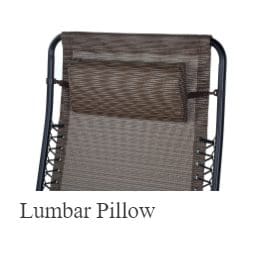 Each chair will recline by itself, reclining the chairs will be a simple push back, a locking tab will keep your chair in place.   The sling fabric for the chairs is attached to the chair frames with a paracord type of material in a woven pattern.  A pillow-like headrest will top each chair back for extra head comfort while sitting.
The A-frame base for the swing is quite large at 72 inches wide, 50 inches deep and the top of the canopy at 90 inches.  Each seat will be 22 inches wide and support a large 350 pounds.
Assembly of your swing
Assembly of your swing may take a little time and you should have an extra set of hands for easier handling of the big pieces.  All tools that are needed will be included in the hardware pack.
The first step is to attach the top of the legs together to make sure the legs are in the proper place as the back legs have extra holes for the crossbar towards the bottom.  Then place the top bar in the top of the legs.   This will give you the frame for the swing, you will need to add the lower leg support next, then the back leg support.
Add the feet to the legs next.  Do a final tightening of all hardware after the parts have been all put together on a level surface, this will give the best results.  A single screw on each side will hold the canopy adjuster in place on the top of each leg assembly.
Add the center storage container to the seat frame.  Add side support arms to the seat frame.  Add each swing to the frame, then add hanging arms to each end of the frame.  Springs are used between the top cross-frame and hanging arms for added seating comfort.
The final assembly will be adding the canopy to the top of the swing by adding the sling material to the frame.  The top will be attached with a screw that has a big T-type handle that makes it easy to adjust the angle of the canopy to chaise shade.  Canopy will lock into place with the teeth that lock into holes.
Now it is time to enjoy your Zero Gravity Double Swing.
Care of your swing
Care of you Swing will be just a simple mixture of mild soap and water.  The fabric is made of one of my favorite materials, a resin sling fabric.  This Fabric lasts very well in outdoor conditions.
Nothing to store with this swing, you will just have to make sure that you don't leave any foodstuff in the center storage box for little animals to chew on.  This will be a big problem if you live in an area that has a lot of outdoor pests.
Pros
Center console storage
Zero gravity chairs
Sling material will need little care
Each swing will support 350 pounds
Cons
Assembly will take two people
Both people will have to swing together
Has a big footprint
---
Follow the link below to see the current pricing and availability of this swing
What are my final thoughts on this double swing?
This swing would be a  great place to spend some relaxing time with a friend in your backyard.  In this style, you can choose from a regular seat swing, as reviewed in this article, or the Zero Gravity Double Swing in this article.  You choose your level of comfort.  The big advantage of this big and tall swing style is its ability to hold 350 pounds in each seat.  This swing will hold more weight than any other swing in this style.
Having the ability to provide shade with its movable canopy, or extra storage of the center storage area with a lid, this swing is a welcome addition to any outdoor sitting area.  You can spend many hours in this swing without getting up, the need for a potty break will be the only reason to let the chair back down and get up.
If you have any comments or questions, use the forms below and I will get back to you shortly.