All Weather Wicker Patio Set
Have a large outdoor space that need some seating, the Brookbury All Weather Wicker Patio Set with sectional seating will work well.  This set will have seating for eight people if you optimize all of the seating.
Available with two different colors of cushions Tan or Gray, you can match a lot of outdoor decors.  If you do not have at least a 12 foot square place in your outside space, you may want to look at a smaller conversation set, I have several articles on four piece patio conversation sets here.
Now lets look at the details of this big sectional set and see if it will work for you.
Price when article was written: $697

What do you get in the box
You will get five pieces of furniture that can be arranged in many ways.  Two large sectional pieces will sit three people each if not connected.  One piece will have arms on both ends and the other will only have an arm on the left side.  Two ottomans that can be used for extra seating or to prop your feet up will also be included.  A high coffee table will be able to store the ottomans when you need more foot room.
Cushions will cover all seating areas, with a pillow like cushion for the backs.  Cushions can be reversed.  Fabric for the cushions are in two colors, Tan or Gray.  Polyester is the fabric of choice for this set.  I would recommend storage for the cushions when not in use to prevent fading, animal damage or other weather damage.  This is not the best fabric for outdoor furniture, I would prefer an Olefin or Sunbrella fabric for longer term outdoor use.
Frames are made of steel with an matte espresso powder coated finish.  A woven all weather resin wicker will cover all frames.  Table will have a steel slatted top that will not hold water and be smooth enough to hold you glasses upright.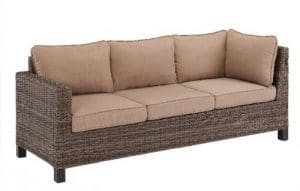 Sofas are 75.5 inches wide for one armed piece and 80 inches wide for the two arm piece.  They will be 29 inches deep and 29.5 inches tall.  An extra back cushion will be available for the piece with the extra arm to allow you to make this a one piece sectional with seating for five.
Each ottoman will be 18.5 inches square and 13.5 inches tall.   Each sitting position is rated for 250 pounds of butt.  This will allow adults to use the ottomans for seating.
The table will be a little tall at 27 inches and give you plenty of room for a full meal.  The top will be 53 inches long and 27 inches wide with a slatted top for drink stability.  Two end panels will support the top and allow you to store the ottomans under the top when not needed.
This sectional All Weather Wicker Patio Set will work for those who need extra seating and have a larger outdoor space.  The resin wicker look will look like you spent thousands of dollars, when you spent a lot less than a thousand dollars.
Assembly of your patio furniture
Very little assembly will be needed with this set.  Just assemble the table legs and add cushions to the rest of the set.  You will be ready for relaxing on your set a few minutes after unpacking the big box.  All tools that are needed are included in the hardware pack.
Care of your furniture
With most patio furniture sets the only thing you should use is a mixture of a mild soap and water to clean your set.  Any thing stronger will have bad effects on the powder coated finish.
Cushions will need a little more attention.  If you do not store them when not in use, the life expectancy will be greatly shortened.  The good thing is that I have written several post of my storage solutions in my articles here.
Pros
All weather wicker is one of the best finishes for patio furniture
Ottomans store under the table
Seating for eight if sofas not connected
Little to no assembly
Cons
Cushions will need a storage solution
Table is tall for a coffee table
---
Follow the link below for current pricing and availability of this patio set
What are my final thoughts
If you are in the market for a lot of seating for by the pool or your large outdoor patio, the Better Homes and Gardens Brookbury All Weather Wicker Patio Set should be on your short list.  The seating for up to eight people and table that is high enough to eat a meal off of, this set will be a great set.  Storing the ottomans under the table when not needed will give you more foot room when needed.  Just do not forget a storage solution for the cushions when not needed.
Thanks for reading my information.  All comments or questions, please use the forms below and I will get back to you quickly.
Please follow and like us: