Patio Dining Set for 4
I had a question from a reader on how to determine what Patio Dining Set for 4 that will work best for him.  I did not have a direct answer.  I told him he would have to answer a lot of questions about how much space he had and what his style was.
I have put together a list of questions to ask yourself when looking at patio furniture,  I will include several options for you.  If you are looking to purchase a patio dining set, get out your pen and write down some things that will get you the right set the first time.
Now lets get to the information.
Size and location of your patio area
One of the keys to a great outdoor dining area is that it is close to the kitchen or the place that you prepare your food.  Carrying food and dishes a long distance is not very good, as you will have to take them all back to a location for cleanup.  Don't think the lady of the house will be happy with toting food and dishes half way across the yard both directions to eat outside, it won't happen.
A lot of newer homes will have a deck off of the kitchen area with patio doors.  This will be a great location for your outdoor dining area.  If your deck area is smaller, under 8 foot square, you may want to look at just a bistro set for your outdoor dining.  I have a lot of information on Bistro Sets in a post here.

Builders Deck
Most people with a starter home will have what I call a builders deck.  This deck is normally 8 foot by 8 foot and will have a treated wood frame and floor.  This deck may or may not have steps down to a yard, it will have a door way from the inside of your home.  This size deck will allow you to have a regular sized dining set for four.
Adding a BBQ grill to a deck this size will give you little room for anything else.  Most people will want to cook and eat close to each other when outside, you don't want to cook and carry your food all over the yard to eat.
Paver Paitos in the yard
When you have a paver patio in your outdoor space, it can be of any size or style.  I have one that has a oval shape and I have a dining table for four on it.  You can be very creative here, just make sure you have at least 8 feet in any direction and the surface is flat when finished.  Depending on the size you can also have extra seating room available.
Concrete pad
Any pads could work for your dining area if they are at least 8 foot square.  Most pads are not close to the indoor kitchen, you will have to decide about how to transport your food to your dining area if you choose one of these spaces.  I have a concrete pad outside my space at the lake that we put our dining table out when needed.  It is  right outside the front door and is very convenient to carry food and dishes.

Size of the table
Several table sizes will be available in dining sets.  The normal size is between 40 and 48 inches.  There are some sets that will have smaller table tops, as small as 31.5 inches across, you can down size your table top to fit in the tighter areas.
Most dining tables in this size are round, if you have a larger area a rectangular table can be used.  Just make sure that there is room to move chairs out so your guest can get out without any trouble.
Just remember if you have a smaller table, you may have to fill your plate before sitting down to eat, there will be no room for a Thanksgiving diner layout on your table and have room to eat.

Type of seating
Smaller spaces will require the use of straight leg chairs for better use of space.  If you have a bigger area, swivel chairs or motion chairs can be used.  Just note that if you get motion chairs that you have room to move without hitting the railing of your deck.
The size of your space may dictate the style of chairs that you use.  I have some sling chairs with my dining set that provide a little motion with the spring legs and do not take up much extra space.  I like this material for outdoor sitting as it dries quickly after a rain and takes very little care to keep looking like new.
Having cushions for your chairs will increase the amount of time your set will be comfortable after your meal is done.  The big drawback is that you will need storage for cushions when not in use.  Most cushions will not last for more than two seasons without storing when not needed.
Having swivel chairs will make it easier for some guest to get in and out of your dining table area.  Most swivel chairs will require room to move that some smaller decks will not have.  You must make sure that you will have room to rotate your chairs without banging into the railing for this type of chair.
Type of material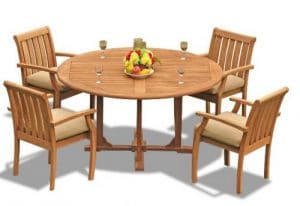 What type of look do you want for your outdoor area.  I will cover the three major types of materials that are used for dining sets.  Some will take more space than others.  Your style will determine what look you will purchase.  Now lets look at these three materials.
Wood
Wood patio furniture will come in several types.  The very cheapest is the treated lumber.  This would be just like a picnic table, great for the park, not so great for the home.
A higher priced teak or acacia wood dining set will be very upscale and last very well in the outdoor environment.  Getting a dining set that will outlast the home you are living in is a great lifetime investment.
The wood will take little care and if you do not want to seal it with oil once a year, you can let it turn a light patina color.

Metal
Having a metal framed dining set will come at the lowest price of any other style.  With a powder coated finish they will last very well in outdoor conditions.  These set will have a choice of cushions, sling seating material or just plain metal seats and backs.
Metal sets will also have the most movement in the chairs, some will swivel, others will have a rocking motion.  Some rocking motion is done with a steel bar between the seat base and chair base.
Some will have legs that will have no back bar and they will have a spring feel and some movement.  I have a set like this for my dining set in the back yard.
The metal material will last very well in most outdoor conditions.  Just wash off when needed with a mild soap and water mixture. Just watch for rust if you find scratches in the paint, once rust starts it is hard to stop.

Resin Wicker
The resin wicker material is a very good material for outdoor furniture.  It is more durable than Rattan Wicker, gives a rich outdoor feel.  Many styles can be made with this material as the wicker is woven over the steel or aluminum frames.
Most resin wicker is made from recycled material and will help the environment.  Chairs can come in straight legs or swivel base for comfort.  Most chairs will come with thick cushions for long term sitting comfort.
Resin Wicker is one of the best looking finishes for patio furniture.  It can be repaired if someone chews on the material, just weave new material into the existing pattern.
---
Shade options
Most dining tables in this size of sets will have a hole for an umbrella, most will not be included with purchase.  Getting a proper umbrella with a suitable base will be the next thing on your list if you are putting your patio dining set in an area that will get sun when you want to use it.
For those with large outdoor areas and want to have a big shade area during the day, an offset umbrella may be the option that you are looking for.  I have an article on offset umbrellas here.
I have an article on umbrellas here and when you need it, I do have an article on umbrella bases here.

My personal choices for my patio dining set
I have two different outdoor dining areas, one at home and one at the lake.  I have a folding chair with small table at the lake.  I have a set with a big wrought iron table and sling material chairs with some motion.  Each set works well in its location.  One of these sets will work for you too.
Now look at the size of your space and the pictures of the different styles of dining sets and see what works well for you.
For those needing more information for their patio set choice, send me a note with the forms below and I will get back to you shortly.