If you have just purchased a dining set for your patio, a 9 ft Patio Umbrella will be a nice addition. I will give you several designs in this article with several color choices. You will have to make a choice of what will work best for you for your shade and rain solutions.
Shade for most patios will not come from trees, as they are too close to the house. a shade solution can be provided with a patio umbrella. In this article, I will write about 4 styles from Walmart that will work well. Each will have some special qualities, I will give you the details and let you make the choice.
You can go directly to a brand by using the table of contents below. If you are ready to shop, use this link to the Walmart website.
Table of contents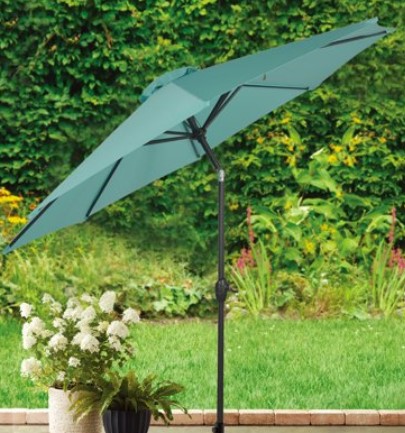 Mainstays
Price at the time of the article: $39.76
You will have 3 color choices to choose from. They are Aqua, Chevron, and Tan.

Details
This all-steel framed umbrella will have a 3-way tilt on the post, 8 ribs to support the canopy, and an easy crank to raise and lower the shade. All steel parts are powder-coated in black.
The pole comes in two pieces, one goes through the hole in the table and the other holds the crank, tilt, and shade. The umbrella will be 94.5 inches from the bottom of the pole to the top. The pole will be 1.5 inches across and will fit most patio tables.x
The shade material will be polyester. It will repel most rainfalls and keep the sun off of your head. The umbrella will tilt about 45 degrees in each direction or lock in the upright position.
No provision for securing the canopy when the shade is in the down position. The umbrella I own has this feature and I can safely secure the umbrella from the wind when needed while it is not in use. This would be an overlay of material that will allow a little wind to escape through the top of the umbrella.
It is recommended to use an umbrella base of at least 45 pounds of total weight when using this umbrella on a table. If you are using it as a stand-alone shade option, a 75-pound base is recommended.
Pros
3 position tilt
Powder-coated finish
Easy crank for shade operation
Cons
No shade tie down
No top vent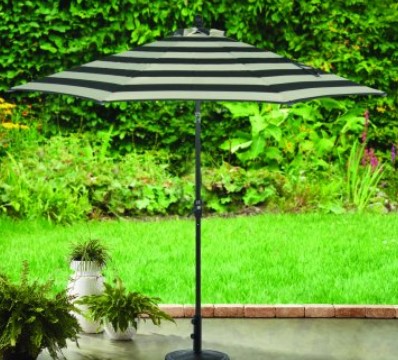 Better Homes and Gardens
Price at the time of this article: $59.57
4 Color choices to choose from, they are Black and White stripe, Gray, Navy ticking stripe, and Red.

Details
This umbrella will have 8 ribs to support the canopy. A 3-way pushbutton tilt feature is also included. The pole and ribs are made from Aluminum for lightweight. The umbrella is 8 feet tall with a 1.5-inch pole.
The material for the canopy is Olefin fabric, one of the better polyester materials for patio furniture today. It lasts very well and resists mildew and should hold color well even in bright sunlight.
It will come with a color matching storage bag for when you are not using your umbrella, great for storing in the shed or garage. The end of each rib will have a Velcro strap so that you can attach a set of string lights.
A 50-pound base is recommended for stand-alone use. A wind vent is included at the top of the umbrella to help with stability in windy conditions.
Pros
Storage bag included
Clips for lights on ribs
Aluminum frame
Cons
Fabric is thinner than past models.
Some found crank hard to use
Only 4 color choices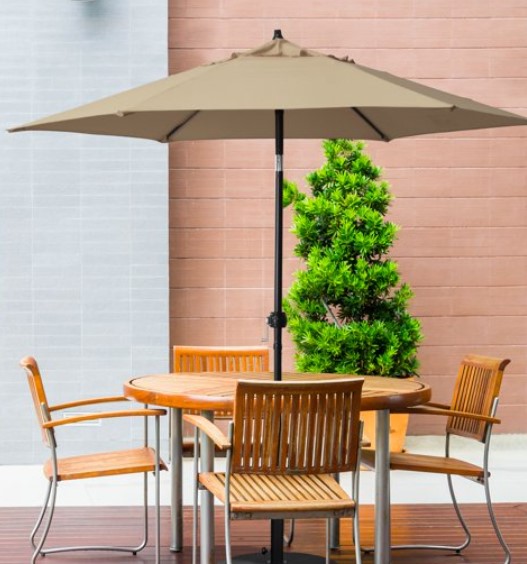 Astella Metal
Price when this article was written: $44.99
2 color choices are Antique Beige and Green.

Details
The standard features of this market umbrella will be crank operation for the raising and lowering of the shade, push button tilt, wind vent in top of shade, and 6 ribs for shade support.
The frames and six ribs are made from steel with a black powder-coated finish for outdoor durability. The shade is made from a polyester material with a wind vent on the top.
A crank handle will allow for easy shade operation up and down. A push-button will allow for 60-degree tilt to keep you in the shade.
The steel pole will be 1.5 inches wide, standard for most market umbrellas.
Pros
Wind vent on top of shade
Powder-coated finish
60-degree tilt
Cons
Only 6 ribs
Only 2 colors available now
Some found the crank plastic easy to break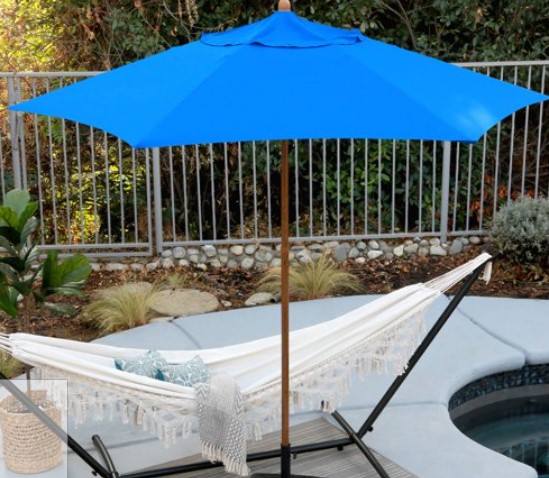 Astella Wood Grain
$36.99
10 Colors
Hunter Green, Beige, Navy Blue, Green, Natural, Pacific Blue, Red, Tuscan, Taupe, and Yellow.
Details
This is a lower end market umbrella. It does not have a tilt feature or a crank to raise and lower the shade. A pin will hold the shade open when needed.
The pole is 1.5 inch and is made of steel with a vinyl wood-grain wrap to cover it. The polyester fabric shade will be supported with six steel ribs.
Some customers found it difficult to open and lock the shade by themselves. You have to push the shade up by hand and push a pin into holes in the pole to lock it in the upright position.
This umbrella does not have a tilt feature to follow the sun and keep you in the shade. The pole is vinyl wrapped to look like wood grain, it doe not have any wood products in it.
Pros
The most color choices
Vinyl wood grain finish on pole
Lowest Price
Cons
No tilt feature
No crank feature
PIn to hold up the shade
To find more information on market umbrellas, use the following link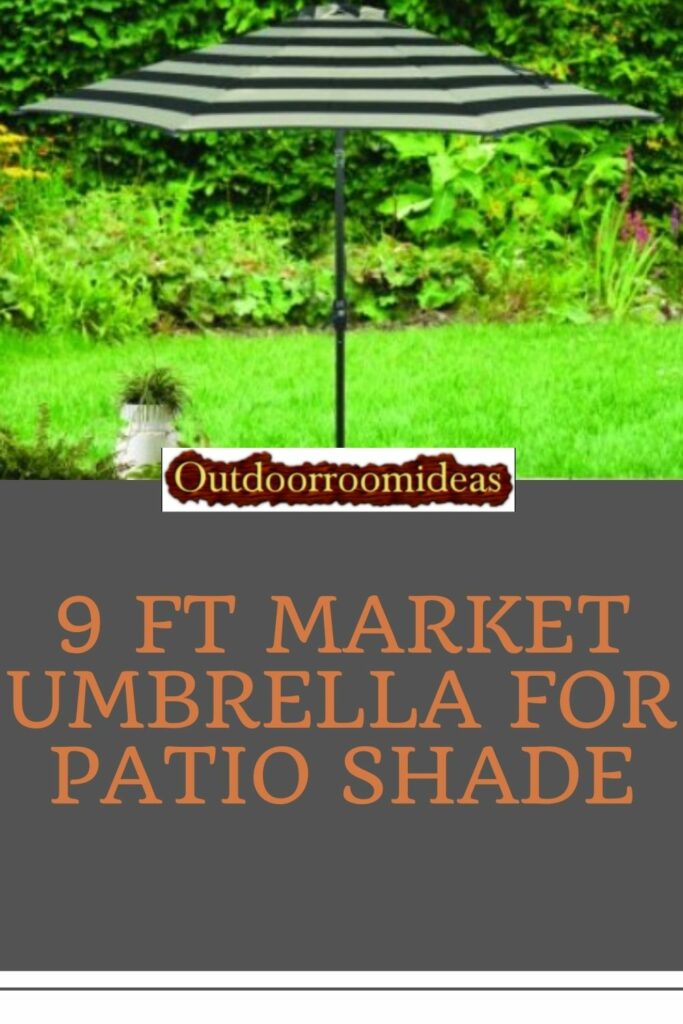 Stands for a 9 ft patio umbrella
Several styles of umbrella stands are available for market umbrellas. Some will require a media to be added and some will be ready to use out of the box. make sure that you look at the weight that is needed for the best results if you use with or without a table for added support.
For some of my information on patio umbrella bases, use this link.
Water based
Water based stands have a hole in the top to add water for weight. Normally made from a thick plastic material, you will have to drain the water out if you live in an area that it freezes to keep it from damage. If it cracks it will no longer hold water and function properly.
Media filled
A media filled stand can be filled with rocks, sand and in some even water. With rocks or sand they can be left outdoors even in the worst weather conditions.
Metal
A solid metal stand will be the easiest to open and use out of the box. Nothing to add, Just put in the umbrella and sit in the shade. I have a couple of this type and really enjoy the ease of use.
Side Tables
Various side tables can be used for an umbrella stand. Several styles of side tables are available. I like the light colored resin wicker side table that will serve as an umbrella stand.
My final thoughts on these 9 ft market umbrellas
The market umbrella that I use is the Better Homes and Gardens brand. I like the features of tilt, hand crank, color choices, and the Velcro straps to hold string lights.
Your choice may may be a little different because of your needs or budget. To see other patio umbrella choices, use this link.
If you have any questions or comments, leave me a note with the forms below and I will get back to you shortly.