Outdoor Bar Cart Ideas
Have you ever had guests over and did not have a way to prepare your dinner beforehand, try an outdoor rolling serving cart for the ease of having everything you need for serving and cooking on the grill. If you are just serving some drinks for your guests, the bar cart will be a great place to keep your glasses and snacks to go with your favorite beverage.
From the simple two shelve cart to the ProSeries by Blackstone, one of these carts will be a great addition if you do a lot of entertaining in your patio area. From open storage to several shelves behind closed doors.
Use the list below to go directly to the cart that you would like to see my information about and find out where to get the best price online.
Lancaster Eucalyptus Wood Rolling Cart-Best cart with storage for wood patio furniture
If you have wood-based patio furniture, the Eucalyptus wood of the Lancaster cart will be a great addition. Available in two sizes for your needs. Each of the carts will have a side shelf that can be stored out of the way if not needed.
The eucalyptus wood will last very well with yearly cleaning and sealing. The wheels are smaller than others, so it will be more difficult to move on surfaces that are uneven or have debris like gravel.
Each cart will have a door for storage of your stuff out of site, it is not weatherproof. The larger cart will also have a two-tiered storage area that is open in the front.
The smaller cart will be 32 inches wide with the 11-inch shelf out, 21.25 inches deep, and 32.75 inches tall. The larger cart will be 60.25 inches wide with the 11-inch side shelf up.
The side shelf is made to be put on either side of the cart so that if you are left-handed, you can make this cart handy for you. The slatted side will make your cart very open, you will need to protect your goods from moisture more like an open cart.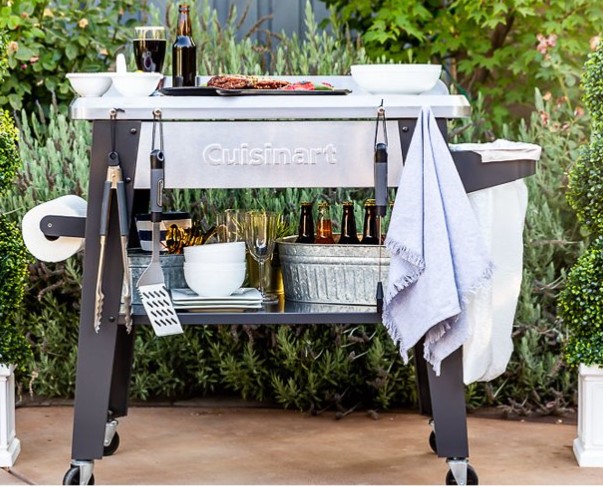 Cuisinart Stainless Steel Outdoor Prep Table-Best For BBQ areas
This stainless steel cart with steel black painted legs will have a lot of hooks and places to store your supplies for your outdoor cooking. No closed storage for your drinks or glasses, this cart is better for BBQ areas.
The open design with a lower shelf will give you some storage along with hooks on the front shelf for rags or cooking utensils. A rack on the side is made to support a trash bag along with an opposing rack for paper towels will give you more options for keeping your area clean.
The top of the cart will be 36 inches long and 22 inches deep for a great workstation, this top will be 36 inches off the floor. A small backsplash will keep your goods from falling off the back.
Four medium-sized wheels will let you move your cart across most surfaces with ease, they will turn in any direction. Some uneven and rough surfaces may make it hard to roll this cart, not made for the grass or dirt surfaces.
Blackstone Adventure Ready Prep, Serve, and Store Cart-2 side shelves and drawers
The Blackstone series of serving carts are the premium examples in this field. This cart will have two drawers for storing some of your cooking and serving needs.
The steel body is painted black with the prep tabletop done in a stainless finish for easy cleaning and sanitizing. An additional shelf is added to each end, they can be folded down or removed if necessary.
Additional storage is available for BBQ tools on the pegs on one of the side tables. A bar on one end can hold your paper towels, the other end has a frame for holding a trash bag to keep your area clean of debris.
The front of the cabinet will have a small drawer on top and a larger drawer on the bottom. A round bar will help open each drawer. An open shelf for your goods will be in-between. Above the smaller drawer is a built-in bottle opener for your favorite adult beverage.
4 wheels will help you maneuver your serving cart where you need it. They are not big enough to travel over rough or loose surfaces, especially if you have your cart loaded with goods.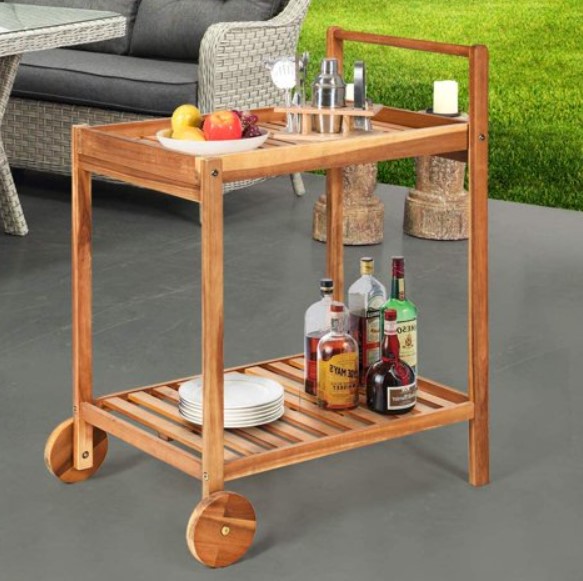 Acacia Wood Serving Cart-Cheapest wood rolling patio cart
With one lower shelf with a slotted design for storage and an upper shelf that is a tighter slatted design with short sides for prepping your drinks, this patio cart will work well in areas with a wooden-tone patio theme. The acacia wood will last very well in outdoor weather conditions.
With wheels only on one end, this cart will be the least mobile of all of the carts in this article. You must lift the handle to move this cart with the wooden wheels. It will be rough to move on any surface that is not smooth.
With a total weight capacity of 100 pounds for each shelf, this cart can hold a lot of your outdoor cooking and serving needs.
The cart is 25 inches wide, 19.5 inches deep, and 33 inches tall at the handle. Construction will be the 2 shelves with the 4 legs 1 at each corner.
This is a nice wooden cart that can be used indoors or outdoors for serving your favorite drinks and snacks. My opinion is that it should be almost empty to try to move to another location or you may have trouble keeping your stuff on the cart and lifting the handle to move the cart. Once it is loaded it makes a good stationary cart.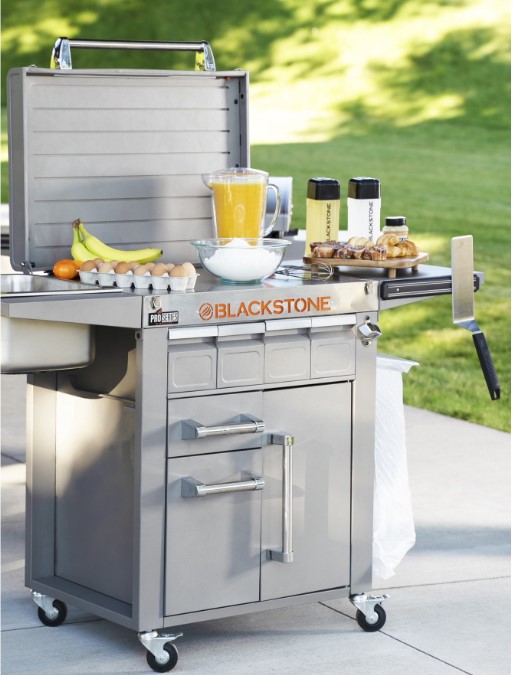 Blackstone ProSeries Prep, Serve, and Store Cart with Hood-Most Storage Options
This is a premium serving and prep cart for your patio area. With a full stainless steel construction and several storage areas to choose from.
This cart will include a drawer that can hold ice to keep your beverages cold, a removable sink on one of the side tables, a bottle opener, a magnetic strip on one of the side shelves for BBQ tools, 4 small drawers for spices and rubs, and a built-in light for late-night parties.
The side shelves can drop down if you remove the sink and BBQ tools first. The top of the prep area will be protected by closing the upper lid.
The bigger drawer will come with a liner and drain for use with ice to make the cleanup easier. Having your cold favorite adult beverage in your cart will make your party go smoother.
The wheels have locks on them to keep your cart in place while you are preparing and cooking for your guests.
The cart will be 56 inches wide with the shelves up, 26 inches deep, and 38 inches tall with the lid closed.
As I said, this is a premium patio prep and serve cart for those who want everything in one place.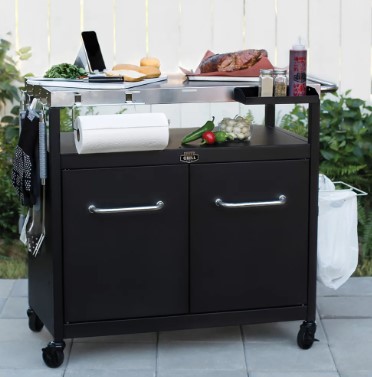 Expert Grill Superior Preparation Cart
This cart is very similar to the open cart below. The biggest difference is that this cart will have a higher upper shelf and doors to keep your stuff behind closed doors. You can leave some stuff in this cart when not in use as long as is cannot be used for food for the local varments.
This multi-purpose cart can be used for any outdoor activity. With closed storage behind the two doors and a stainless steel prep area on top, you can use this cart for your BBQ event or just to serve a few drinks to your friends.
Hanging storage for BBQ tools, paper towels, and trash bags will help you stay on the patio without trips to the house for stuff.
This cart will have 4 wheels that are smaller than some. It makes it so that you do not have to unload it to move it, just will not be able to move over rough surfaces or gravel. A handle on one end will help you go in the right direction to move to another location or storage location.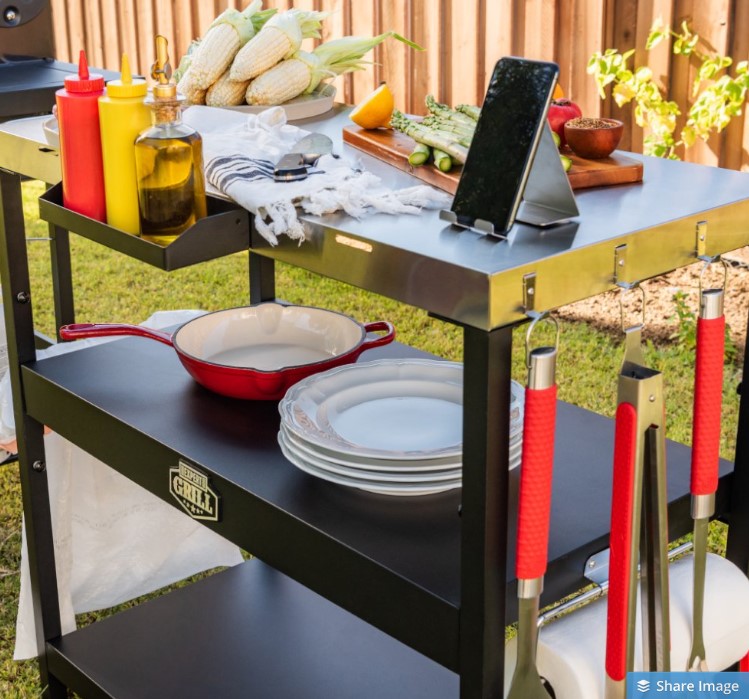 Expert Grill Outdoor Food Preparation Cart-Cheapest rolling cart for BBQ
An open rolling cart will allow you to store your stuff on the two lower shelves and prep everything on the upper shelf. 4 hooks on one end will hold all your tools for a BBQ. A small shelf with sides on the front side of the upper shelf can hold condiments or tools to open your favorite adult beverages. The slots in the front of the top shelf will allow you to move the small storage shelf from side to side or remove it together.
The steel construction will have all the lower surfaces painted black and the top with a stainless steel finish that will be easy to keep clean if you have to prep your food for the BBQ.
The top will be 36 inches long and 18 inches deep. The height of the counter will be 40.15 inches off the floor. The handle for moving the cart and the hooks for tools will add 9 inches to the length. The little condiment shelf will add 6 inches to the depth of the top.
A bar-type handle on one end will help you move this cart as it only has wheels on one end. The wheels are of a good size so that they will roll on any surface, it is a little harder if you have a full load on the cart as the wheels are only on one end.
At the end of the middle shelf on the utensil, the end is a bar for paper towels to help with cleanup. On the other end of the middle shelf is a metal rack on that you can hang a trash bag to keep your cooking area cleaned up.
You can use this cart for a drink cart also as the lower shelves will help you store your drinks and glasses for serving. Moving this cart with any load will be a struggle trying to keep the stuff on the cart. Moving this cart when finished to a storage area should be done with the shelves empty.
FAQs about outdoor bar carts
What are the best things for your bar cart?
Of course, the main thing is your adult beverages for serving. Most bar carts do not have a cooler or a place to store beverages to keep them cold. A small ice chest is a great thing to keep close to your bar cart area. Or a table like the Keter table with cold storage will be a great addition to your patio area.
Getting the right supplies for your bar cart will depend on your use. Most of these carts will have shelves and doors to keep your goods safe from most outdoor conditions.
Other ideas for outdoor bar cart use?
If your cart has doors to hide things behind, you can leave many things in it like drinks, glasses, dinnerware, napkins (if it is dry), and decorations for your table like flowers or placemats.
I leave some items like things I put on my burgers (Mustard, Ketchup, and other things) out overnight, not for long-term storage as pests will find them and get into your stuff.
Can you still use an outdoor bar cart if you do not drink alcohol?
Yes, you can use one around your prep area (BBQ pit or outdoor oven) to keep your tools and food while you cook. Not having alcohol in your outdoor area is not a bad thing when you have kids involved.
If you do not drink you can use your outdoor bar cart as a Temperance Bar, a bar without alcohol. Not everyone drinks when they use their outdoor area, some just use this area for family outings.
Will a rolling serving cart help you BBQ?
It will not make your BBQ taste better, it can make sure that you have everything that you need available without having to keep going back inside.
With storage available for sauces, utensils, cleanup materials, and a smooth top for any prep that you need to do, any of these carts will help make your BBQ easier to do and serve.
My final thoughts on these Outdoor Bar Cart Ideas
In this article, I have detailed 7 different outdoor bar cart ideas, from a simple wooden cart to the deluxe model. I prefer the small Lancaster eucalyptus cart for its storage and maneuverability. I don't have a big area and some of the carts here would be just too much for me.
Some people would really appreciate the Blackstone Premium cart if they BBQ frequently for friends and family. It has the most options and storage. If you have the space and need, this is the best cart.
If you have any questions or comments for me, use the forms below and I will get back to you shortly.