Best Outdoor Hanging Chair
In this article, I will look at 7 different styles of the best outdoor hanging chairs. Several looks and styles are available, I will give the information on each to let you make an informed decision on what will work best for you and your home.
From an egg chair on a stand to a chair that hangs from the ceiling of a porch, your choice of an outdoor swing for one will be something that will take a little research on your part. I am writing this article to help in this research.
Use the following list to find the right design for you and your outdoor space.
Modern Hanging Chair Rattan Porch Swing Chair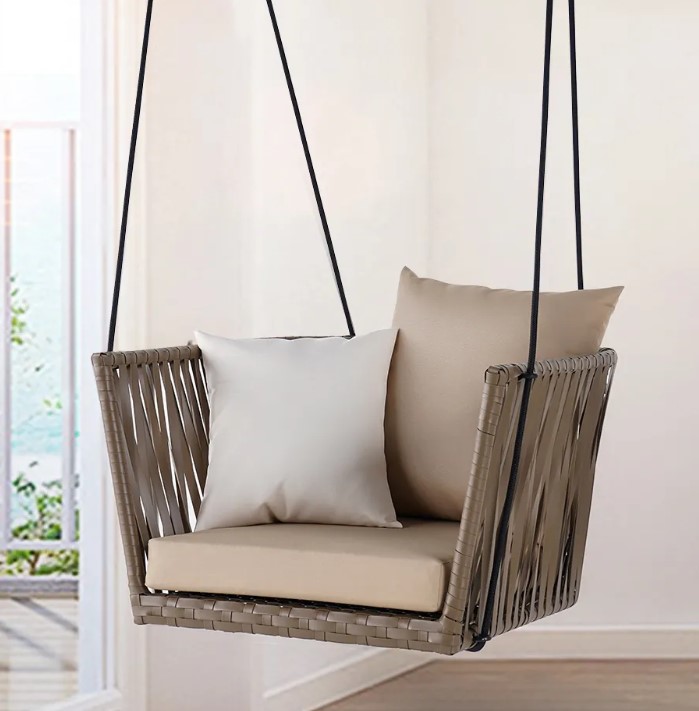 This hanging chair is made to hang under a covered porch. Two sets of woven rope will attach to your hardware in the ceiling.
The steel frame will be covered with coffee-colored woven resin wicker. Cushions will cover seating and back areas. A pillow is also included.
The cushions and pillow will have a foam filling and a polyester fabric cover. The seat cushion is tan and the pillow has beige fabric.
The chair is 26 inches wide, 28.7 inches deep, and 17.7 inches tall to the top of the back. No length of rope is given, this may be a problem if you have a high ceiling on your covered porch.
Barton Hanging Egg Swing Chair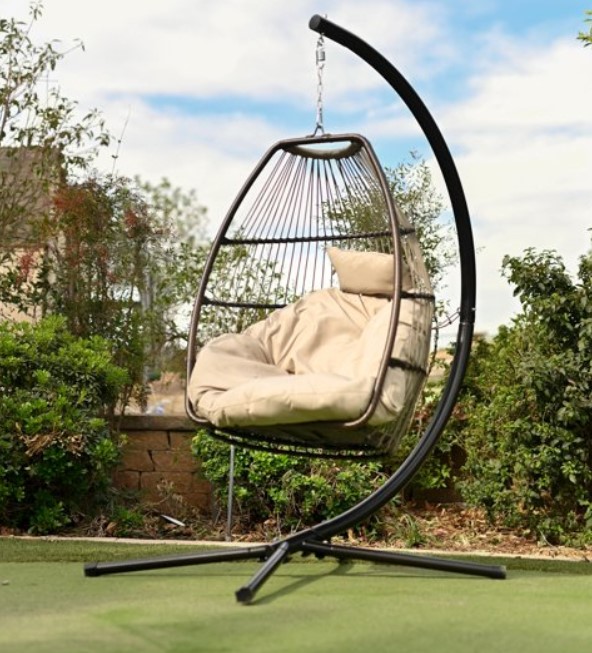 If you are looking for a hanging chair that you can use in a lot of areas, this could be an excellent option. You can use this chair in any flat area of your outdoor space or you can actually use it indoors.
The frame structure with its 4 legs and the curved top mounting mounting post will be steel and with a dark powder coated finish.
The chair portion will also have a steel frame with a powdered coated finish. It will have resin wicker strands running from the top to the bottom of this chair and wrapping the frame of the chair.
Sitting comfort will come from one large pillow kind of like a bean bag and then a little pillow for your head. They will have a contrast in color of beige.
The cushions will have a polyester fill and a choice of beige, blue or tan polyester covers. They will be easy to remove to clean or if you want to use in some other places.
The chair will be 41 and a 1/2 inches wide, 50 inches front to back, and 78 and a 1/2 inches tall to the top of the frame. The seat cushion will be 27 inches from the floor. Properly assembled this chair will support 265 pounds.
Lacoo Hanging Chaise Lounge Chair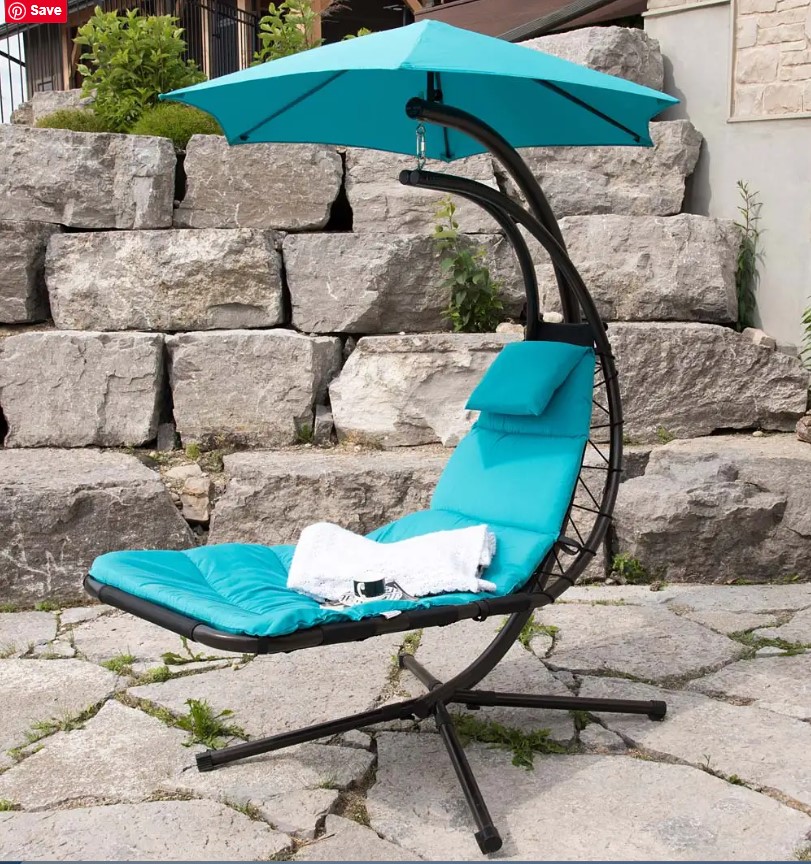 The Lacoo hanging chair is a little different in its design. It will provide support for your legs, a head pillow for comfort, and a retractable umbrella for shade.
Although the umbrella is not very large, under 4 feet across, it is adjustable to keep your head in the shade most of the time. Don't expect it to keep you dry when it starts to rain.
The arched main frame has 4 legs for stability. The steel frame is powder coated to help it last in outdoor weather conditions. The chair frame will hang from the main frame by a short chain and spring assembly. This will allow the chair to move in any direction, the spring will allow some give when moving in the chair.
The entire seating area has a large 2-inch thick cushion to give you some comfort while you are in the chair. A small head pillow is attached to the top of the cushion. Polyester fabric will cover the cushions and umbrella. A strap will keep your cushion in place while you are floating in the chair.
This is a larger chair than most. It will require more room to use. It can provide shade and comfort that other hanging chairs can't.
This chair is 35 inches wide, 85 inches head to toe, and 83 inches to the top of the frame. Weight capacity is stated to be 250 pounds.
The cushion and umbrella will need to be stored out of the weather to make them last more than a couple of years.
Hammock Hanging Swing Chair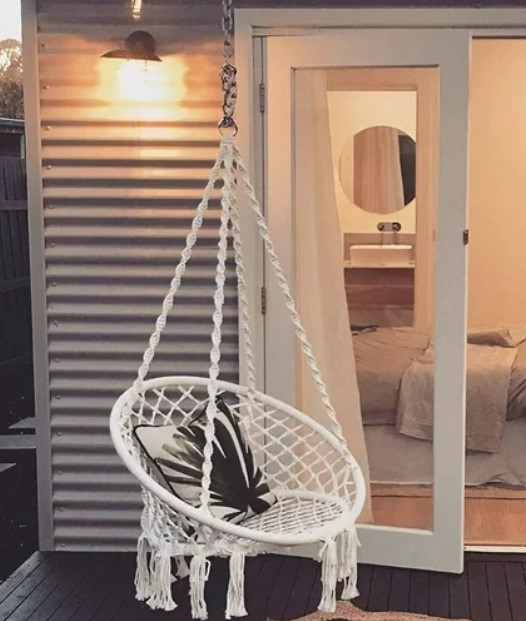 This simple design of an iron frame with a woven Macrame type netting for the chair will be very comfortable and easy to use.
A chain will connect the three woven ropes from the chair to your single-upper mounting hardware.
The 2 round metal pieces will have woven rope covering to look like a hammock. Loose rope will dangle from the lower ring. No cushion is used for this chair.
The seat portion is 31 inches across and from the seat to the top of the rope is 59 inches.
This swing can be used indoors or outdoors, just need a proper mounting location.
Nicesoul Swing Egg Chair Without Stand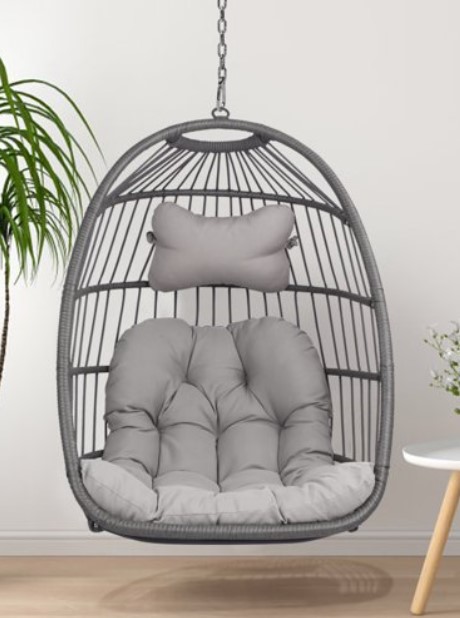 The ultimate in hanging egg chairs. This chair is lightweight, easy to move, and can be folded flat to fit in the trunk of your car to take with you anywhere it can be hung.
The seat and back ribs are on swivels to let them fold up to make this chair almost flat. The cushion will be thicker than the folded-up chair.
A set of nylon ropes go from the bottom to the top through guides on each rib, this keeps everything in order for easy fold up and fold down. The metal frame and ribs are woven with a resin wicker material.
A 4.9-inch thick pleated cushion will be large enough to cover the seat and back area. A head pillow is included and attached to the back to keep it in place, it can be removed for storage or cleaning. The cushion and pillow will have a polyester fabric over a poly fiber fill material.
The cushions are available in 3 colors brown, dark gray, and lighter gray. In the pictures, the resin wicker has a matching change of color, no mention of this in the description.
A 60-inch chain is included for this chair to hang from. Some kind of ladder will be needed if you use that entire length to hang this chair. The chair will hold 265 pounds of weight, this is assuming the ceiling mount will support this amount of weight.
At less than 25 pounds this chair is lightweight and easy to move when necessary. Folds easily and fits in small spaces for storage or moving from location to location.
This would be the ideal hanging chair for those with multiple locations for their chair and who only wanted to purchase one chair.
This swing will be 29.2 inches wide, 25.2 inches deep, and 42.5 inches from the bottom to the top of the chair. The hanging chain is 60 inches long and can be adjusted to any length shorter than that. The chair will weigh 23 pounds without cushions or chain.
Ulax Rattan Hanging Swing Chair with Stand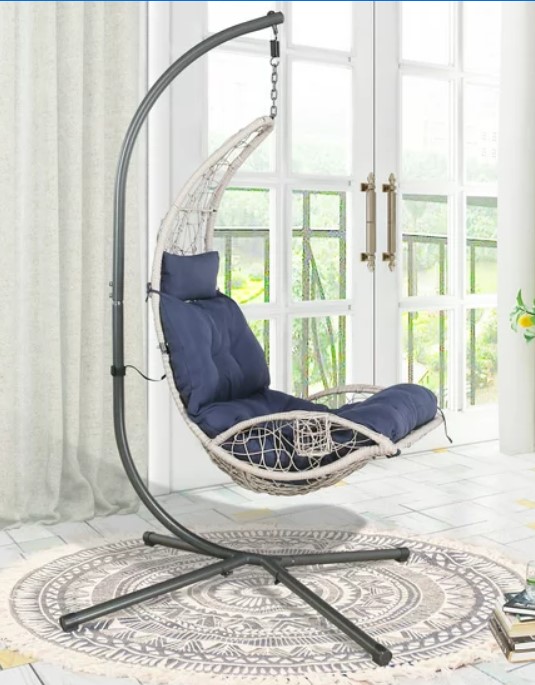 Not the traditional enclosed egg chair design, this Ulax product will have lower arms with no upper sides.
The 4-legged hanging "C" shipped frame is made from steel with a powder-coated finish.
The seat frame will be made from steel also with a woven resin wicker finish. The right arm will have a cup holder for those wishing to enjoy their favorite cold beverage while relaxing.
The chair will hang from the top of the frame with a short chain and spring assembly, this will add to your seating comfort. A small strap will connect the frame to the back of the chair to keep it from swinging in circles, this could be removed if you wanted to spin until you puked after one too many cold beverages.
The cushion will have polyester fabric covers dyed in one of 3 colors. You have a choice of blue (shown), beige, or mist (a real light blue) fabric material.
The chair with frame will be 42 inches wide, 41.5 inches deep, and 80.5 inches tall. It will hold 250 pounds of weight.
This is a great chair if you need a thick cushion for comfort and a place to keep your drink or phone while napping.
Butterfly Hammock Swing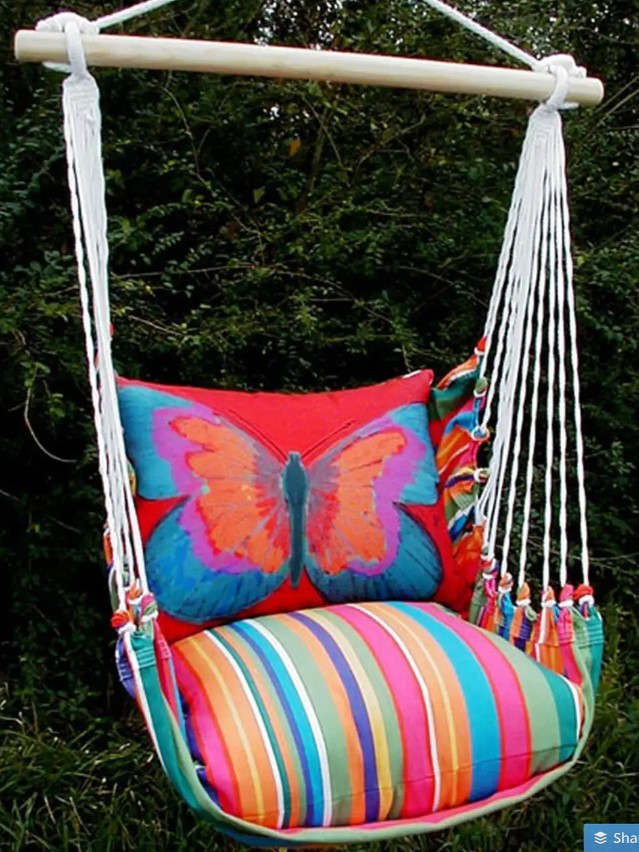 This simple design is made to hang from a ceiling or a tree. A single mounting point is needed to support the swing and its contents.
The chair is designed to hold up to 250 pounds, the upper mounting hardware will need to support like weight.
A multi-colored striped seat cushion is complemented by a multi-colored butterfly-shaped back pillow. The fabric is a polyester material.
The chair is 34 inches wide, 34 inches deep, and 48 inches to the top supporting bar.
The construction of the swing will make it a good candidate to be stored when not in use. The fabric, rope, and wood will not last a long time in outdoor weather conditions.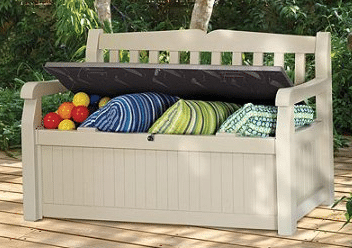 What is the best way to keep my furniture looking new?
A damp cloth will keep the frames of the stands and chairs looking fresh. A mild soap and water mixture should take care of most stains.
Make sure that any paint chips are repaired quickly or rust may develop.
Cushions should be stored out of the weather when not in use. Prolonged exposure to sun and moisture will shorten their outdoor life quickly. I would suggest a storage solution that would keep them dry and in the shade. See some of my storage ideas here.
What are the qualities of the best outdoor hanging chair?
Each person will have to choose what is right for their outdoor space. The choice of a chair with or without a stand will be the first choice.
The style of the chair will be the next choice. Styles will include the egg chair style or a regular chair with arms.
Finishes will include metal framed with resin wicker covers or wooden framed designs. Most stands are made from a quality steel tubing material.
What is better a chair with a stand or hanging from the ceiling?
The answer to this question will be depending on the place where you want to use your chair. If you wish to have your chair in multiple locations, a chair with a stand will be best.
If you have a covered porch, you may want to hang your swing from the ceiling with the proper materials. The weight capacity of your chair will depend on your mounting hardware and ceiling construction. Using the proper hardware will get you a swing that will support most average-sized adults.
How do you hang an outdoor chair from the ceiling?
Using a hook or loop type of screw-in hardware that has the capacity of at least 200 pounds that is attached to the rafters in the roof is the best method. On an enclosed ceiling, finding the rafters are the most important part of this process. Your hardware must be centered in the rafter for the best results.
Normally a hanging chair will come with a rope or chain that can be used with your hanging hardware. Both will work equally well and the included rope or chain will support a normal-sized person up to the hardware.
My final thoughts on the best outdoor hanging chair
I like the Nicesoul Swing Egg Chair Without Stand the best for me as it can be used in multiple areas with little effort. This would make it easy to take to the lake or use it at home.
Hanging it from a frame or tree would take a little time. The frame would be an extra cost with this chair.
What are your thoughts? If you have any questions or comments about this or any other information on my site, please feel free to contact me with one of the following forms and I will get back to you shortly.