In this article, I will answer some of the questions about Outdoor Fire Pit Design Ideas. I will give my opinion from my years of experience with this subject. I am not the best expert in this field, I have many years of using both types of fire pits and what works best for me.
Now let us look at some questions and my answers. To go directly to each question to see my answer use the table of contents below.
Wood burners
What type of wood should I use?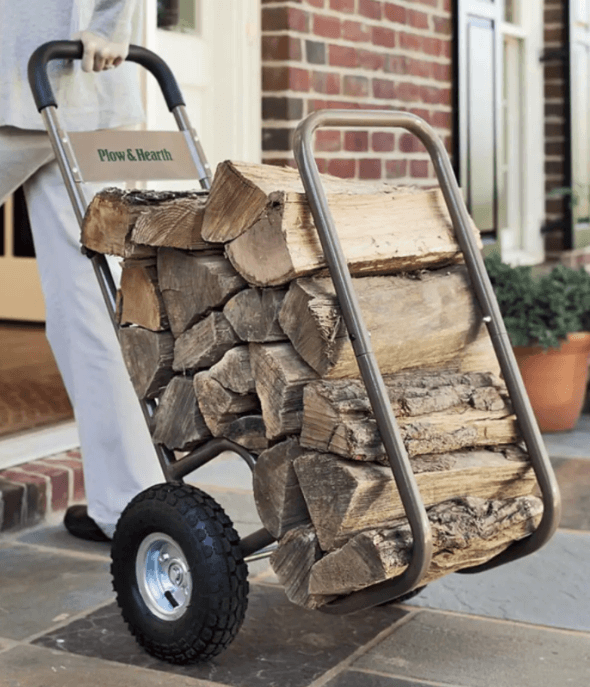 Wood fire pits will use cut firewood most of the time. The type of wood will determine how easy it will be to start and keep burning. Ash, Oak, Hickory, Beech, Cherry, or Maple are some of the best. Having dry seasoned firewood will keep you enjoying the fire without having to work to keep the fire burning.
16 to 18-inch firewood works best normally cut into smaller pieces than an indoor firepit. This makes it easier to get firewood to your burn location if you do not have a log mover like mine.
Most metal wood-burning fire pits will not recommend burning the starter or composite logs as they will burn hotter and may damage the metal.
What is the best material for an outdoor fire pit?
Metal or stone materials are the best choices for wood fire pits. Some will use rocks that will save a lot of money if you pick them up free. Any of these materials will work, each has its own advantages, some in price, some in weight.
If you are wanting to move or store your fire pit when not in use, a metal one will be a better choice. If you use the same spot for your fire gathering a stone fire pit may be a better choice.
What is the best fire pit design?
The best design will be one that follows the rest of your outdoor decor. Both the metal and stone fire pits can be made or purchased in round, square, or rectangular designs.
I have 2 different designs of round fire pits, a stone one and a metal one. They are easy to place chairs around and everyone can see each other and the fire.
How do I make a cheap outdoor fire pit?
The best materials for a cheap outdoor wood-burning fire pit are rock or wall stones. Around where I live (Midwest USA) you can pick up rocks on the side of the road in many locations. This will make it a free material, just have to pick the rocks that match and you think will fit best for your fire pit. Nothing beats free.
Wall stones will be my next cheapest way to build a fire pit. The one I built at the lake will take 33 12-inch stones at the cost of about $1.50 each. They come in several colors to match most outdoor decors. For about $50 you can have a very nice-looking firepit That will be about 28 inches across on the outside. The stone gives a very nice finish and look.
Is it cheaper to build your own fire pit or purchase a kit?
Purchasing a kit will give you all of the materials that you should need. Some kits of stone will include an inside fire ring and a grill for cooking some items like a burger or hot dogs. Most kits will cost several hundred dollars, you can as I stated above build a great-looking stone fire pit for about $50.
Depending on your building and design ability, you may choose the kit to make sure you only have to make one trip to the store to pick it up.
Some of the metal kits are very inexpensive also, most will require some assembly before use. Many designs and sizes are available in the metal design. I have a cheap round one that is very lightweight. It can be taken along in the van when camping or at the beach, just make sure it is cool before reloading for the trip home.
Having a storage solution, a cover, or inside storage will make this type of fire pit last longer. My poly cover only lasted 2 years before I started storing my fire pit in the shed when not in use.
Build my own or purchase one together already?
It is not only a matter of price when purchasing a built fire pit or one that you put together with rocks or stones. Just my opinion is that when building a fire pit with stone or rock, it will not be able to be moved without a lot of work.
A metal fire pit will be easy to move and store when not in use. I have mine in a shed at the lake and bring it out when we need a fire. This year I built a stone firepit at the lake to replace it as it was 15 years old and showing some damage.
What is a good size for the inside of a fire pit?
At least 18 inches across on the inside Most firewood for sale is 16-18 inches long. If you cut or purchase your firewood longer, you may want to look at a fire pit that will burn your length of wood.
Mine at the lake is 21 inches across with the 12-inch stones. This will let me burn logs up to 20 inches with no problem.
How deep should a fire pit be?
When building a firepit out of wall stones, 3 high will give you about 12 inches of inside height. This will be plenty deep enough to keep your fire inside the pit.
Some metal fire pits will only have a 4 or 5-inch deep bowl, this will not allow for much wood in the bowl. This will require smaller logs and a little more time to keep your fire burning.
Your choice of size and design will have a lot to do with the amount of time keeping your fire up when having a fire. Do you want to spend time with the fire or with your friends?
Purchase your fire pit wisely.

What material should you put in the bottom of a fire pit?
When you build your own fire pit for burning wood, a non-combustible material should be on the floor of the fire bowl. Using natural dirt or sand material will work best for less money. Flagstones could be used, this would cost a little more money and it would help in getting the ashes cleaned up between fires.
I have left mine in the dirt material that is there.
Can you use a fire pit on a deck?
You should never use a wood-burning fire pit on any deck material. Only use a wood-burning fire pit on concrete. rock or dirt surface.
A house burnt to the ground in my area because they just left some ashes on a deck. Be careful where you leave ashes after a burn.
Propane burners
Can you use any gas supply on a fire pit?
Different types of gas have different densities and require different orifices on the output side. Therefore you cannot just burn any kind of gas you must have the proper orifice for the type of gas you were burning.
Some propane fire pits will give you an orifice to change to Natural gas. Do not just hook up the natural gas and assumed that your fire pit will operate correctly.
Can you use a gas burner on a fire pit built with wall blocks?
Yes, you can use a gas burner on a fire pit that you have built. You will have to make the modifications to mount it correctly and mount a hose through the side of the firewall or underneath it to get to the fuel supply.
It is much better to buy a fire pit that has already been built for the burner type that you are using as you will not have to make a lot of modifications.
What is the best way to start my fire?
As most gas fireplaces will have an igniter that is the easiest way to start a fire.. If you do not have an ignitor your battery dies, the best alternative is using a fireplace match or long lighter that will allow your fingers not to be right on top of the burner.
One thing that causes gas fire to be hard to start is the holes in the burner to be clogged by debris either from lava rocks or other bold media. Make sure your burner is free from debris and is kept clean.
What shape or design is best?
Your other furniture and the shape of your burn area will determine what works best for you. Each area and person will have a favorite type of fire pit.
Most people will like to have a round fire pit together around otherwise some shapely fire pits will give you more of an esthetic of something to talk about why you're having a fire.
The amount of room that you have will also determine the size and shape of your fire pit as you can use some gas-burning fire pits on decks that are a little more crowded you may want a smaller fire pit or even a tabletop.
Is a gas fire pit safe under a covered patio?
It is not really recommended that you use a gas fire pit under a covered patio. You should leave at least 80″ above the fire pit for any ceiling surfaces.
Some materials used in overhead shade will be more combustible than others if you have any fabric on the ceiling I would not use any type of burning underneath It.
What is the best height for a gas fire pit?
The height of your gas fire pit will be determined by the area where you're having a fire in. As most gas fire pits have storage for the propane tank underneath they are generally anywhere from 22 to 26″ tall.
If you would prefer a lower profile you'll probably have to go to a remote tank-type fire pit. They will normally come with between a 6 and 10-foot propane hose to connect the fire pit to the propane tank.
For remote tanks sometimes you can get a side table to hide the tank so it is not in view.
Can you roast marshmallows on a propane fire pit?
Although you can roast marshmallows or hot dogs on a propane fire, you have to be careful not to get any debris onto the burner.
Because of the difference in heat, you will have to hold your hot dog or marshmallow a lot closer to the fire than with a wood-burning fire.
Does an outdoor gas fire pit give off heat?
The gas fire pits can't put out enough heat to heat a small area. Wind will be a big factor and this heat will stay close enough to you to keep you warm.
Most gas fire pits will have a knob to control the amount of flame that you get. Therefore you can change from having a very low flame just for a little bit of something to look at or a larger flame to keep an area warm..
A small fire pit will put out about 10000 BTUs of heat, a larger fire pit will put out anywhere from 40 to 50000 BTUs of heat.
The best way to really keep your heat in is to put in some sidewalls if you're in a very windy area of your outdoor space.
What is the best burn medium for a gas fire pit?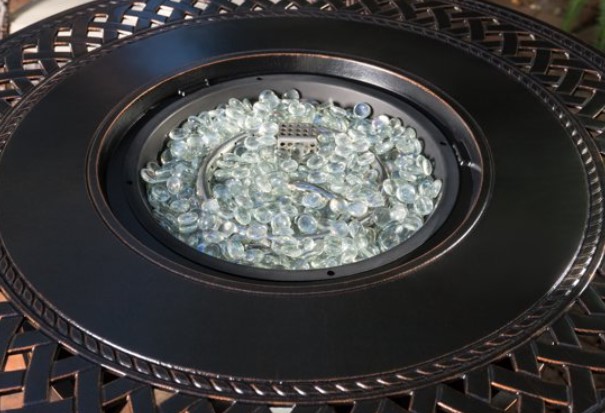 There are 2 types of media for a gas fire pit bowl. Lava rocks or fire rocks. The lava rocks have been a tried and true way to keep the heat in and even after the flame goes down it does radiate a lot of heat.
The glass rocks have more esthetics or you can look into them and see the reflections they will collect and radiate some of the heat but they won't radiate as much heat as lava rocks.
The biggest disadvantage to the lava rocks is they do put off a great amount of dust that can block up the holes in your gas burner.
Can I change my lava rocks for glass rocks?
Some manufacturers do not want you to change to glass rocks from lava rocks. I believe it is the amount of heat that delivers rocks keep in and produce from the smaller amount of flame.
Please look at your owner's manual to make sure that there are some things in error that will void a warranty if you change from lava rocks to glass rocks.
What is the best cover for my gas fire pit?
Having the appropriate cover for your fire pit when it's not in use will make it last longer. Some fire pits will come with a poly cover that is made just for that fire pit.
Having a tightly fitting poly cover for your fire pit when not in use will allow the burner not to get rusty even though it's supposed to be made out of stainless steel. The fireball is also prone to rust when it word has lava rocks or glass rocks sitting in it
I do have an article on different covers for fire pits please follow this link to look at more details on individual covers. Making sure that your fire pit is covered will make it last longer and will be less maintenance for you.
Any other questions
If you have any other questions to add to this post, please use the forms below and I will get back to you shortly.
Please note that the information shared here is from my personal experience and research, it may not give you all of the information that you are looking for.
Be safe with your fire and have a great time.