In this article, I will look at some of the questions asked about the Patio Bistro set. I will cover some basics, if you still have a question, use the forms below and I will get back to you shortly.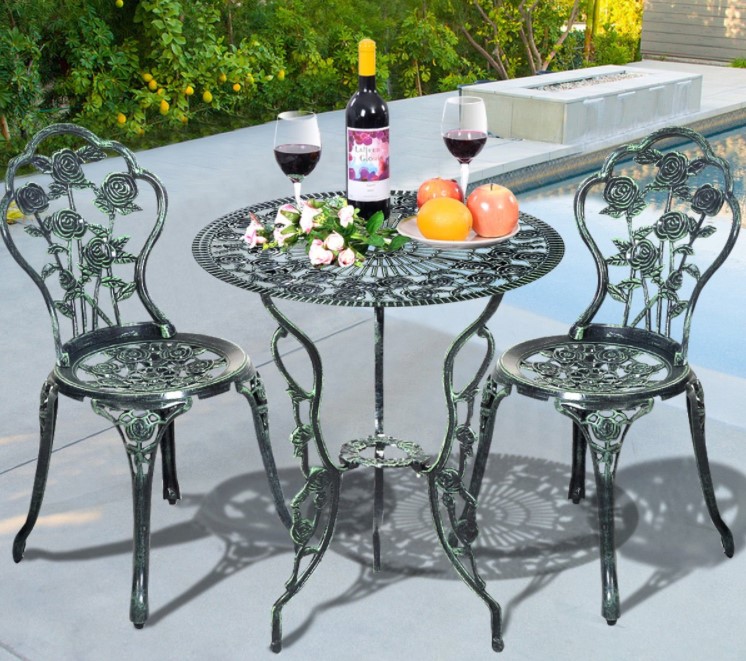 What does the word bistro mean?
The origins of the word "Bistro" can be found in France. Small restaurants would have simple menus that could be served quickly.
The Russian army invaded France during the Napoleonic war. They used the term "Bwystra" to order their food for fast service so that they could get back to fighting their war. The word "Bwystra" turned into the word that we know today as Bistro.
Today bistro restaurants will have small seating inside and outside to serve almost any meal. Most will serve local cuisine that will be easy to fix. Bistros are found all around the world and a bistro set is very popular with many homeowners today, great for small decks or balconies.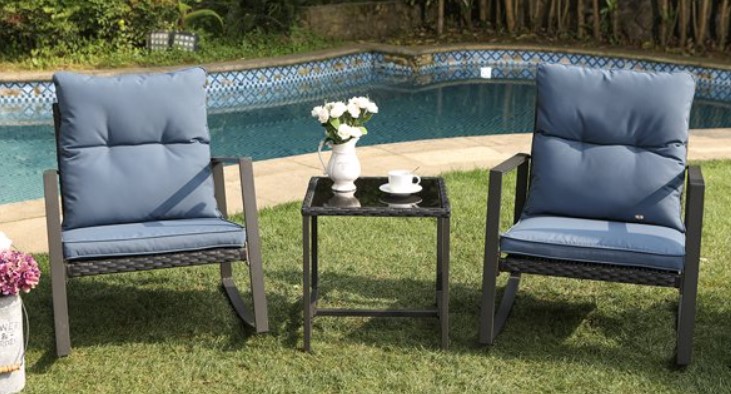 What is a bistro set?
Most bistro sets for around the home or apartment will be 2 small chairs and a small table just big enough for a drink and small snack. Some bistro sets will have folding chairs or both folding chairs and tables, this will allow for easy storage when you need your outdoor space for other things.
The majority of bistro sets will have a construction of metal, wood, or resin wicker. The metal works in really small spaces and the resin wicker will need the most room to make it fit well.
If you are looking for a folding set wood or metal will be the best choice. Metal will be the lightest weight material. If you are looking for motion, you may have to look at the wicker or metal sets.
The set with included cushions, mostly resin wicker, will provide the longest-term sitting comfort.
What does bistro mean in furniture?
Bistro started out as people serving their tenants small easy-to-cook and store meals where the people paid both room and board. Eventually, the bistro was moved to open to the public. The small table and chair sets would let many different people eat in small places. Wine and other beverages are a big part of the bistro set.
Today many small hotels, bars, and pubs still use the bistro sets able to serve small meals and drinks to customers outside.
People use them around the house and in apartments in small spaces to sit two people to have a place to have an adult beverage and small snack.
Bistro sets will come in many sizes, materials, and shapes today and fit in most small areas that will need seating for two and a small table.
What is bistro height?
The height of your bistro set will vary between a regular height set and a bar height set.
The seat height of a regular bistro chair will be 16 to 18 inches off the ground and the table will be about 28 inches tall.
The seat height of a pub or bar height set will be about 22 to 24 inches from the ground. The table height will be 33 inches tall.
The height of the seating can change with the thickness of the cushions used.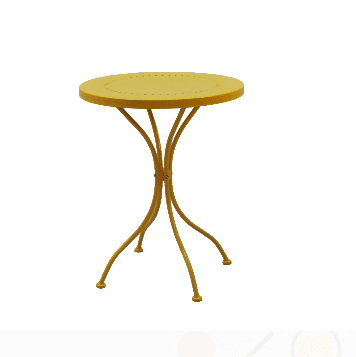 What are bistro tables used for?
Most Bistro tables will be between 16 and 30 inches across. This will be too small for an entire diner. It is big enough for playing cards or small board games, drinks, and snacks.
The height of most bistro sets will be high enough for you to rest your hands on while sitting. Some will be short like a side table, these will not be good for games or cards.
The higher pub sets will normally have a table high enough to rest your arms on.
There will be a few bistro tables with a hole for the umbrella, the umbrella will need to be around 4 – 6 feet wide and have a great stand to keep the table upright during higher winds.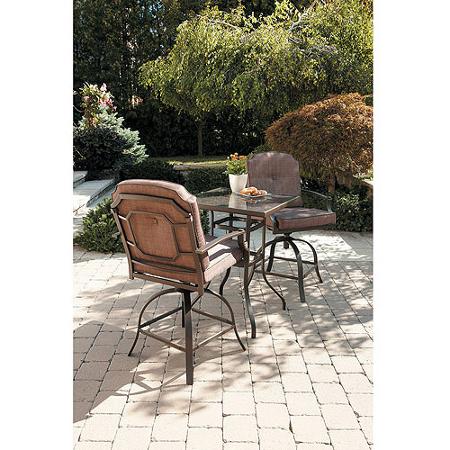 What are bistro pub sets?
A bistro pub set is a taller version of the regular bistro set. If you have a high railing on a balcony or deck, the pub or bar height set will work well for you. The taller set can be tough for older people to get up on though.
The taller sets will look good around a pool area also. It is an easy way to have bar seating without having a bar in your outdoor space.
Many styles are available with cushions or chair movement to add to your seating comfort.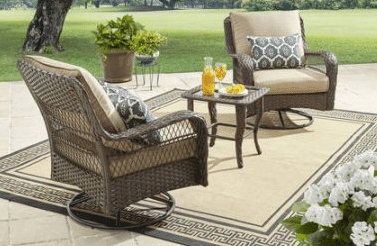 Materials for bistro sets.
Any type of material that another patio furniture comes in will be available for bistro sets. You can normally match other furniture styles in your outdoor areas.
The main types of materials are wrought iron, resin wicker, cast iron, wooden, and metal. Finding your style will take the longest when looking at the different sets available.
Some sets will come with cushions made of different materials for both covers and filling. Choosing an Olefin or Sunbrella cover fabric will last longer than the polyester material. A storage solution should be available when cushions are used to make them last more than a few seasons.
Some sets are available in just a resin material, these are some of the least desirable and cheapest available. The sun will fade this type quickly and the resin does not hold up well outside over time.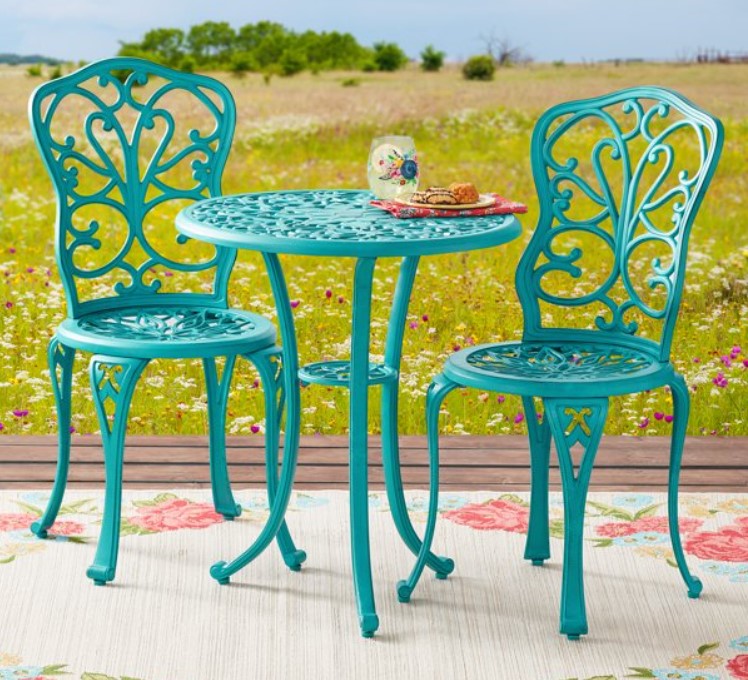 Types of bistro chairs for your small spaces
The amount of room available for your bistro set may dictate the style of chairs you can use. A smaller space will not allow chairs with movement or bigger footprints. Smaller spaces will be better off with wrought iron or cast iron type of material.
Chairs with movement or made with a resin wicker finish take up more room. The chairs with movement will require space to move back and forth or turn around. The swivel chairs can be useful in small spaces when you cannot move the chair back to get out from under the table.
The resin wicker material can be very bulky looking and take up more floor space. The chairs will have a steel or aluminum frame with a woven resin wicker finish. You can get a very stylish finish with the wicker, all that style will take up more space with thick arms and backs.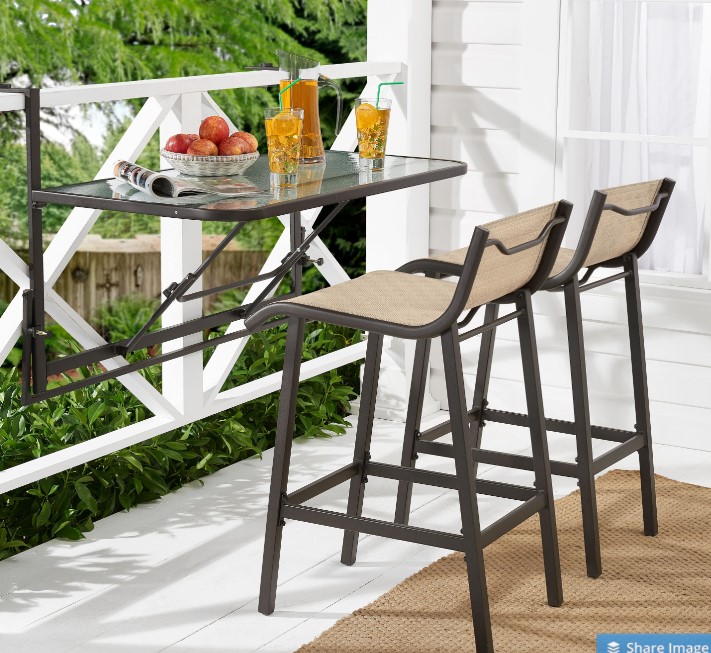 Can a bistro set store easily
A few bistro sets will come in a folding variety. The tables and chairs will fold almost flat to store in a closet or against a wall. These sets are made in both wood and metal materials.
If you have an area that is small and used for a variety of reasons, a folding set may be the best for you.
There are other sets that the table can fold down from the railing it is attached to for space saving. This set does not have folding chairs.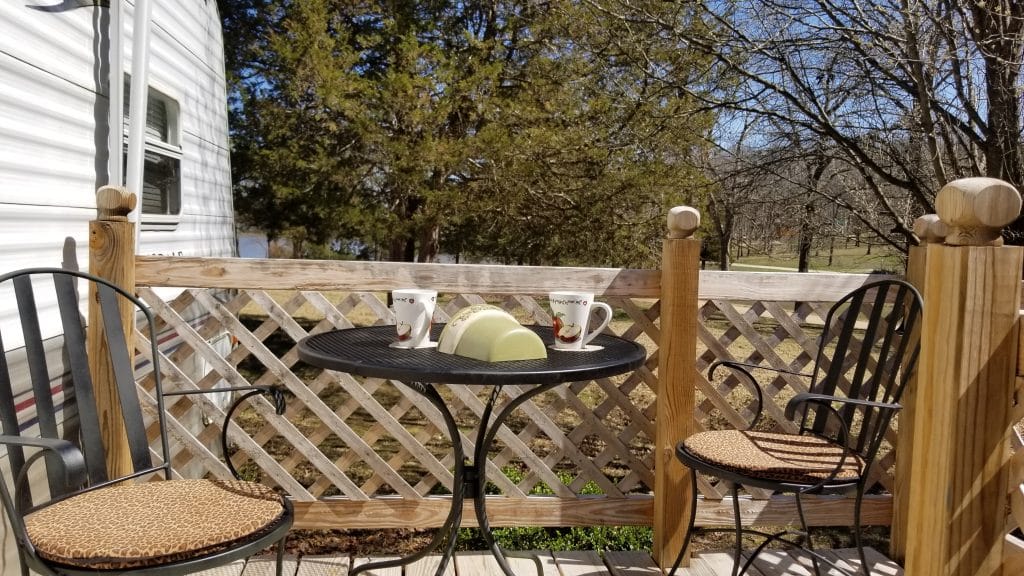 My final thoughts on bistro sets
If you have a question about bistro sets, please send me a note with the forms below and I will get back to you shortly.
I have owned several styles of bistro sets around the several homes that I have had. Some were good and others were not. Each person will have to determine the style and size that fits their outdoor space for them and their guests.
Small spaces need smaller furniture, patio furniture is not different