Have an outside table that has a hole for an umbrella, when it gets dark just take the umbrella out and insert this Better Homes and Gardens Rectangular Tabletop Fire Pit for heat and a little light.
One screw down nut will secure your fire pit to the table and then just add a 1 pound propane tank and you are ready for the evening.
Follow along in this article and I will give you the details of this fire pit to see if it will work for you. Look at the chart below for the quick details, for more of my expanded informttion use the table of contents below to go directly to that section.
Materials
Frames-Steel with powder-coated finish
Fire bowl media-Clear fire rocks
Heat output
10,000 BTUs of heat on high
Size of table
14.5 inches long
6.5 inches wide
7.25 inches tall above the table
Price at the time of the article
$78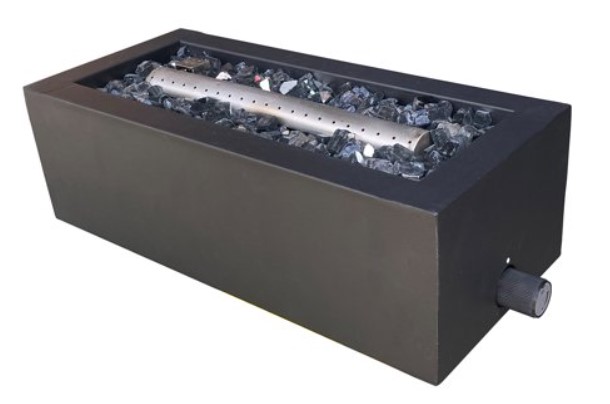 Rectangular Tabletop Fire Pit


Table of contents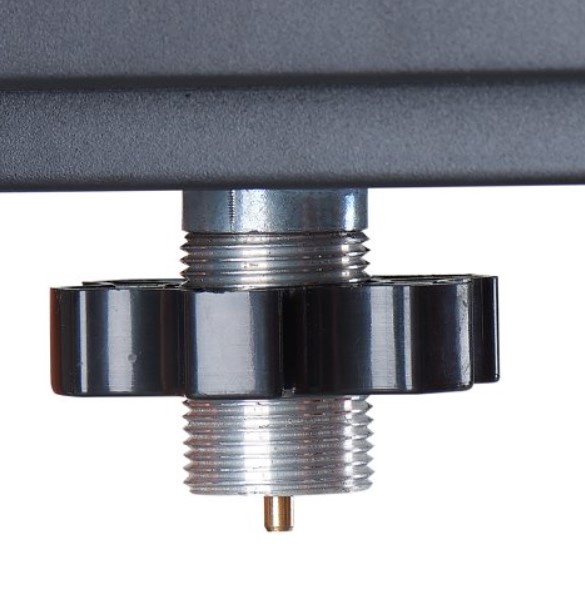 Features and construction
A steel rectangular box will have either a black or gray powder-coated finish. A control knob for flame control will be on one end. No provision for a igniter will be included for this fire pit, bring your bic to get your fire going.
Each of the fire pits will have a rectangle shaped fire bowl. A long tube will be used for your burner and will have clear glass rocks for media. These rocks will give off a nice glow while your fire is burning.
When you are done with your fire and your fire pit is cooled off, a poly cover is included to cover your fire pit from the outdoor weather conditions. You can also use this cover when you store the fire pit when no fire is needed.
The burner will put our around 10,000 BTUs of heat on high. No mention of how long the 1 pound tank will last on high setting.
Size and special options
At less than 10 pounds, it will be easy to attache and remove this fire pit from your table when needed. No special equipment will be needed. It is light enough to take camping or to the beach if you have a portable table with an umbrella hole or one is present where you go. Most campsite picnic tables do not have holes for umbrellas.
The fire pit will be 14.5 inches long, 6.5 inches wide, and 7.5 inches above the table. The propane tank and attaching hardware will hang under the table. I would always start with a fresh tank to make sure I don't have to change it during the evening, as you will have to get under the center of your table to unscrew the old tank and reattach a new tank.
There is an adaptor and hose to attach this tabletop fire pit to a 20-pound propane tank if you have the room to sit one under your table.
A poly cover is included for storage of your fire pit after it cools. Put it on too soon and you will ruin your cover.
Assembly and care
Very little assembly will be needed for this fire pit before use. The fire rocks will be in a bag and will need to be emptied into the burn bowl. You may want to keep a container for them when the fire pit is in storage to keep them from spilling out.
Most of the assembly will ocour each time you use your fire pit and attach it to your patio table. Just insert the threaded portion into the hole and turn the large threaded nut onto the bottm until your fire pit is secure. Then the 1 pound propane tank can be screwed onto the bottom of the fire pit.
No igniter will be included for this fire pit, you will need your long matches or a lighter to get the flame going. once the flame is going you can use the control knob to adjust the flame to your desired height.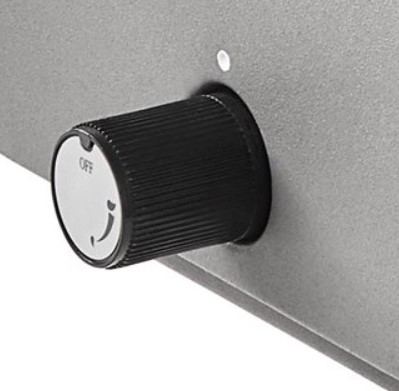 Pros cons of the B H & G Rectangular Tabletop Fire Pit
Pros
Heat and light for your tabletop
10,000 BTUs of heat
Available in 2 colors
Cons
Needs table with umbrella hole
Tank hard to change when needed
A little work to install
Similar products to look at
There are several other styles of tabletop fire pits available. Just click on the name and it will take you to my information on each style.
Final thoughts on the B H & G Rectangular Tabletop Fire Pit
Although the tabletop version of the gas fire pit does not put out much heat, it is a great conversation piece and will provide a little light for you and your guests.
I like the size and shape of the B H & G Rectangular Tabletop Fire Pit for thos small parties in the back yard. It is easy to install and if you use a fresh tank it will last the evening without any work. Having a botle of your favorite wine and a tray of snacks will be all that is needed to add to a perfect evening around your patio table.
If you have any questions or comments for me, use the forms below and I will get back to you shortly.