If you like the look of rattan patio furniture, the Lacoo Resin Wicker Chat Set may work for you and your guests. With 2 chairs with cushions and a side table, it will fit in the smallest patio area.
The resin wicker will last very well in most outdoor weather conditions. Cushions should have a storage solution if they are not in use for any length of time.
For quick details use the chart below. For my expanded information use the table of contents below and click on each section.
Materials
Frames-Steel with powder-coated finish
Woven resin wicker
Seat cushion-Polyester fabric with foam insert
Size of seating
23.5 inches wide
19.5 inches deep
33.5 inches tall
Size of table
15.7 inches wide
17.7 inches tall
Price at the time of the article
$99-136.99
Depending on the cushion color
Resin Wicker Chat Set


Table of contents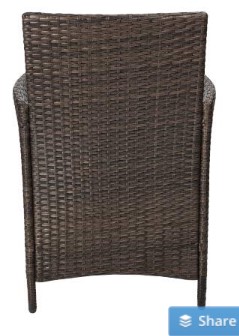 Features and Construction
Frames will be made from square steel tubing. The outer covering of all surfaces will be a woven resin wicker material. The wicker is woven very tight as you cannot see through it like some of the other resin wicker patio furniture.
Four straight legs will support each of the chairs and side table. 2 colors of resin wicker are available, the gray will only come with the beige cushions. The brown resin wicker will come in all 4 cushion colors-gray, red, blue, and beige.
A seat cushion for each chair will give seating comfort. The polyester fabric that covers the cushion will have a zipper on one end for removal for cleaning. A foam insert will give you seating comfort.
A tempered glass top will give you a flat surface to sit your drinks and snacks. The glass top will be held in place with plastic suckers on each corner.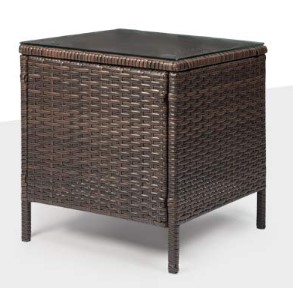 Size and special options
2 chairs will give you comfortable seating for you and one guest. The square design of this set will cover both the chairs and the side table.
Each chair will be 21.5 inches wide, 19.5 inches deep, and 33.5 inches tall. Each will hold 250 pounds of butt. An 18.1 inches square cushion will give you seating comfort.
The side table will be 15.7 inches across the top and 17.7 inches tall. The tempered glass top will be the same 15.7 inches across. It should be easy to replace the top if broken with tempered glass as it is square with no irregular cuts.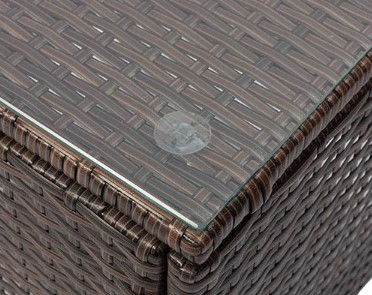 Assembly and care
This patio furniture will require a little skill as some customers did not like the time it took to put it together. All tools and hardware are included in the hardware pack.
The side table will require the four side panels to be connected and then the resin wicker top panel attached. Make sure it is sitting on a flat smooth surface for the best results for the final hardware tightening.
Each chair will need the seat base connected to the seat back. Then each arm will need to be attached. This is where some customers had trouble with holes aligning. I have found with metal framed patio furniture that during shipment and storage some things get bent. For most, it is a little work to get things lined up for assembly.
As with the table, final tightening should be done with the chairs sitting on a smooth flat surface for best results. Just add cushions for the final step before relaxing with a cool one.
Cleaning of your patio furniture will only take a damp cloth for most spills. Do not use glass cleaner on the glass top as if it gets on the painted frames they could be damaged.
When the chat set is not in use for any length of time, you should find a storage solution for your cushions to make them last more than a few years.
Pros and cons of the Lacoo Resin Wicker Chat Set
Pros
Seat cushions for comfort
Tight woven resin wicker finish
4 cushion colors to choose from
Cons
Cushions will need a storage solution
Have to be careful with the glass top to keep from breaking it
Some assembly issues with hole alignment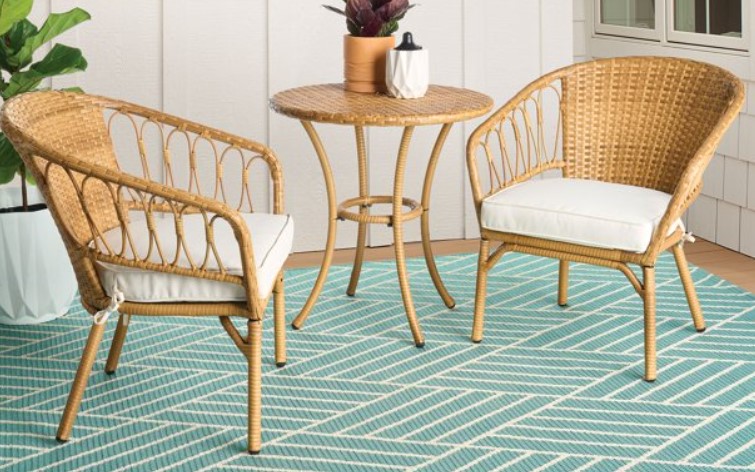 Similar products to look at
I have an article on each of the following resin wicker bistro sets to choose from. Use the name to link to my information. I like the clean lines and simplicity of the Willow Sage set. It does have some other matching pieces also.
FAQs about resin wicker patio furniture
What is the difference between wicker and resin wicker?
Wooden wicker is made from a wooden material (a palm tree vine) that is thin and round. It is soaked in water to make it flexible so that it can be woven into shapes for furniture and other things. Normally it does not have an internal frame. The wood does very well in outdoor weather.
Most resin wicker is made from recycled material. The plastic material is dyed with the color when it is made, this makes the color last very well outdoors.
The resin wicker will have a metal frame to support it, the wicker is woven around this frame. Pests do not like to chew on plastic, some domestic pets may not be as good on any type of patio furniture.
Can you leave resin wicker furniture outdoors all year round?
Resin wicker will last very well in all weather conditions. The color will not fade in most sun and other weather conditions. The frames will be the weak point that will have rust or other issues after long terms in the weather. I would still store my patio furniture if you are not going to use it for a long time.
The cushions is the weakest link in any patio furniture. I have seen many people ask for replacement cushions when their wicker furniture is still looking like new. Please store your cushions out of the weather when not in use.
Will the sun fade the finish on resin wicker furniture?
Since the color is dyed into the resin wicker, the sun will not fade the resin wicker for quite a few years. If your finish is starting to look faded, you can paint it with some of the plastic paints that are now available. Just make sure your wicker is very clean so that the paint will stick.
Final thoughts on the Lacoo Resin Wicker Chat Set
Although this set does not have any movement, it will still be very comfortable for long-term sitting with seat cushions. The nice glass-top side table will give you a place to put your drinks and snacks.
The drawbacks are that it will take a little bigger area than some of the smaller bistro sets without cushions or chair arms. Finding a storage solution for your cushions should be high on your list also.
Any questions or comments on this or any other information on my site, leave me a note with the forms below and I will get back to you shortly.