Walnew Bistro Patio Sets
Have you got a small space that could use some great-looking seating for simple meals or just a drink and snack after a long day at work? I will show you the details of Walnew Bistro Patio Sets to see if the look and feel will be the right fit for your decor and seating needs in your patio area.
With the look of wicker on the chairs, cushions for seating comfort, and the slat look of the tabletop, the Walnew patio furniture detais will be reviewed in this article.
Now let us look at the quick details in the table below. If you think that you would like to look at other bistro sets, see my post in the bistro patio sets category.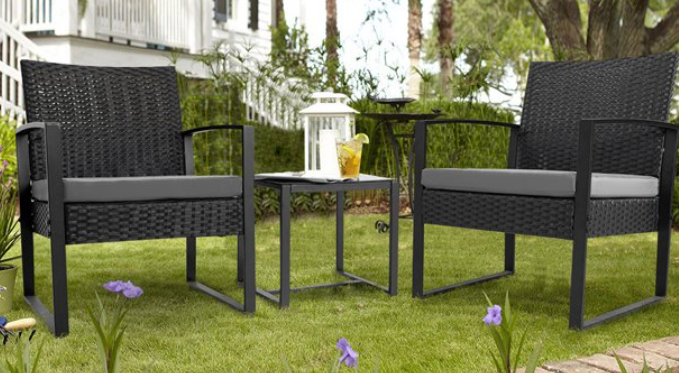 Chairs Size
21.8 inches wide
22.8 inches deep
30 inches tall
Table Size
16.5 by 16 inch top
15.5 inches tall
Cushion Size
21 inches square
2.2 inches thick
Price
$113.99-$124.99
Depending on cushion color
My rating
Details of the Walnew bistro set
We will look at the details of two chairs, round top table, and cushions of the Walnew bistro set. The steel frames will support the woven resin wicker panels on the chairs and the square tempered glass table for this set.
Each chair will get a cushion for the seat portion to extend seating comfort. Adjustable beet will allow you some small adjustments for uneven patio areas.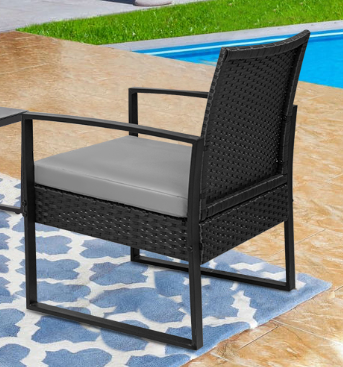 Bistro Chair With Cushions
The Chairs will have a boxed steel frame with wicker skirts on all four sides under the seat and a curved back made of the same black wicker material.
The bottom of the legs are connected from front to back for more rigidity of the chairs. The legs will extend up to form the arms with a single piece.
Each chair will be 21.8 inches wide, 22.8 inches deep, and 30 inches high. The boxed lower frame will allow these chairs to support up to 285 pounds of weight.
Bistro Chair Seat Cushions
Each chair will come with a cushion that will be available in four colors at this time, White, Gray, Blue, and Red. This will allow you to adjust to your decor needs for your outdoor space.
The cushion will be 21 inches square and 2.2 inches thick. It will have a sponge padding interior and a polyester fabric cover. The cover can be removed for cleaning by using the included zipper on one side.
No provisions for attaching the cushions to the chairs when not in use. A storage solution should be found for the cushions when not in use, this will give you more than a couple of years of use. See some of my storage ideas here.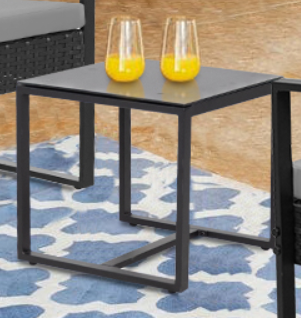 Patio Bistro Table
An almost square side table will be included in this set. The table will have a black tempered glass top on a steel tubed frame, you will not be able to see through the glass.
The table will be 16.5 inches long, 16 inches wide, and 15.5 inches tall. The black tempered glass top is the same size as the top of the table, it will sit on top of the tabletop.
This is small compared to other side tables, great if you are using this set in a smaller area, not so great if you want to eat a meal off this table.
The legs will be connected with a front to back bar on each side and a cross bar for great stability. Adjustable feet will allow you to keep your table level.
Pros and Cons of the Walnew bistro set
Pros
Lightweight and easy to move

This set is very lightweight with a steel tube frame and resin wicker finish. It is also smaller than some other sets in the chair and table sizes.

Great look of wicker

The woven resin wicker skirts under all four sides of the seat and the curved back will look just like rattan wicker and last a lot better in outdoor weather conditions

A boxed steel frame will be very rigid

The frames will be made from a steel boxed material and are made very rigid by connecting the legs with several supports.
Cons
Small size

The table is quite a bit smaller than most and is only 15.5 inches tall. Chairs are only 21 inches wide between the arms, Some butts will not fit.

Cushions will need storage

A storage solution will be needed for the cushions to make them last more than a couple of seasons. The polyester material is good for outdoor use, the rain and sun will take their toll after a couple of years.

Tempered glass top not built in.

The tempered glass top just sits on top of the table, may be subject to damage in heavy winds. May have to find a storage solution if you live in a windy area. Could be expensive to replace if broken.
Where to get more information and purchase your Walnew bistro set, use the link below.
My final thoughts on this bistro set
For those with smaller patio areas like a balcony, the Walnew patio Bistro sets will work well and look good also. The table is a little smaller than most bistro sets on the market today, this will look well in smaller spaces.
I like the resin wicker look with the options of several colors of cushions to match almost any outdoor decor colors. The small size will be great for those with smaller outdoor spaces like balconies or builders grade decks.
Thanks for reading my information, if you have any questions or just want to help others with your experience with the Walnew collection of patio furniture, use the forms below and I will get back to you shortly.