3 Piece Wicker Bistro Set
If you want a little style in your patio furniture, the Better Holmes and Gardens Cason Cove with its woven resin wicker finish will look great. The round top table will make this contemporary set great for an apartment balcony or just a small deck.
With its two straight leg chairs and small table you will be able to have small meals or just a cool drink and snacks after work. The included cushions will give you the comfort to sit for hours if needed.
I will go over the details below, this bistro set is very simple and has clean lines.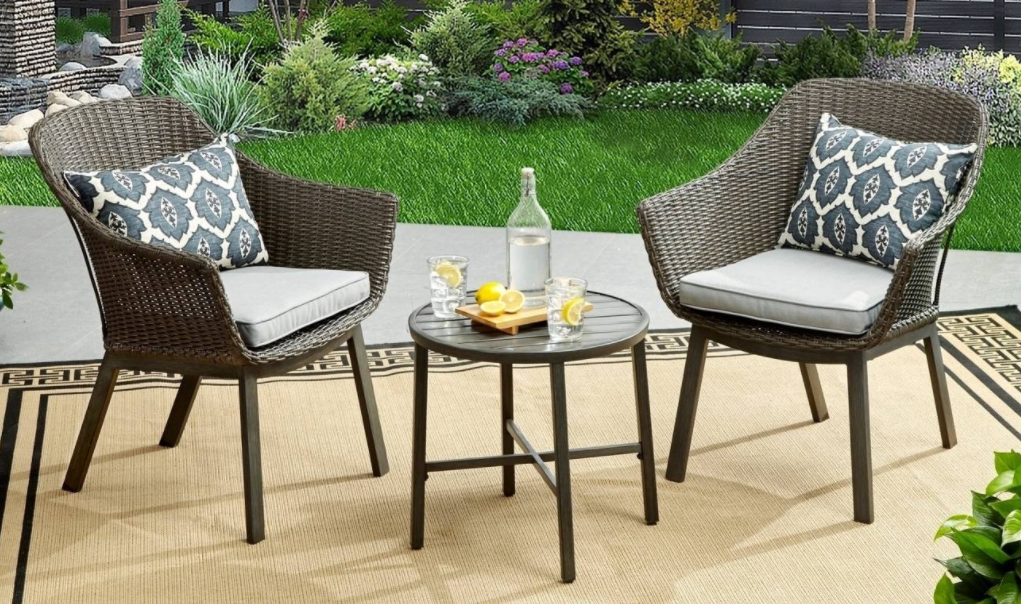 Chair size
27.55 inches wide
24.8 inches deep
33.07 inches high
Table size
19.29 inches across the top
18.89 inches tall
Cushion size
18.5 inches square
2.36 inches thick
Price
$160.29
My rating
Where will this bistro set fit best
Because of its small footprint, this set will fit in a lot of small spaces. If you space is 6 foot square or larger you will have plenty of room. For spaces smaller than the 6 foot square you may want to look at smaller chairs and tables to have enough room to move and not be on top on each other.
Because of its light weight, you will be able to take this set to any floor of a building and place on a balcony with ease.
Features of this Cason Cove set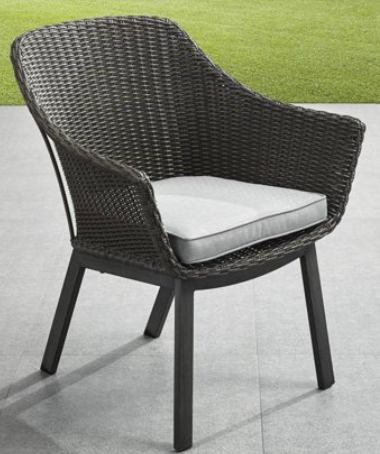 Chairs
Each of the two chairs will have steel frames with a dark gray powder-coated finish. The upper frame is covered with a woven resin wicker material. The back will have two supports, one on each side to help with the structure.
The top portion of the chair will have moving lines, the bottom parts will have straighter lines.
The chair will be 27.55 inches wide, 24.8 inches deep, and 33.07 inches tall. The seat will be 15.74 inches off the floor and will be 18.11 inches from front to back. Each chair will weight 14.3 pounds and support 250 pounds of weight.
Table
The round tabletop will be made of an aluminum material with a slated design with a boarder about an inch wide all the way around.
The four straight legs, one attached each 1/4 of the way around, will give this table its stability. A crossbar will connect the legs about halfway down.
The top will be 19.29 inches across and 18.89 inches tall, the size of a lot of side tables or small bistro tables. It will be very light weight at only 9.5 pounds.
Cushions
Each if the two chairs will have cushions to extend your seating comfort. The cushions will have foam supporting the Olefin fabric covers. I have found that this fabric does very well in outdoor conditions.
It will withstand the sun and weather better than most, it will still need a storage solution if you want it to last more than five years. The material is rated for 500-800 hours of sun without fading.
Each cushion will be 18.5 inches square and 2.36 inches thick. No provisions are made to hold the cushions in place when not butt is holding them down.
For a storage solution for your cushions, see my storage category with this link.
Assembly and care of your patio furniture
Most customers stated that the assembly only took about minutes of time and was not hard.
The table will need the legs attached to the table top and then the X brace attached to each leg. Make sure it is on its feet on a level surface for the final tightening so that it will sit level.
The bas of the chairs will need the back legs attached to the front leg portion. The seat portion is one piece and it will attach to the leg assembly. Add cushions and you are ready to relax.
Pros and cons of the Cason Cove bistro set
Pros
Easy assembly

Most customers state that it takes less than 30 minutes to assemble. You will not need a lot of skills to assemble.

Lightweight easy to move

The entire set will weigh about 38 pounds. One person can move easily by moving one piece at a time.

Cushions dry quickly

After rain, the foam will not hold water very long and the olefin fabric dries quickly.
Cons
No ties for the cushions

The cushions will be held in place by sitting between the arms. No external ties are included. Heavy wind may remove and lose your cushions.

Cushions will need a storage solution

I always will recommend storage for any cushions for patio furniture. The sun, rain, and vermin will damage any cushions left out for an extended period of time.

Wind may move this set easily

The same thing that makes this set easy to move will allow mother nature to move it when it is not protected.
For more information and availability, use the link below

My final thoughts on this set
I have several bistro sets for my outdoor furniture sets. It makes an great place for a couple of people to sit have a small meal or just a drink and snack after a long day at work. The two chairs and small table will fit in a lot of small spaces.
The Cason Cove bistro set is lightweight and has a wicker finish to make it look a lot more expensive than it is. This set will sit well with the cushions.
A lot of other styles of bistro sets are available, like I said I have several in my outdoor spaces. For more of my information on Bistro sets, see my post here. Many styles are made, you will have to choose what fits your decor and needs.
Hope you have liked my information, if you need more information or have something to add, leave me a note with the forms below and I will get back to you shortly.