Outdoor Bistro Set with Ottoman
Looking for seating with an extra comfort option. This Outdoor Bistro Set with Ottoman for each chair will do well in smaller areas. The ottomans will store under the chairs when not needed. This will allow you to store your ottomans out of the way when not needed for foot comfort.
The steel frames of the seating will have resin wicker accents to give you the rich look of more expensive patio furniture. Seating cushions available in five colors will have decor matching back pillows for the chairs.
You can look at the quick details of this set in the table below or just read the finer details in my article below. I have many articles on patio bistro sets, see the category here for more details.
Chairs
28.25 inches wide
26.5 inches deep
32.25 inches tall
Table
18 inches across
19.25 inches tall
Ottomans
18.25 inches wide
18.75 inches deep
12.75 inches tall
Price
$260
My rating
8.8 out of 10
Where will this patio bistro set fit best
For those with smaller patio areas like balconies or builders' decks (most are 8 feet across each way), this set will work well. you can pull out the ottomans when needed for foot comfort or seating for smaller people (ottomans are only rated for 125 pounds) when needed.
The table will only fit drinks or small snacks, so if you are looking for a place to share takeout or a small meal, you will need to look at a larger set. This patio furniture set will work best when you are having a cold one after a long day at work and just want to hang out for a little while in comfort.
Thick cushions are for all seating positions and lumbar pillow are include for the two chairs in a color combination that will match the color of the cushions that you have chosen.
Details of the Skyler Glen Bistro Set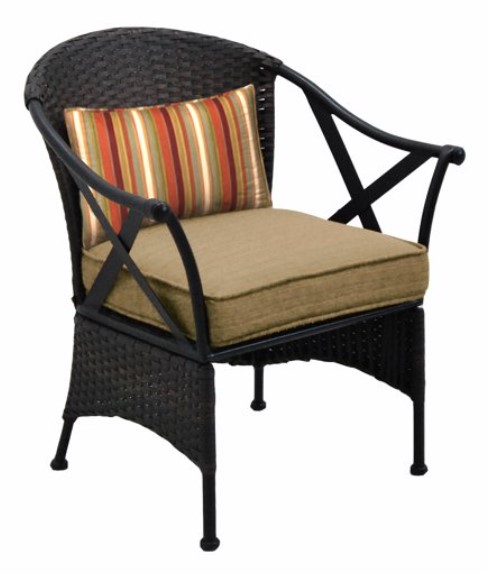 Chairs
The black steel frames of the chairs will have woven resin wicker panels for the back and three sides with an arched lower design under the seats. Each chair will have steel arms for your comfort with an X design support.
The seats will have cushions and throw pillows in matching colors. Chairs are not designed to be used without the cushions installed. The chairs will not stack for storage.
The chairs will be 28.35 inches wide, 26.69 inches deep, and 32.28 inches tall. The seat will be 17.2 inches off the ground with the cushions installed. The seat will be 20 inches wide and will support up to 225 pounds of weight.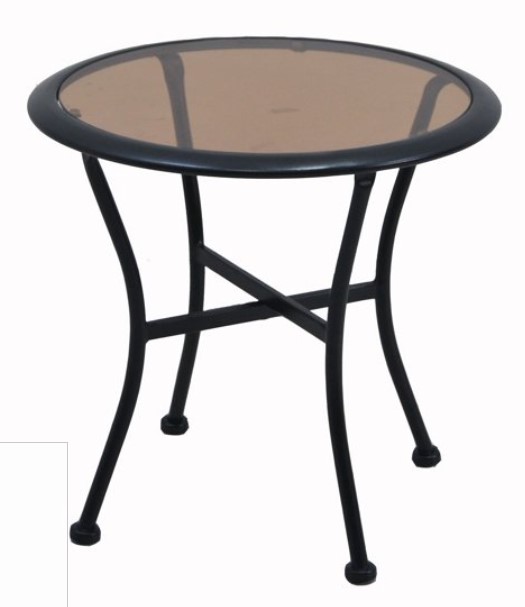 Table
The round table will have a smoked tempered glass insert for the top. A round steel frame with supports for the top will allow easy removal of the glass table top when you need to move your set.
2 sets of curved legs with connecting braces will tie this table together when attached to the top ring. All of the steel parts will be painted black in all of the sets.
The table will be 17.91 inches across and 19.29 inches tall. The top will not be big enough for a meal unless it comes in a bag. It works great for a cool drink or just snacks and a drink.
Ottomans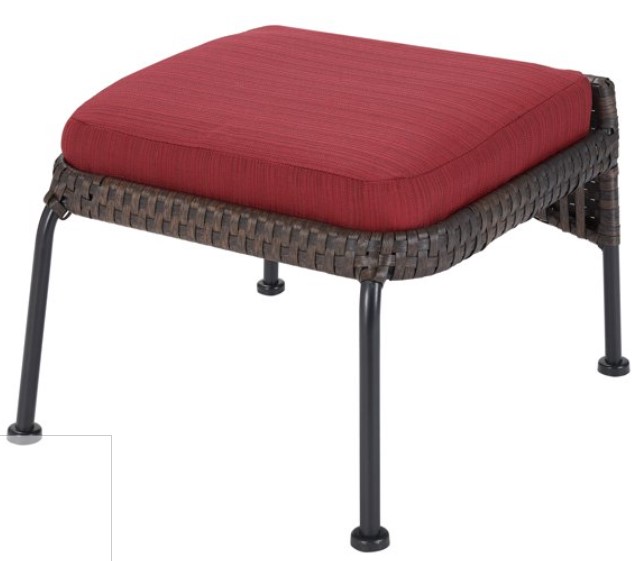 This is the great advantage of this set is the ottomans for extra comfort for your feet or seating for small kido's when they come over. The black frame will have four curved legs for support.
The front face will have the same lower arched design of the chair and when it is stored under the chair it will not look out of place. It will have a cushion for comfort in the same color chosen for the chairs.
Each ottoman will be 16.1 inches wide, 16.9 inches deep, and 12.75 inches tall with the cushions installed. Each will hold about 125 pounds, good enough for your feet or small grandchildren to sit on.
Cushions and pillows
Cushions will be made from a polyester fiber batting filling and a polyester polyurethane fabric cover. These will work well in outdoor conditions, storage will be needed to keep the color from fading or intrusion by insects or other outdoor vermin.
Each seating position will get a cushion with one of five colors, Red, Blue, Teal, Grey, or Beige. The throw pillows will be a matched color with a design built in for a color splash for your outdoor space.
The seat cushions for the chairs will be 20.1 inches wide, 20.9 inches deep, and 4.3 inches thick. Velcro straps will keep them in place and they are reversible if you get a permanent stain on them.
The ottoman cushions will be 16.9 inches wide, 16.1 inches deep, and 3.1 inches thick. No provisions for straps on the ottoman cushions, they are reversible.
Decorative throw pillows will be 10.4 inches high, 17.7 inches wide and 3.1 inches thick at the biggest area. Each will have a decorative pattern in a color that will match the cushion color. You can use your chairs without the pillows.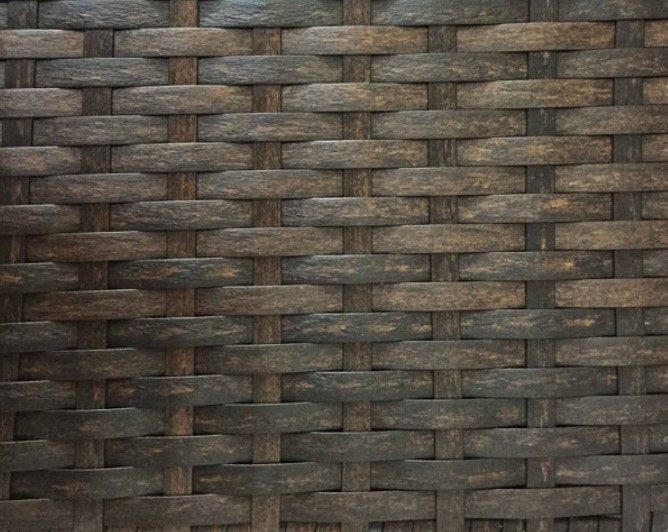 Assembly and care of your patio furniture
Most will find the assembly of this set pretty easy, all hardware and tools needed will be found in the hardware pack. All of the pieces will require legs to be added to the top portion of each piece.
Some found bolt holes to be a little off due to damage during shipping. I have found that most can be bent back with your hands to realign the holes for proper assembly.
Care of any patio furniture should be done with care as some cleaning chemicals will damage the painted or fabric materials. Use of a damp cloth or mild soap and water mixture works best. The cushions covers are not removable, they can be reversed if you get a stain that will not come out.
Storage for cushions is something that all patio furniture cushions owners should look into to make their investment last more than a few years. I have several solutions for storage in my posts here.
Covers for your patio furniture is also an option, I have several places that sell patio furniture covers here.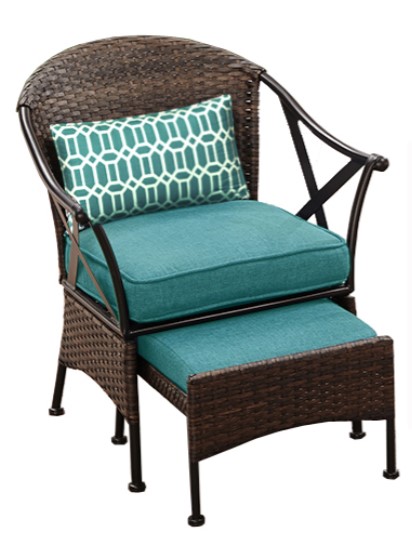 Pros and cons of the Skylar Glen conversation set
Pros
Ottomans store under chairs

When you do not need them, you can slide the ottomans under the chairs with the wicker panel side out. It will add to the wicker look of this set.

Cushions available in five colors

Available in Red, Blue, Beige, Grey, and Teal. Each color choice will come with matching designer pillows that will add to your color pallet and seating comfort in your patio furniture.

Easy to assemble

Most customers found the assembly very easy. All tools and hardware for assembly are included.
Cons
Cushions will need storage

Any cushions or fabric material if left outside in the sun and rain for an extended period of time will not last well. Having a storage solution for cushions and pillows will make them last longer.

Can be damaged in shipment

Some did find shipping damage that will have bent legs, damaged wicker, or mismatched holes.

Ottomans will not support an adult

Each ottoman is able to support only 125 pounds, most adults will weigh more than this. If you need extra seating for adults, you will need another solution.
Use the link below for the latest information and purchase price for this patio set

My final thoughts on this patio furniture
When you are looking for extra comfort or seating for smaller people to hang with you in your outside patio area, the Skyler Glen Outdoor Bistro Set with Ottoman seating will work well. The ottomans will store under the chairs when not need for foot comfort or extra seating .
The wicker finish will give you an rich look for your seating and the side table will give you a place to store your drinks while reading a book or just visiting with friends and family.
I like the low price for this set as you get a lot for the money and easy assembly will have you sitting in style quickly. The five different color combinations will fit most outdoor decors and the lumbar pillow will give you extra comfort for long term sitting.
Any questions or comments on this or any other information on this site, send me a note with the forms below and I will get back to you shortly.