Clayton Court Black Wrought Iron Patio Furniture
When looking at a simple bistro set design for your small patio or balcony, I would recommend looking at Black Wrought Iron Patio Furniture. The clean looks will drain water quickly after a rain, the black finish will work well with most outdoor decors.
The Clayton Court bistro set will come with two cushion colors Red or Green to let you set the tone for your outdoor decor. The chairs will have springs to give you motion while sitting to prolong your seating comfort.
The addition of the scrolled design of the top of the chairs and skirt of the table will give you that European look that makes you think you are at an Italian bistro club for a drink while sitting and enjoying a drink with a friend.
If you think you would like to look at other bistro sets, see some of my selections here. For more information on this set, follow my information below.
Quick Details
Chairs
22.75 inches wide
24.25 inches deep
34.25 inches tall
Table
24 inches across
24 inches tall
Cushions
21 inches wide at front
18 inches wide at the back
18 inches deep
2.5 inches thick
Price
$249.97
My rating
9.2 out of 10
Features of the Clayton Court Patio Furniture
The Clayton Court bistro set will be a mixture of steel and wrought iron, all metal parts are painted with a powder-coated black finish. The frames will be a sturdy tubular metal with the tabletop and seating areas a mesh material. They are welded together to make for sturdy seating and dining.
This set will include cushions for the seating area of each chair. The cushions are available in two colors, Red or Green.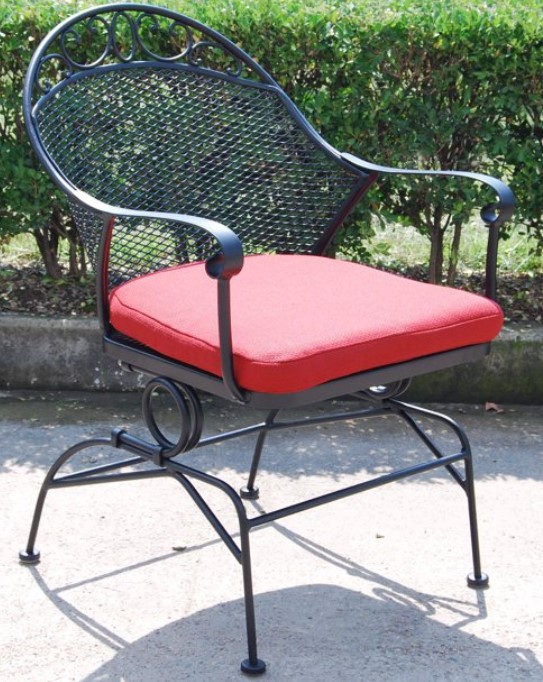 Chairs
The chairs will have a 1 1/2 coil spring on each side connecting the seat with the lower frame, this will give the chairs their forward and back motion.
The curved back design of the mesh and the mesh on the seat will allow you to use these chairs with comfort even without the cushions. The top of each back will have a scroll design to match that on the edge of the table.
Cushions will add to your seating comfort. I have a similar set that did not come with cushions, I added some to extend my seating comfort.
A wide base will make for great stability of these chairs and welded support rods will go front to back and side to side on the base.
Each chair will be 22.75 inches wide, 24.25 inches deep, and 34.25 inches tall. The seat is 15.9 inches off the ground without the cushion. The seat is 20.6 inches wide and will support 225 pounds. Each chair will weigh 10 pounds and will not stack for storage.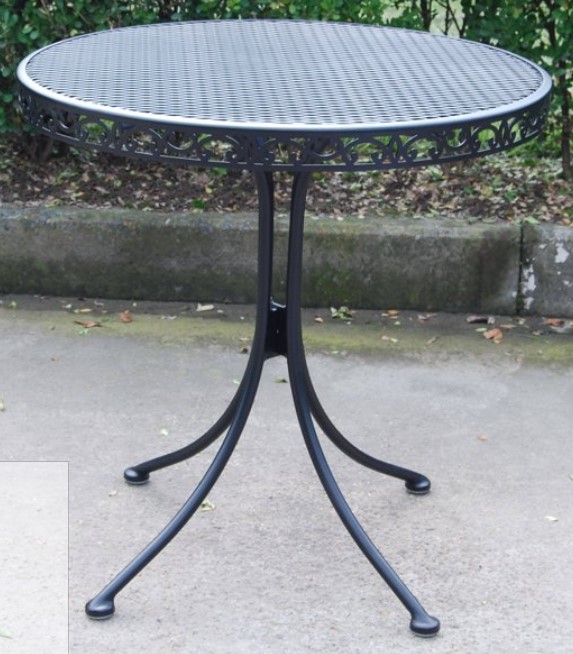 Table
The table will have four legs Connected about halfway up and secured to the X brace under the tabletop. A scrolled skirt will hang from the mesh top to give this set some design details.
The table will be 24 inches across and 24 inches tall. No quite big enough for a full meal, big enough for snack plates and drinks for two. The mesh top will allow rain to drain quickly.
The table will weigh about 5 pounds.
Cushions
Seat cushions will be made with a polyurethane and polyester fill. They will be covered with a Jacquard woven fabric available in a dark red or emerald green color. They will have ties on the ends to keep them on the chairs while sitting or during windy conditions.
Cushion should be stored out of the weather when not used for any length of time, this will make them last more than a couple of seasons in outdoor weather conditions.
The cushion size is 21 inches wide at the front, 18 inches wide at the rear. No thickness is given, it looks to be around 2.5 inches thick. If you would like to make or have made back cushions, they should be 14 inches tall with a curved top and 20 inches wide at the bottom.
This set can be used without cushions, if you are looking for replacements, check with the vendor at Email: customerservice@leisuregardenfurniture.com or call phone: 1-877-877-1235.
Assembly and Care of your bistro set
Your bistro set will come in one large box, 25.5 inches long, 27 inches wide, and 25.5 inches high. It will weigh about 70 pounds.
Most customers spent less than a half an hour to put this set together. It will not take a lot of mechanical skills to assemble.
The chairs will need the springs installed between the seat and chair base. Add cushions and you are ready to use.
The table will need the legs attached together and then secured to the table top.
Care of your metal furniture should be with a mild soap and water mixture, do not use any harsh chemicals as they will damage the powder-coated surfaces. They will start to fade or peel if you use any bleach or harsh chemicals.
The cushions should be store out of the weather when not in use, this will let them last more than a couple of seasons. For some of my storage box solutions, see my post here.
Pros and cons on the Clayton Court Wrought iron patio furniture
Pros
Wrought Iron look

The black powder-coated finish of the tubed frames with the mesh inserts for the seating and tabletop is a timeless design. It will fit any outdoor decor.

Motion in chairs

The chairs are not true rockers. They have a forward and back motion due to the spring that is mounted between the seat base and the chair base.

Cushions for comfort

Seat cushions are included in this set in two colors red or green. These chairs can be used without cushions if needed with the full mesh seats.
Cons
Cushions will need storage

Any outdoor cushions should be stored when not in use. Most will only give a couple of seasons of comfort and color without storage.

No provision for umbrella

This table is too small to support an umbrella. I have two wrought iron tables that have an umbrella hole, one is 36 inch and the other is 48 inches across.

Not a true rocker

Although not a true rocker in the sense of total forward and back motion, the springs offer a great deal of motion. I have wrought iron chairs with this setup, they have been on my deck for almost 15 years with little or no work. They are very comfortable without cushions.
Where to find the latest pricing and availability of this bistro set, use the link below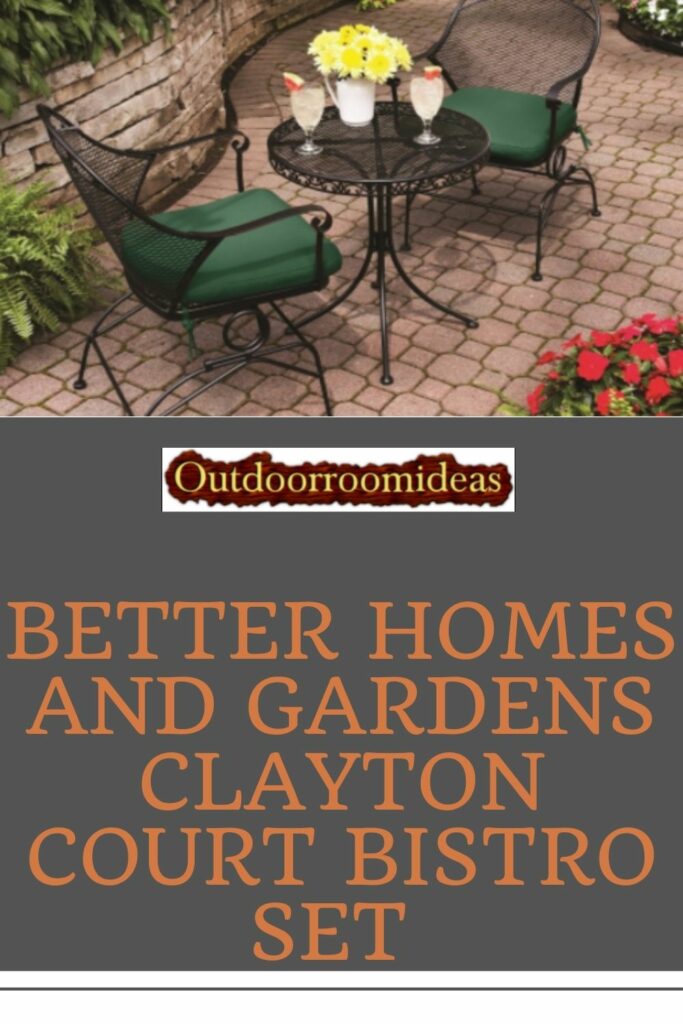 My final thoughts on this patio furniture
I like the look of Black Wrought Iron Patio Furniture, I have several examples for my outdoor patio furniture. One set has the spring for the rocking motion and the other has a 36 inch table that is on the deck at the lake. Thsi type of patio furniture is very sturdy and require little upkeep.
The Clayton Court set combines the motion chairs with a 24 inches table that you can use in any space that is bigger than 6 by 6 feet. My set with 36 inch table is on a 8 foot square deck and I have plenty of room.
For a price of under $300, you can have a great looking bistro set that will last at least 15-20 years of outdoor use with little effort. The cushions will be the issue with this or any other patio furniture set, you need to store them out of the extreme weather conditions outside. I would recommend one of my storage solutions here.
For those who are still looking for other designs in bistro sets, I have other examples here in wicker, metal or wood designs.
If you have any questions or comments on this or any other information on my site, leave me a comment with the forms below and I will get back to you shortly.