Outdoor Hanging Swings
Looking for that relaxing spot in your outdoor space to just set back and forget about your day, one of these Outdoor hanging Swings could be a great place to start.
They will not have stands and will need a solid overhead structure for mounting. Some will seat two or you can choose one that is just for you to relax in. Grab a drink or a good book and watch the world go by.
My outdoor swing is on a stand, if you prefer one like this see my post on swings with stands here. I have several post on single seat or multiple seat swings with stands.
If you have a covered porch area or a solid tree to hang from one of these examples below will work well for your patio or backyard seating.
Use the blue Product Name below to go directly to the further details of each item.
Just a reminder that the weight capacities of all of these hanging swings will depend on the mounting hardware and structure that the swing is mounted to.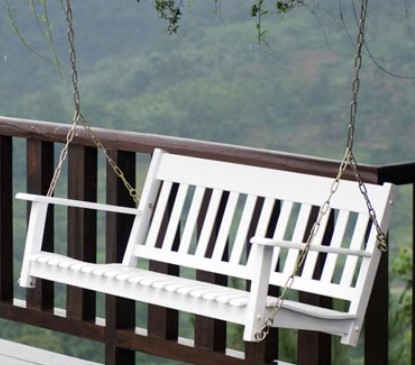 Delahey
This wooden bench swing will be available in two colors, the white shown and a brown or more natural wood tone. The hardwood will be treated with a painted surface to protect it from any outdoor weather conditions.
The seat will set two people and hold up to 450 pounds of weight, this will depend on the mounts. Two sets of chains will support this swing.
The swing will be 52 inches wide, 24.5 inches deep, and 22 inches tall. The seat and back will have a slated design. Armrest will be on each end of the chair.
Ella Rose
The Ella Rose swing will be made from various woods with a grey finish. I will have an X design on the back and both arms. A cushion will give you comfort while sitting up to two people.
This swing is supported by ropes at each end, they can be attached to either four or two locations overhead.
The swing is 50.25 inches wide, 23 inches deep, and 22 inches tall. The swing will support 550 pounds, this will depend on the ceiling mounts. The swing will weigh 34.5 pounds.
The cushion will have a polyester fiberfill and polyester cover that should not fade in the sun. I would still store this cushion out of the Weather when not in use to prolong its outdoor life.
Belden Park
Very similar to the Belden Park 2 person swing with stand, this swing will be very comfortable with both seat and back cushions.
The swing will be supported by chains attached to each arm of the steel frames. A black powder-coated finish will cover all of the frame parts.
The swing will be 51 inches wide, 28.14 inches deep, and 20.25 inches tall. It will hold up to 500 pounds of weight, depending on the ceiling mounts.
The cushions will be dyed in a navy blue color and will come in four pieces, two for seats and two for backs. This swing will not be able to be used without cushions, please store them to make them last more than a couple of years.
See other items in the Belden Park Collection in my other post here.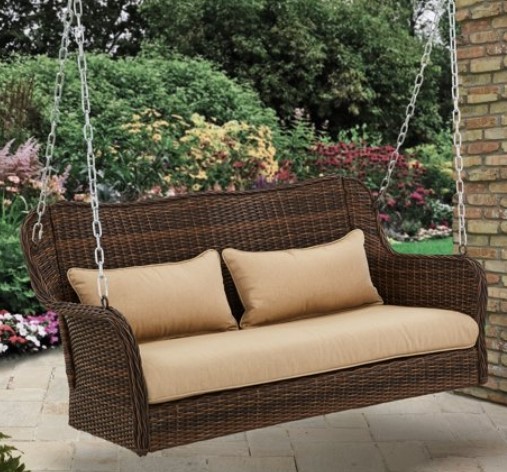 Camrose Farmhouse
The wicker finish and beige cushions will give you a swing that looks like it cost a lot more than it does.
The hand-woven resin wicker finish will cover the steel frames. The wicker will come in two colors, the dark brown shown and a lighter brown color.
The swing will be 54.3 inches wide, 29.5 inches deep, and 27.6 inches tall. It is the biggest swing in this article. It will hold up to 500 pounds of weight, depending on the mounts. The swing will weigh 47 pounds.
The cushions will have an Olefin fabric cover with zippers for removal for cleaning. One solid cushion for the seat and two throw type pillows for the back is included. Please store your cushions for longer outdoor life. You cannot use this swing without cushions.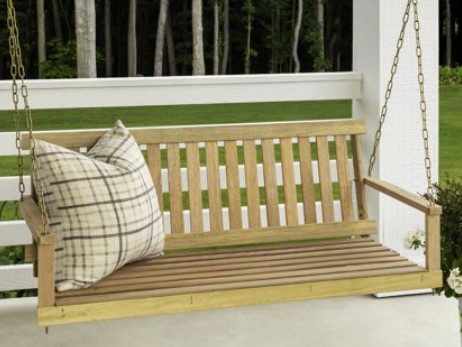 Jack Post
A simple slat designed swing made from cypress wood. This style of wood does very well in outdoor conditions. Chains will attach to the arms to support this swing.
The swing will be 49 inches wide, 21.75 inches deep, and 17.5 inches tall. The seat slates will run side to side, the back slates will run up an down.
The swing will support 400 pounds, depending on the ceiling mounts. Add some pillows for a splash of color or a bench cushion to add seating comfort.
The natural cypress wood can be stained, painted or left natural to be treated every year.
Cotton Padded Swing Chair
A little different swing for just one person. It is like a chair seat and back with ropes hanging it from a rod. This rod will have a rope to hang it from a tree or solid mount in a ceiling.
The swing is a wide 38 inches at the seat, 17.75 inches deep and 52 inches from the seta to the top of the rope.
The wood is Schema wood, a wood used for fine carving, and very hard. The material is a recycled cotton material.
This swing chair will be great for inside use also. I would not leave it out in the weather when not in use. Storing this swing like a hammock will keep it looking like new for a long time.
This is a great seating solution with movement for under $60.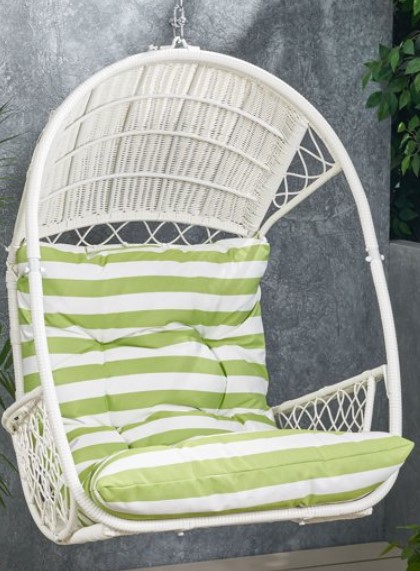 Maurice
This hanging egg chair will be a great addition that will give shade and comfort for long term sitting.
A metal frame with an egg shaped opening in the front, will have a resin wicker material that is loosely woven on the sides and a closed design for shade on the top.
The chair will be 34.5 inches wide, 25 inches deep, and 46.25 inches tall. It will not come with any hanging chain, you will have to supply all hanging hardware.
The cushion will be one piece with a white and lime green colors. The pillow type design will have buttons to keep the stuffing in place.
This swing chair will be great indoors or out, just supply your own mounting and hanging hardware.
For other examples of egg chairs, with stands, stand alone or without stands, see my post here.
Azlee
A basket that will cradle you while you sit on the cushion for comfort. The metal frame will be covered with a light brown woven resin wicker.
This swing chair will be 33 inches wide, 30 inches deep, and 44 inches tall to the top hook.
An 8-foot chain is supplied with this chair to hang from your favorite tree or a hook in the ceiling. No weight capacity is given for this swing, it will depend on the mounting hardware and strength of the structure above the swing.
The beige cushion is more of a seat cushion, it does not go high enough in the back to give any support.
Hammock Chair Swing
This swing chair will have two large metal rings that will have a cotton rope weaved to make a chair seat that will hang from two ropes, one on each side.
The soft beige cotton material will make a soft seat for long term sitting.
The swing will be 31.5 inches wide, 23.6 inches deep and 47.2 inches tall at the top of the hanging rope.
It will weigh about 7 pounds, it will be very easy to move or take down when not in use, It will fold flat and be easy to store.
The chair will hold 330 pounds, depending on the mounting hardware. Each chair is hand made so each one may be a little different.
For current pricing or just more information on hanging seating use the link below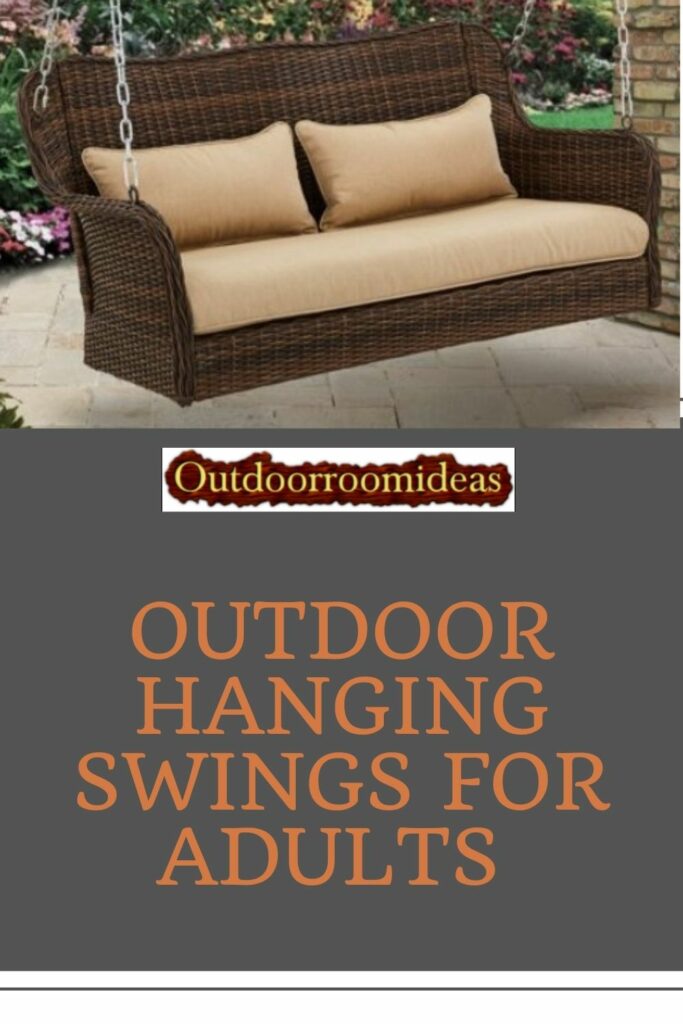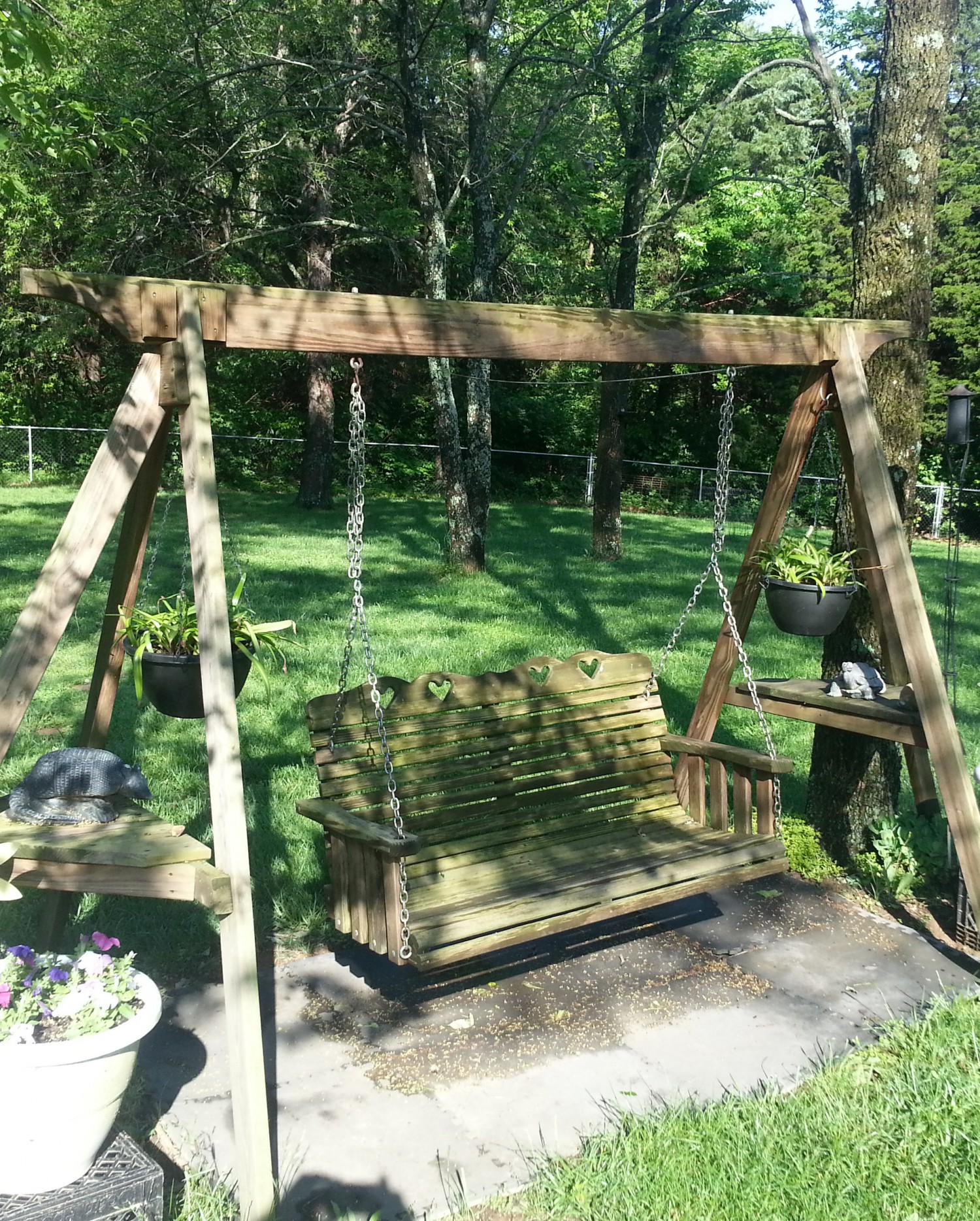 My final thought on hanging swings
I have a bench-type swing on a stand in my back yard, this will allow a place to relax with movement with someone else. My choice of a stand is that I do not have a porch or big enough tree to mount my swing on. For more information on backyard swings with a stand, see my post here.
You will need to have your own stand or an appropriate upper structure to mount your swing to. All of these swings can be mounted to the ceiling of a porch or to a tree that is big enough to support your weight and the weight of the swing. Having an expert look at your mounting point and giving you some advice may be needed to keep you from having a bad experience.
You will have to choose your style and the number of seats that you will need for your outdoor area, some of these swings can also be used indoors with the proper mounts.
Any questions or comments on this or any other post on this site, use the forms below and I will get back to you shortly.