One of the most popular places around the house for a swing is on the front porch. Most will have an overhang that will hold a resin wicker porch swing. Other options are available for hanging a swing like a tree or premade stand.
As with any hanging seating, the porch swing stability will be determined by the ability to hang it on a solid upper structure like a tree or overhead beam. If you have any concerns, I would contact a local contractor to give you an opinion, it is worth the price.
Many styles and materials are available for swing today, in this article we will look at the Better Homes and Gardens Camrose Farmhouse Resin Wicker Porch Swing and see if it works for your needs.
First let us look the quick details of the Camrose Farmhouse porch swing before I get into the finer details.
Swing size
54.3 inches wide
29.5 inches deep
27.6 inches high
Cushion size
3 inches thick
Weight Capacity
500 (depends on mounting)
Hanging Material
Stainless Steel Chain
Price
$269.97
My rating
8.3 out of 10
Table of contents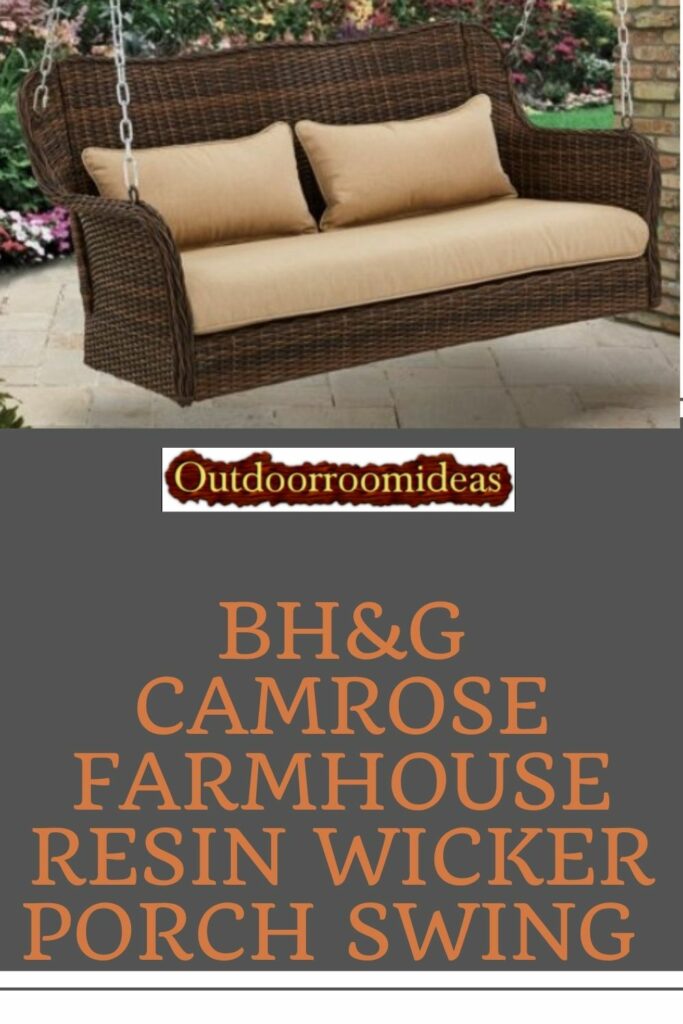 Resin Wicker Porch Swing
Features of the Camrose Farmhouse swing
The swing will have a steel frame that will have a woven resin wicker finish for all exterior sides. Two styles of wicker are used, a flatter wicker is used for the seat and other areas that are not visible when the cushions are attached. I would not recommend using this swing without the cushions.
Two colors of the resin wicker material are available for the Camrose Farmhouse swing, a light brown and a dark brown. The same beige cushions are used for both color choices.
2 Metal loops on each arm will hold a metal chain to support the swing from an upper structure. The arms will have a curved design to give you some comfort if you are leaning on the ends. The back is a flat design.
Details of this porch swing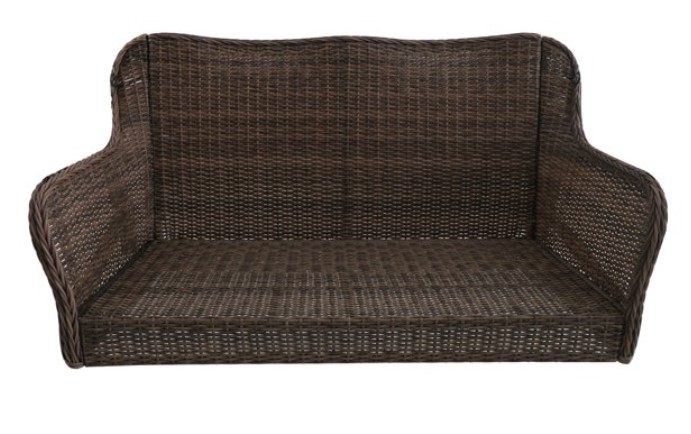 Swing
The swing will be 54.3 inches wide, 29.5 inches deep, and 27.6 inches tall without the chains. The height of the seat above the ground will be adjusted by the length of the chain between the mounting place and arms.
The seat will be about 48 inches wide, big enough for two adults weighing less than 500 pounds of total weight.
Cushions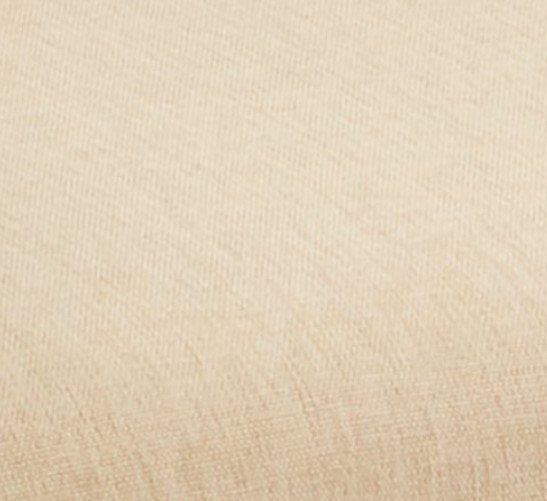 The beige cushions will have covers made from an Olefin fabric material. This material withstands most outdoor conditions like the sun or wet environments for about 800 hours before it starts to break down.
The cushions are about 48 inches wide and 3 inches thick. A thick bench cushion could replace this cushion if it gets damaged. See some of my replacement cushion options here.
Storage for your cushions is a must if they are to last for more than a few years.
Hanging material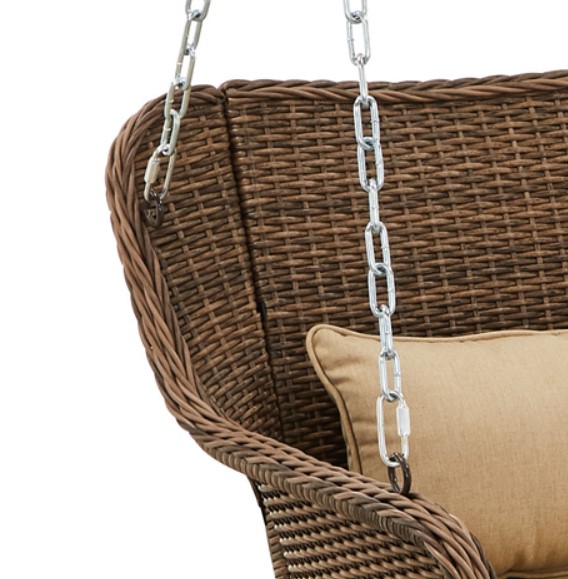 A stainless steel bright chrome finished chain is used to hang this swing from hooks on each of the arms with a link that has a screw type lock on it.
It will go into one chain about 2 feet above the back of the swing. The total length of the chain from the bottom connection is a little over 77 inches. This should give you enough chain to hang from an overhead object and still be able to get into it from the floor.
Assembly and Care of your swing
Assembly
Most customers found the assembly very easy. The only problem noted was the miss alignment of holes for attaching the arms. This could be from damage done during shipping. I have had this problem with a couple of chairs that I had shipped.
You will just have to connect the seat to the back portion of the swing, then add arms. Do not final tighten hardware until all hardware is attached for the best results.
The hanging of the swing till take a little more effort. First you will have to add some kind of hook to attach the mounting chain to, make sure if it is in the ceiling that you attach this swing to a rafter or beam for the best results.
Not following the directions and finding a solid mounting point, your swing may fall and injuries can occur.
Care of your swing
Proper care of your swing or any patio furniture is with a damp cloth or a mixture of mild soap and water. Any harsh chemicals can damage and surface of patio furniture. Discoloration or cracking of the resin wicker have been know to happen if any harsh chemicals are used.
Pros
Resin Wicker finish

The metal frames will have a woven resin wicker material finish to give the look of very expensive patio furniture.

Cushion and pillows included

Both cushions and pillows are included in the purchase price. This porch swing will be very comfortable for long term sitting.

Two-color choices for wicker

A dark brown and light brown color for the resin wicker is available for the same price. Beige cushions and pillows will be the same for both colors.
Cons
Cushions will need storage

Although the cushions have Olefin fabric for the covers, I will always recommend storing any fabric materials out of the outdoor weather conditions to make sure that they last more than a couple of years.

Higher price

Some porch swings starting prices are less than $100, There are some examples of resin wicker swings for under $200.

Assembly holes miss aligned

A couple of customers had to re-drill or adjust the arms to make the bolts fit through both holes. Most customers stated that this was a minor problem compared to the quality of the rest of the product.
Other options for your swing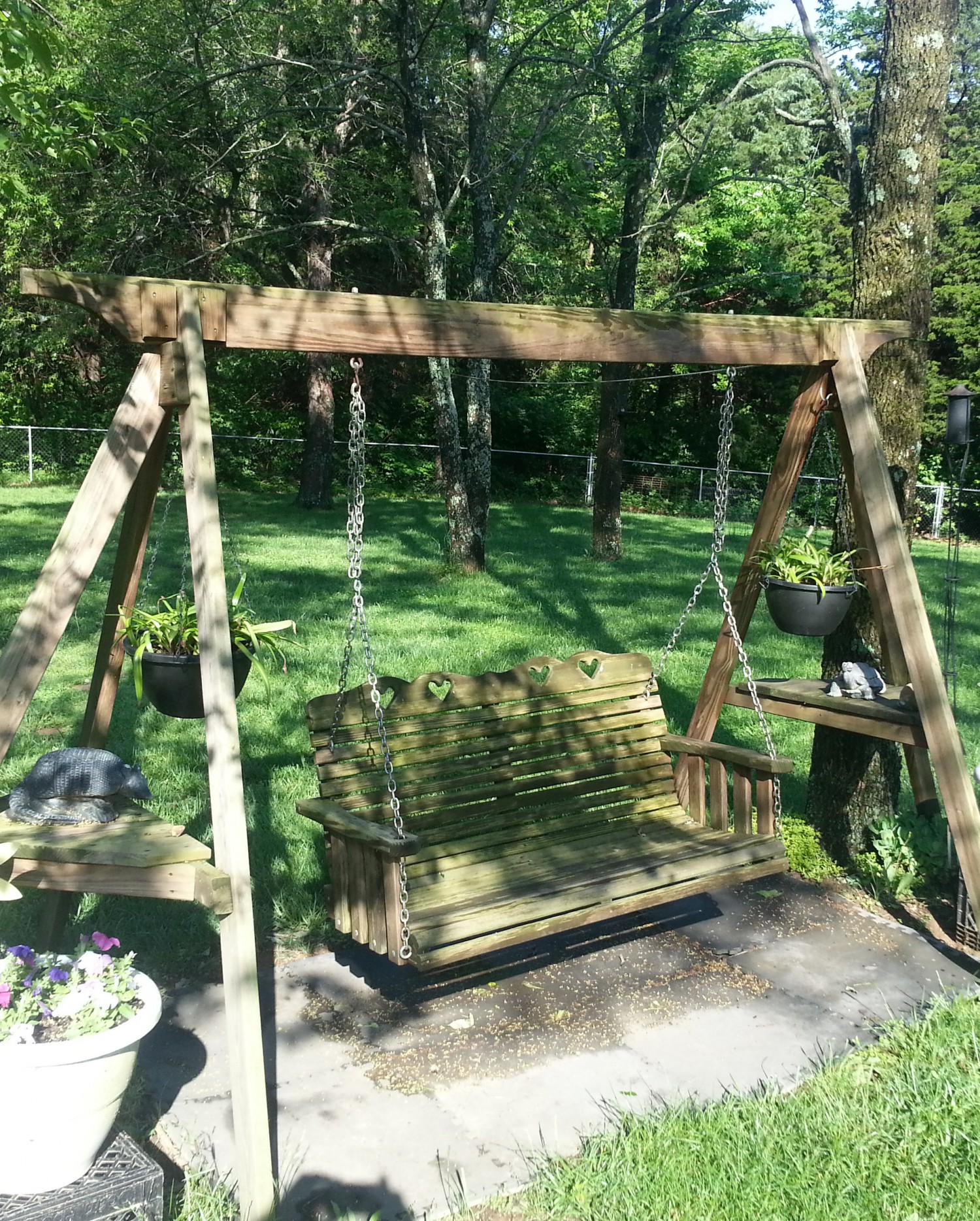 I have a wooden swing on a stand for my outdoor area seating at home and a metal glider for seating at the lake. I like the inclusion of the cushion and back pillows with this choice.
Other options for a porch swing without stand are as follows, depending on your budget some are just just a third of the price of the Camrose Farmhouse porch swing.
I will list from the cheapest to most expensive.
Jack Post wooden no cushions
Delahey wooden no cushions
Belden Park metal with cushions
Ella Rose wooden with cushions
For more information on these swings see my post on Hanging swings for adults here.
My final thoughts on the Camrose Farmhouse Resin Wicker Porch Swing
My external motion seating is quit different that this example. I did add cushions to my glider at the lake to add seating comfort. I like the look of the Camrose Farmhouse porch swing to match with other wicker furniture.
This example of a hanging porch swing is on the high end of pricing, look at some of my other hanging swing choices if your budget is not able to handle the almost $300 price tag.
Do you have a hanging resin wicker swing, what are you thoughts. If you have any questions or comments use the forms below and I will get back to you shortly.