Having a place to sit and relax with some comfort and movement is what everyone wants. The Ella Rose Wood Porch Swing with Cushion will give you that comfort and movement.
The Mainstays Ella Rose swing will be made from a mixture of wooden materials and hang from a heavy rope from an upper structure like a porch ceiling, tree, or stand purchased separately. A white cushion will give your buns many hours of comfortable sitting.
I have a swing on a stand in my backyard, it does not have a cushion. I still find it is a great place to go and sit to watch the world go by without being inside. Being outside in nature is relaxing to your mind if you let it.
I would recommend the Mainstays Ella Rose hanging swing available at Walmart, for any area that has an overhead structure for hanging to reduce your daily stress level.
As with any hanging swing, the mounting structure will have a lot to do with the amount of weight your swing will support. getting the proper hanging point when attaching to a porch ceiling will be the difference in a good or bad installation. If you need some help with installing this or any hanging swing, please consult a professional in this field.
Quick details of this swing
Swing size
50.25 inches long
23 inches deep
22 inches high
Cushion size
48 inches long
20 inches deep
Hanging material
Rope
Weight Capacity
550 pounds (depending on Mounting)
Price
Currently out of stock
My Rating
9.3 out of 10
Table of contents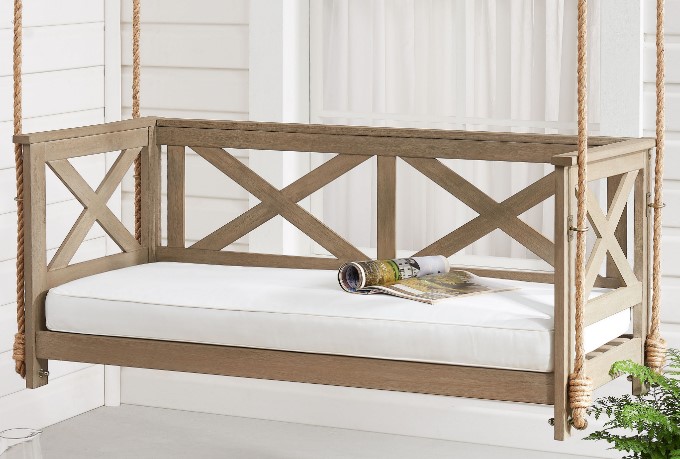 Wood Porch Swing with Cushion
Features and construction of the Ella Rose swing
This wood swing is made from several different wood styles with a weathered gray finish. The frame is made from one wood and the slates for the seat is another wood style. No mention of the type of wood is made.
The design of this swing is an X pattern with a framed big X on each arm and two on the back of the swing.
A heavy rope will be attached to the bottom of each upright post with a metal ring that is held in place with a nut. The rope is further stabilized by another ring 3/4 of the way up each post.
The hanging rope can be mounted by four hanging positions or two. Using two locations will give you a better forward and back swinging motion.
A white cushion will sit on the slatted frame for your comfort. It will have an all-weather polyester fiberfill with a polyester fabric cover.
Ella Rose size and special options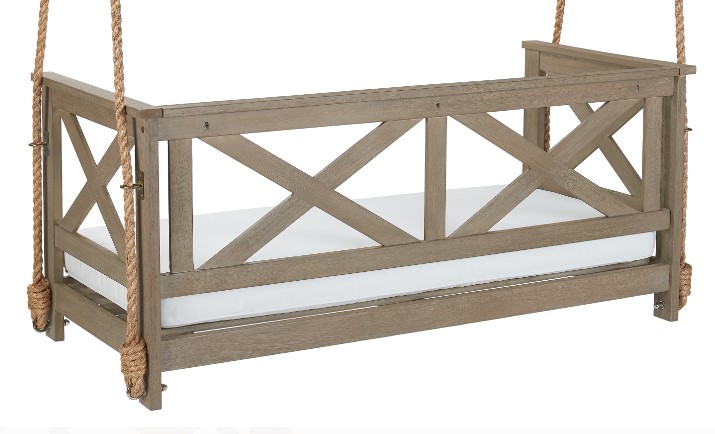 The swing will be 50.25 inches wide, 23 inches deep, and 22 inches tall. The seat is about 48 inches wide and 20 inches deep. The total weight of this swing is 35 pounds.
The swing has a capacity of 550 pounds, this is the maximum weight for the bench, overhead mounting may have some input on the amount of weight your swing can hold. This weight capacity will allow two average sized adults and maybe a small child to use the swing at the same time.
The X design on the arms and backs will give this swing its look and style. It is very boxy compared with some of the other styles available.
The hanging rope will give you the option of two or four overhead mounting locations. Most will prefer just two locations as if you use four the swing my not swing straight back and forth. Some customers complained about the swing going in any direction while sitting in it they probably used the four mounting locations.
Assembly and care of your wooden porch swing
The assembly of this swing will take most people about an hour to put together without the overhead mounts. If hanging from a ceiling, find a beam or stud to hang this swing from.
The first step of swing assembly will be to attach the wooden frame together. The rope will attach to the bottom of the legs with an eyelet with a nut on the other side. An upper rope eyelet will be attached with four screws for each eyelet. The rope will need to be threaded through this eyelet for the stability of the swing.
The lower slats that support the cushion will run from side to side and be supported by ribs running from front to back.
Once put together this swing will be very solid. You will just need to add the cushion to use after mounting.
Care of any patio furniture should be with just a moist cloth. If you get some heavier debris from insects or other wildlife, a mixture of a mild soap and water should be used.
The cushions should be stored when not in use to make sure that they last more than a few seasons. The cover for the cushion does come off for further cleaning. I would look into a storage solution for my cushion.



Pros cons of the Ella Rose porch swing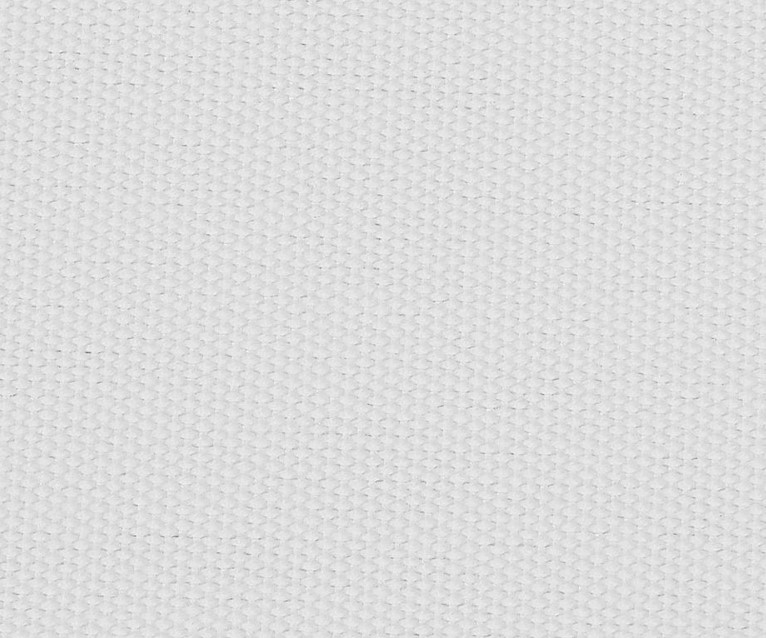 Pros
Cushion for comfort

The polyester cushions will add to your seating comfort. The cushion covers can be removed when they need to be cleaned.

Solid wood construction

This swing will use one type of wood for the entire frame and another for the slats supporting the seat cushion. The wood is a natural gray color.

550-pound weight capacity

Most swings will only hold 450-500 pounds of weight. This swing is very tough and will hold up to 550 pounds of weight. This will all depend on the overhead mounting, please check with a local contractor if you have any questions.
Cons
Cushions will need a storage solution

Any outdoor fabric should be stored out of the weather conditions to make them last more than a few seasons.

It is not as stable as other swings

If you use the four mounting positions, this swing may not move forward and back naturally like a regular swing. Some of the stability will be lost.

The square design may not be comfy

The boxy design will not form to your back or bottom. Some other swings with curved backs and arched seats may give better comfort for your back and butt.
Look at this list of similar products
If you are still wanting to look at other hanging swings look into this list below. All of them are available in my article on hanging swings for adults.
Camrose Farmhouse – Brown resin wicker swing with cushion
Belden Park – Metal framed with blue cushion
Jack Post – Natural color wooden swing, no cushion
Delahey – Wooden swing with cushion, in white or black finish
Final thoughts on the Ella Rose wood porch swing
Having a place to sit and relax after a tough day with motion and butt comfort should be on your outdoor seating plans. I have a hanging swing in my back yard space for just this reason, you should have one also.
One of the better examples is the Mainstays Ella Rose swing, you can get yours from Walmart here. You will get a swing that has a cushion for comfort and a decorative rope for hanging. Easy assembly will have you using your swing as soon as you have it hanging from an upper structure.
Do you have any questions or comments about this swing, please use the forms below and I will get back to you shortly.