When looking at patio furniture that will seat 2 and have a small table for snacks and drinks, the Better Homes & Gardens Aubrey Chat Set with Cushions may work for you.
The cushions will add to your seating comfort and the tabletop will come off to make a serving tray for getting food and drinks to your guests.
Use the chart below to get the quick details for this patio furniture. To look at my expanded details use the table of contents below the image.
Materials
Frames-Steel with powder-coated finish
Seat and back cushions-Polyester fabric
Size of seating
30.63 inches wide
26.22 inches deep
31.81 inches tall
Size of table
17.72 inches wide
20.79 inches tall
Price at the time of the article
$297
Chat Set with Cushions


Table of contents
Features and construction
The frames are made from steel with a powder-coated finish. The side table will have a barrel shape that is formed with verticle bars. The chairs will share this design with a wider opening bar on the arms and back. The arms remind me of an old bed frame.
Polyester cushions will give seating comfort for both the seats and backs. The cushions are available in a black and white stripe or solid cream color. Color-matched ties will hold the seat cushion at the back and the back cushion at the top to the frame of the chair.
Size and special options
The chairs will have straight legs and no movement. The seating comfort is provided by the seat and back cushions. The curved top arms will help keep you in your seat, not very comfortable for laying your arm on to rest.
Each chair will be 30.63 inches wide, 26.22 inches deep, and 31.81 inches tall. No weight capacity is given in any information available.
The table will be 17.72 inches across the round top and 20.79 inches tall. The bottom is open barrel-shaped with a removable top that you can use as a tray.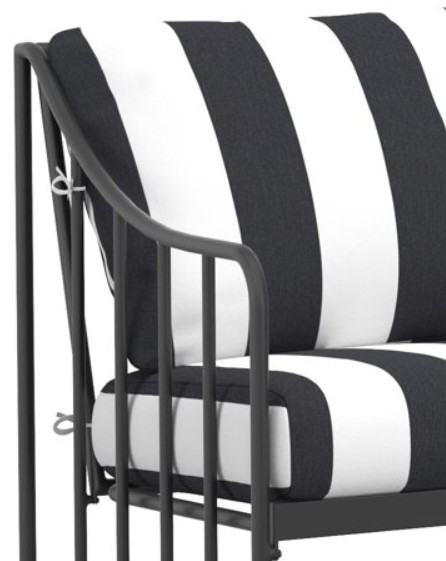 Assembly and care
This will be an easy assembly for most with any skills in mechanical things. Many people will be ready to sit and enjoy this patio furniture in less than an hour.
The table will come in two halves and will need to be put together with four screws. Add the removable tray that will just sit on top and you are ready to use the table.
The chairs will need the seat attached to the back. The arms will need attachment next, you may ask for extra hands at this time to hold the back/seat assembly as you add the arm/feet assembly. Sit the chair on its feet on a smooth level surface for the final tightening for the best results.
Add the cushions and tie them in place with the small ties that are included.
Taking care of this or any other patio furniture will be a soft damp cloth for the metal parts. Make sure to touch up any scratches that occur over time as they will start to rust and damage your frames.
The cushions should be stored when not in use for the best results. The polyester cushions will keep their color longer if stored out of the sun also. For some of my storage options, use this link.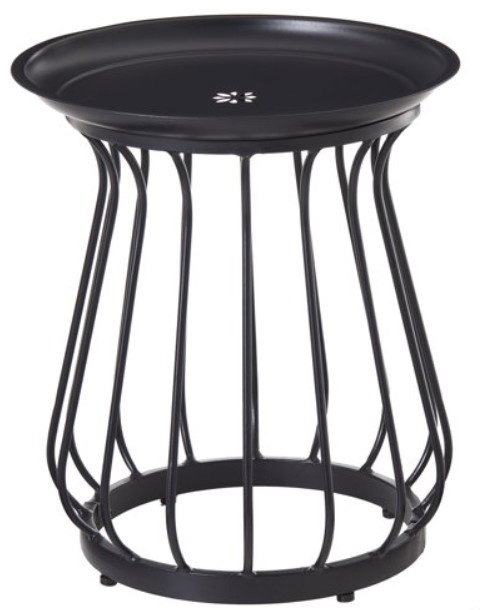 Pros and cons of the Better Homes & Gardens Aubrey Chat Set with Cushions
Pros
The tabletop can be used as a serving tray
Cushions for seats and backs
2 color choices for cushions
Cons
No Motion in chairs
Cushions will need a storage solution
Easy to lose the tabletop
FAQs on Chat sets for your patio
Can you eat a meal on a chat set table?
Similar bistro sets for small spaces to look at
My favorite of the group of bistro sets below is the Clayton Court wrought iron set. It has motion and cushions with a good-sized table for food and drinks.
Use the names of each item below to go to my expanded information to see if it fits your patio furniture sitting needs.
Only found in stores at this time, use the link below to search online for this item
Final thoughts on the Better Homes & Gardens Aubrey Chat Set with Cushions
The Aubrey chat set will be great-looking sitting patio furniture that will be comfortable for long-term sitting with the included cushions. You can choose between the two cushion colors to match your current outdoor decor.
The table has a removable top to use as a serving tray. It does not attach to the table and can be lost easily and be hard to replace if lost. This can be a plus or minus that will depend on your needs.
I like the Aubrey chat set for its simplicity in design and ease of assembly. It will fit well in most patio areas that are a little larger than just a balcony or small deck.
Any questions or comments, please use the forms below and I will get back to you shortly.