If you like the style of the retro metal bistro sets, this example from the Pioneer Women collection called the Goldie Garden Bistro Set will work.
Made with a cast iron frame and scroll design that almost looks like butterfly wings on the backs of the chairs, it will give you the retro style that has been a favorite for many years.
The pastel teal color will make this set stand out from the black or bronze color of most retro bistro sets. The aluminum will also be an advantage as it will not rust like the cast iron sets.
The quick details are in the chart below, for expanded information use the table of contents below and click on the item you are most interested in to go directly to that information.
Materials
Cast Aluminum
Size of seating
The seat is 16 inches wide
19.5 inches deep
The chair is 35 inches tall
Size of table
23.6 inches wide
26.5 inches high
Price at the time of the article
$249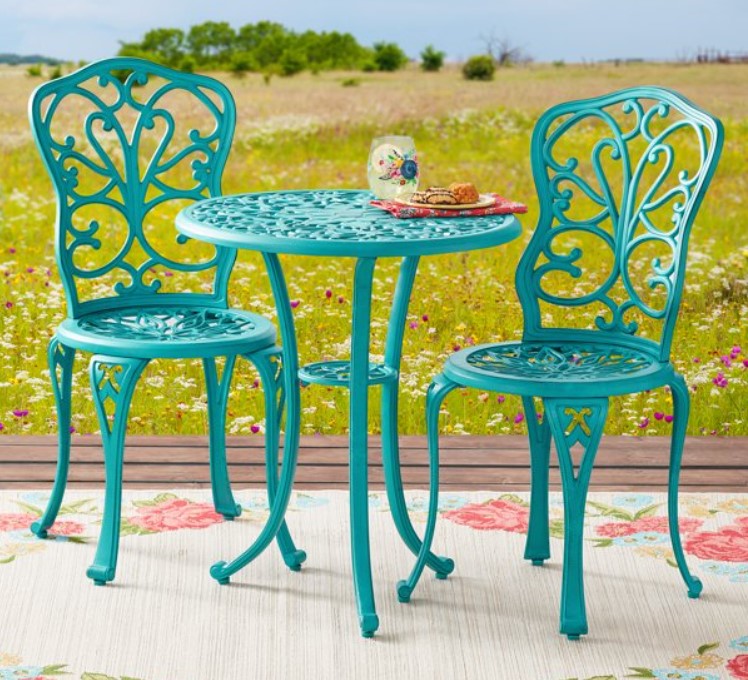 The Pioneer Woman Goldie Garden Bistro Set


Table of contents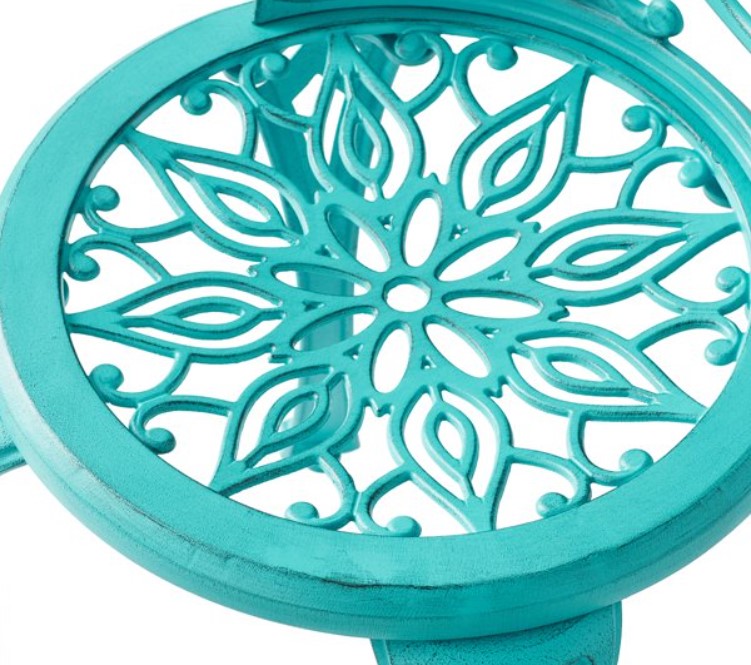 Features and construction
The Chairs and table are made from cast aluminum to prevent rust and make this set lightweight. The finish will be a teal color that is a powder-coated finish that will last well in most outdoor weather conditions.
The panels will have a scroll design along with a curved design for the legs. This scroll design looks like a star on the round tabletop and seat base.
Each leg will have screw-in feet that will allow for small adjustments for uneven surfaces.
Umbrella provisions are included in the table, a big base will be needed for a small, under a 6-foot umbrella. limited use will be gained using an umbrella as the table will lose some of its stability and the umbrella will have to be removed from the table when not in use to avoid damage to the table and umbrella.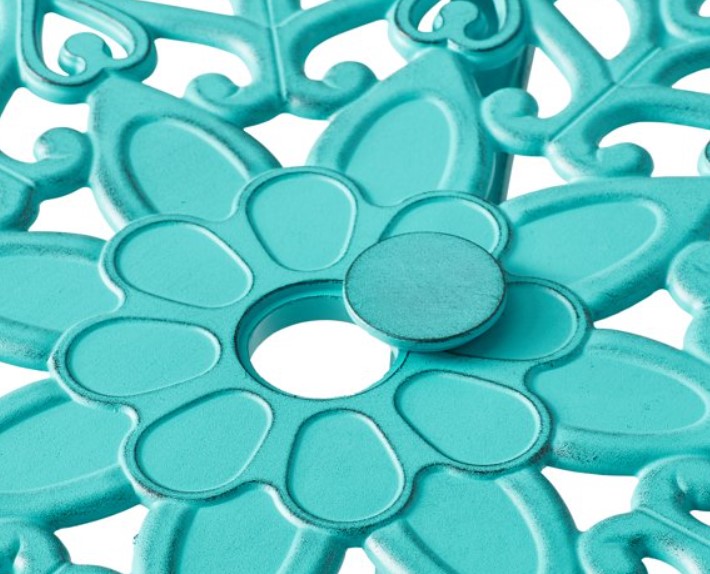 Size and special options
Each chair will have a round seat that is about 16 inches across. The chair will be 19.5 inches front to back and 35 inches tall.
The table is 23.6 inches across and 26.5 inches tall. A small hole in the middle will have a metal cover. The 3 legs will have a similar round support brace about halfway down. This table will be big enough for a small meal or just drinks and a snack.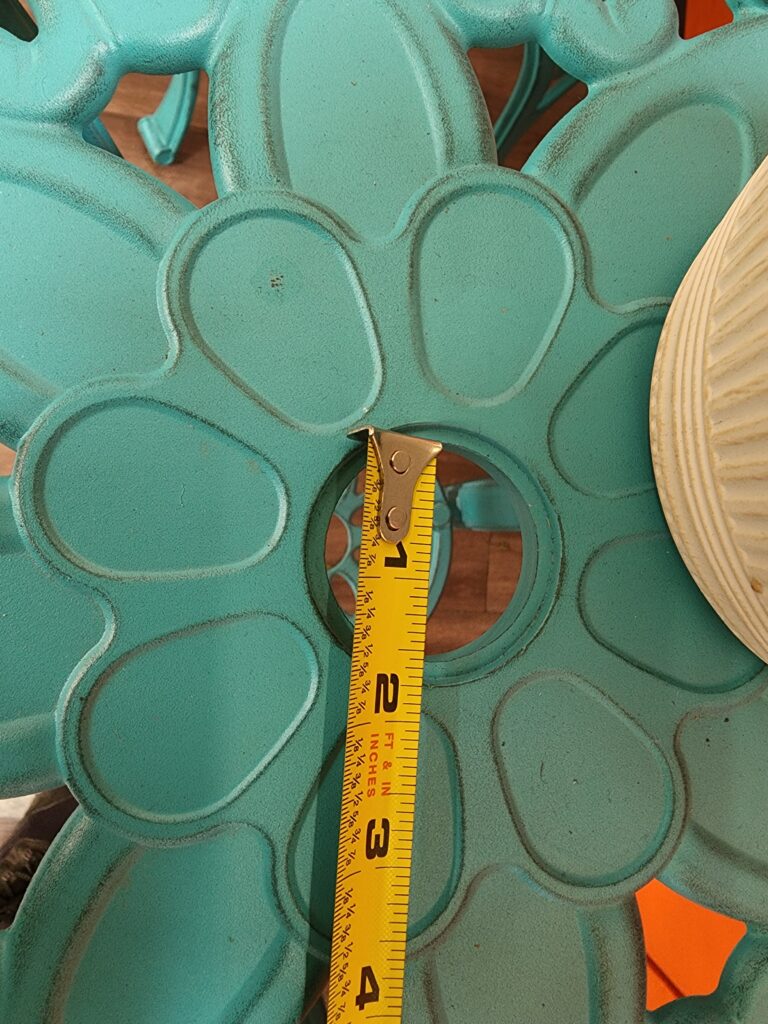 The size of this set will work well on most small decks and balconies.
The table does include a hole and support for a small umbrella, this is not a major selling point for this set. A disk will cover the hole in the tabletop when no umbrella is used. The hole is about 1 1/2 inches across, most patio umbrellas will have posts that are 1 3/4 to 2 inches across. May need to be picky on size if you are going to use an umbrella.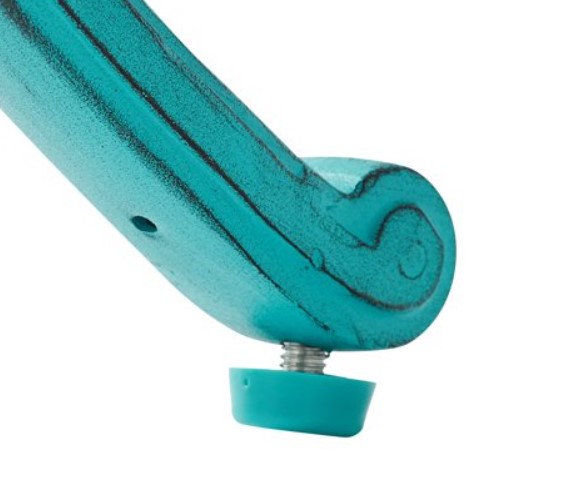 Assembly and care
Some assembly will be required. Most stated that all pieces were put together in less than an hour. Your results may vary based on your skill level.
The chair seat and back need to be connected then add the legs. The feet need to be screwed in, each piece will need a different adjustment on the feet unless your final surface is completely flat.
The table will require the three legs to be attached to the tabletop and adding in the lower support bracket for the legs. Add the feet and disk for the middle of the table and you are ready to use your set.
For best results, I like to do the final tightening of all hardware with each piece sitting on its feet, on a smooth flat surface. This will give you the best results to do less adjusting of the feet.
With the powder-coated finish, you will not need much hard cleaning. Only use mild soap and water to clean the painted surfaces, harsh chemicals will fade the paint and promote peeling of the paint also.
Pros cons of The Pioneer Woman Goldie Garden Bistro Set
Pros
Cast aluminum construction
Adjustable feet
Powder-coated finish
Cons
Without added cushions, chairs could be hard on your bottom shortly
The umbrella hole may not be useful on this set
The lightweight set may move in heavy winds
Similar products to look at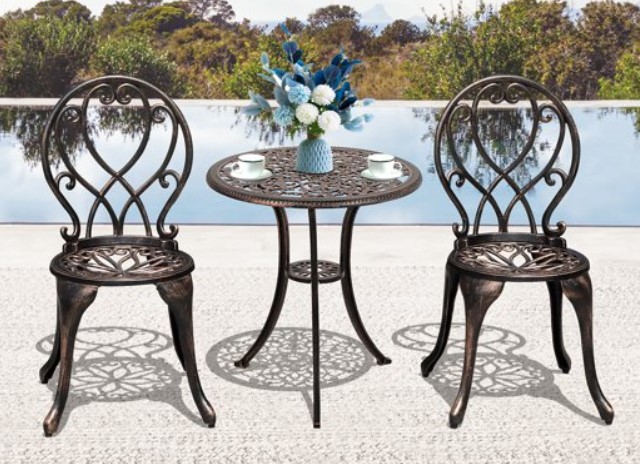 Use this list for more information on vintage bistro sets like this one.
Matthews Set with Tulips
Costway Rose Bistro Set
FlowerHouse Butterfly Bistro Set
Belleze Bistro Set Bronze
Nuu Garden Bistro Table Set
You can find them all in my article on Vintage Bistro sets here.
Final thoughts on The Pioneer Woman Goldie Garden Bistro Set
If you are in the market for a retro type of bistro set, The Pioneer Woman Goldie Garden Bistro Set with its cast aluminum frame and Teal finish may work for you. It is lightweight and easy to move.
The table does have a provision for an umbrella, I don't think without a big umbrella base it would be very wise to use one. Adjustable feet will keep your pieces from rocking on slightly uneven surfaces.
For small spaces that need seating for 2 and a place to have a small meal or drink, this set will work well. A lot of people did like the teal look over the traditional black or bronze.
If you have any questions or comments for me, use the forms below and I will get back to you shortly.