When looking for the Best Patio Furniture for your outdoor space, your choice will be different from others. Some will want a small space to relax with a friend with a cold one after work, others will have the room to bring in several friends for a dinner. Each person will have different needs.
In this article, I will give you what is available on the shelf at my local store. Your store stock may vary, these items are still available online.
I have made a table of contents to get you to the items that you are looking for faster. Just click on the highlighted name to go directly to the information on each of the patio furniture selections available in stores for the spring of 2022.
Now let's look at the best patio furniture available for the spring of 2022
Table of Contents
Dining sets
Bistro sets
Casual seating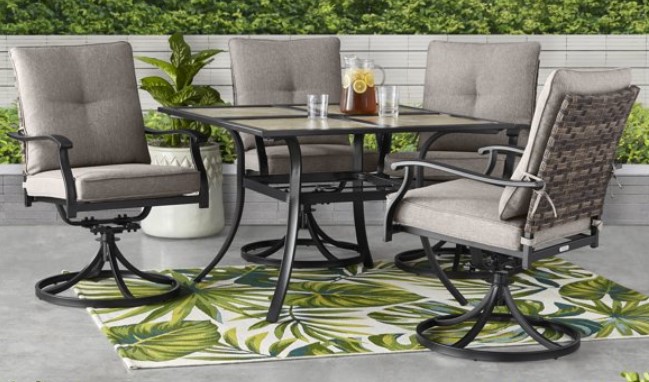 Elmdale Dining Set
The Elmdale Dining set will include four swivel rockers with cushions. The square table will have tile inserts that can be changed out to give you a different color pallet.
A hole in the table will give you a place to put a patio umbrella for shade and rain protection (umbrella not included).
This will be the perfect patio furniture set for those who need small dining set for four and have a larger space outside. For more details on the Elmdale Dining Set, see my post here.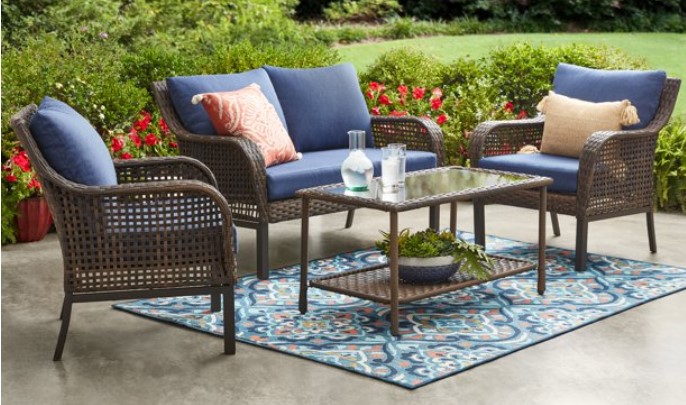 Tuscany Ridge conversation set
The Tuscany Ridge conversation set with a love seat, two chairs, and a coffee table will give you a comfortable place to sit and have a cold one with friends after a long day at work or play.
The resin wicker finish will highlight each piece. The coffee table will have a tempered glass top and a wicker lower shelf for light storage.
For more details on the Tuscany Ridge conversation set, follow this link.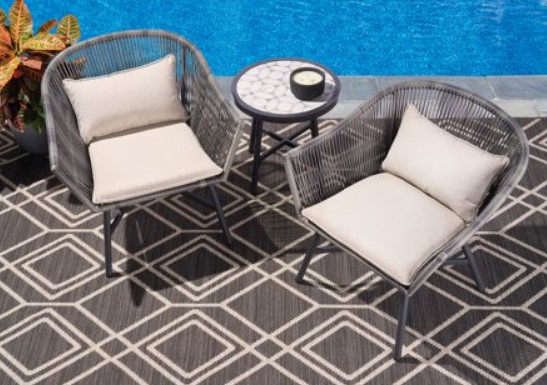 Blakely Chat set
The Blakely Chat set is a small set that will have a side table with a tile insert for the top. A straight line resin wicker design will outline the chair sides.
Seat cushions will help with long-term sitting comfort. With the addition of the lumbar-type back pillow, your time sitting will be very comfortable.
For my expanded post with information on the Blakely Chat Set, use this link.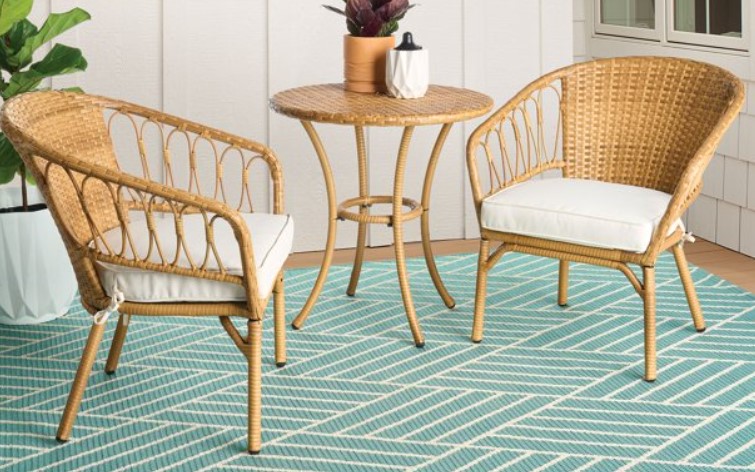 Willow Sage Bistro set
With resin wicker chair backs and tabletop, the Wilow Sage Bistro set will give some larger small spaces a great place to sit and relax.
The light cushions will give you long-term sitting comfort and will stay in place with the ties in the back.
This is a new set for this year. Use the following link for more of my information on the Willow Sage Bistro set.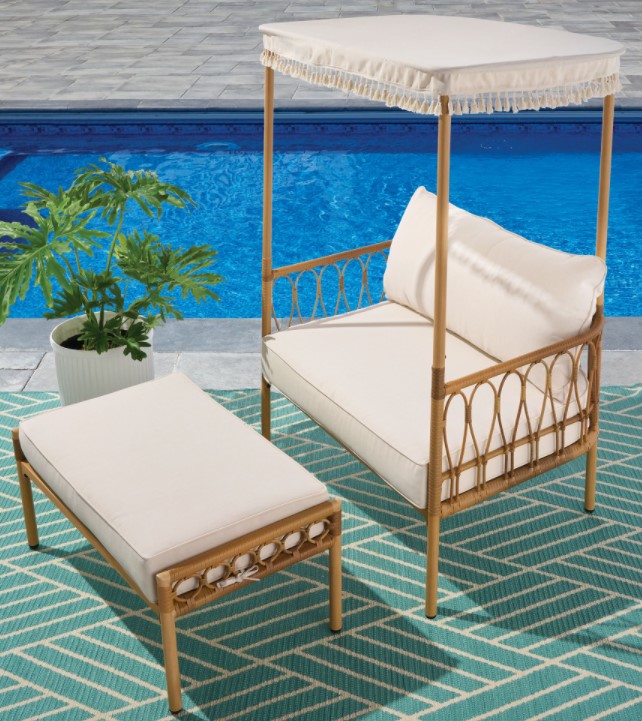 Willow Sage Canopy chair set
For those with a pool area, the Willow Sage Canopy Chair set will be a great addition. I just wish it was long enough to lay down to take a nap.
The canopy can give you some relief from the sun if it is overhead, it is not adjustable. The ottoman will give you leg comfort.
I have more details on this new for this year's Willow Sage Canopy Chair Set here.
River Oaks collection
The River Oaks patio conversation set for last year has some new sets in the collection for this year. Last year's 3-seat sofa, 2 swivel rocker chairs, and nesting side tables are still in the store.
A lot of people were looking for extra chairs to go with this set, now you can purchase 2 of the swivel chairs separately.
Also new for this year is a set of love seats with a square side table. It is shown in the image to the right.
For those who require a lot of seating, you can mix and match to fill a large space with this collection of wicker furniture. For more of my information on the River Oaks furniture, use this link.
Brookbury Sofa set
The Brookbury Sofa set was very popular patio furniture set last year. It does require a large outdoor space. It can be arranged in several ways to fit each person's needs.
The furniture will nest in itself and a cover is included for storage when not in use, this is why the table sits much higher than other patio furniture choices.
This set will give seating for up to 7 people without adding other chairs. Go here for more of my Brookbury sofa set information.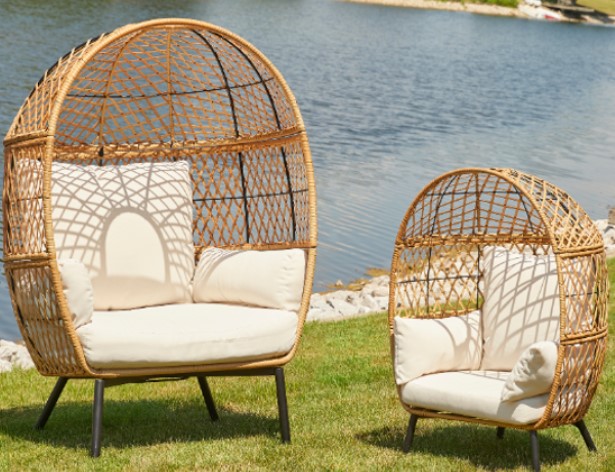 Ventura Egg Chair
This simple seating choice can give you shade and a comfortable place to sit and read a book. A matching child seat is also available. Easy assembly and a small footprint will allow you to use it in any small space.
The Ventura Egg chair is very comfortable to sit in, I just wish it came with a matching ottoman to raise my legs so I could take a nap in it.
For more Egg Chair Choices, look here for my other articles.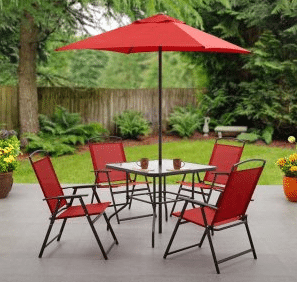 Albany Lane Dining set
I have a very similar dining set at the lake. I like the Albany Lane selection for its ability to be stored in a small space and that it comes with an umbrella. The chairs fold easily and I can put this set away in minutes if needed.
The 6 available colors will allow you to match most outdoor decors. I have the tan color and it has been in use for about 5 years and still looks like new. I do store mine out of the weather when not in use.
For more of my details on the Albany Lane dining set, use this link.
Greyson Square folding chairs
The Greyson Square folding chairs will come in sets of 2. They are available in 5 colors to match a lot of outdoor decors. They are very similar to the Albany Lane dining set above.
The chairs will fold for storage and the sling material for seating comfort is one of the better designs for patio furniture. I have several sets with this material that have been outside for well over10 years with little care and cleaning.
This set is great for quick additional seating for any outdoor space. See my information on this set of 2 Greyson Square folding chairs.
High Back Web chair
This is a traditional quick seating solution for your outdoor space. Fold them up for quick storage. The web will come in 5 shades to match a lot of outdoor decors.
These chairs will be a great item to keep in the trunk of your car for when you go to the beach or just want to sit and relax to watch the sunset with your favorite person.
This design has been around for years and if the strapping ever gets bad, you can replace it with a little elbow grease.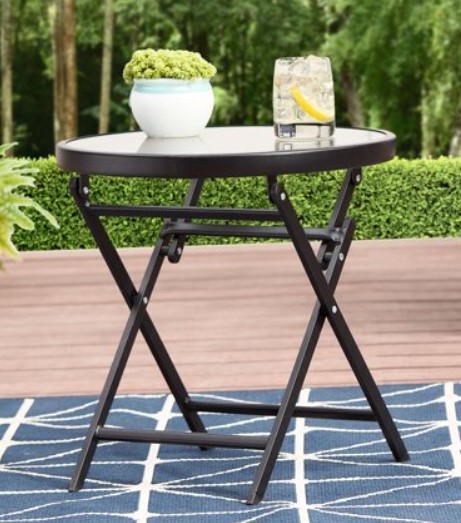 Round Glass Side table
If you get any of the chairs in this article, you may need a portable side table. The Mainstays folding side table would be a great addition to your chair choice.
The table will come in 2 sizes, an 18-inch or 26 inches. Both are the same height as the top is wide. You can choose what fits your needs the best.
The style will match the Greyson Square chairs very well. See my expanded details of these folding tables here.
Wooden Porch Rocker
The wooden porch rocker is a seating solution that has been around for many years. Having one or two on a front porch with a railing will give you a place to sit and relax after a long day and watch the world go by.
The simple design will allow movement and comfortable seating without cushions. Some models will even come in different colors to match your outdoor decor.
For more of my information on a wooden porch rocker, see my post here.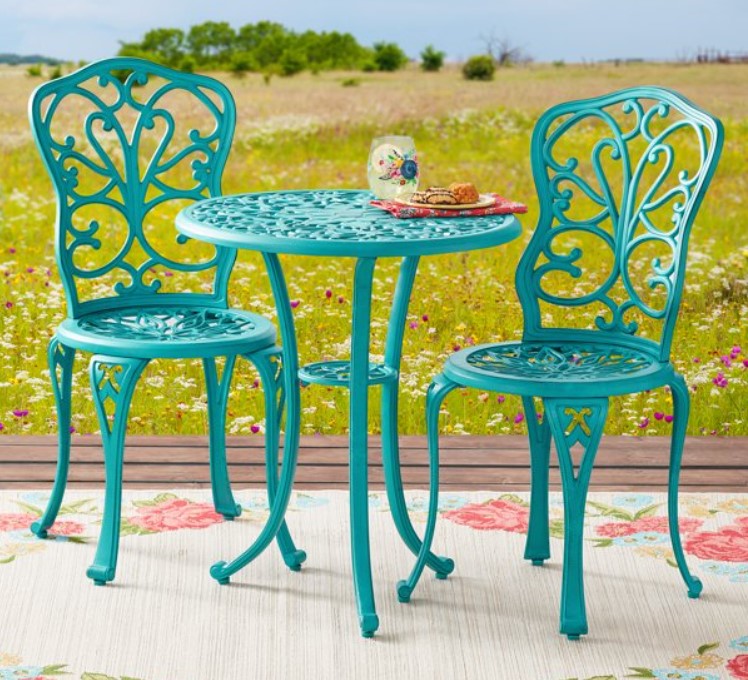 Goldie Bistro Set from the Pioneer Woman
For those looking for the timeless design of the metal bistro sets, this design from the Pioneer Woman collection will work well. In a teal color and scroll design for all of the panels.
The table will have provisions for a small patio umbrella, without a big umbrella base it will be very unstable in moderate to high winds.
The wrought iron look is made from cast aluminum for lighter weight and protection from rust. Several other designs and colors are available in this style, see some of my other traditional Bistro sets in my articles here.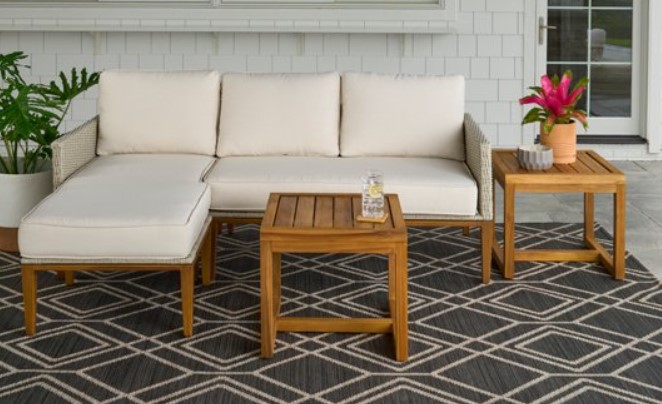 Davenport Sofa Lounger
This is another set for larger areas. With a three-seat sofa, two side tables, and an ottoman, it will still give seating for four if needed.
The frames will be made from acacia wood for outdoor weather resistance. Cushions for all seats and backs will give long-term sitting comfort.
This product was available in a sectional set before with a darker resin wicker design for the seating end panels. The one-piece sofa for the current set will have a lighter color on the resin wicker end panels.
The sofa will not be long enough for most to nap on, it will be great for giving your outdoor space an indoor look while keeping a very durable design.
For more expanded information on the Davenport Sofa set for this year, see my post here.
My final thoughts on the patio furniture in this article
Depending on your needs for seating or dining, you should find a solution for your patio furniture needs here. If not look at some of my other articles by using the search bar above.
The River Oaks and Brookbury sofa sets were the most popular last year for seating.
I have an older set of the Albany Lane dining set and like the sling material for seating and use the chairs without the table often. These are similar to the Greyson Square folding chairs.
For questions or comments, please use the forms below. I will return an answer shortly.