If you have a space that is at least 10 feet square and could use seating for four, the Mainstays Tuscany Ridge Resin Wicker Patio Conversation Set would be a great choice.
For a price of under $500, cushions for comfort, resin wicker for a long lasting finish, and several other sets or pieces that will match, this collection of patio furniture will fill up most outdoor spaces with ease and great looks.
The wicker finish will give you the look of more expensive furniture and the cushions will give you hours of comfortable seating for you and your guests. The coffee table will give you extra storage for reading material or snacks.
For more information on the Mainstays Tuscany Ridge conversation set or any of the matching pieces, use this link.
Frame Material
Steel with powder-coated finish
Chair/Love Seat size
Chair
30.75 inches wide
30.75 inches deep
32.75 inches tall
Love Seat is 52 inches wide
Coffee Table size
38 inches long
21.5 inches wide
19.5 inches tall
Weight Capacity
250 Pounds per seat
Price
$494
My Rating
7.8 out of 10
Wicker Patio Conversation Set
Table of Contents
Features and options of the Mainstays Tuscany Ridge patio furniture
This set will feature steel frames with a powder-coated finish and a handwoven resin wicker finish design. The spaces that are not on the frame are a loose weave to make the patio furniture have an open design. No movement in the seating pieces in this set, just thick cushions to give you hours of seating comfort.
The seating pieces will have both seat and back cushions available in three color choices. Blue, Red, or Tan. Many matching pieces and sets are available in the Tuscany Ridge collection that can fill up any outdoor space with all one style of furniture.
The coffee table is built with a lower shelf for stability and extra storage. Your reading material and extra snacks will be close by so you will not have to leave your seating or guests to restock. The lower shelf will have an open weave design so that it will not hold water after a rain.
The big option for this set is that if you have a large outdoor space, the Tuscany Ridge collection will have many matching pieces and sets to fill out all of your patio furniture needs for seating, dining, or just a nap after a hard day at work.
Size and Special Options
This will be an average sized conversation set and will require at least a 10 foot square space to feel like you are not cramped. As the seating pieces do not have movement, you may want to leave space to move seating pieces away from the coffee table for best results.
Each chair will be 30.75 inches wide, 30.75 inches deep, and 32.75 inches tall. The love seat will be 52 inches wide. The loveseat will have a single cushion for the seat and two cushions for the back.
The coffee table will be 38 inches long, 21.5 inches wide and 19.5 inches tall. This is about average size for patio furniture. The extra is that it will have a lower storage shelf that will act also as a leg support for the four legs, one at each corner of the table. A tempered glass insert will top the coffee table.
The Frames of this set are tightly woven with resin wicker to give the appearance of a solid wicker construction. Between the frames, the handwoven resin wicker will have an open design that will give some ventilation when the weather is warmer.
Assembly and care of your patio furniture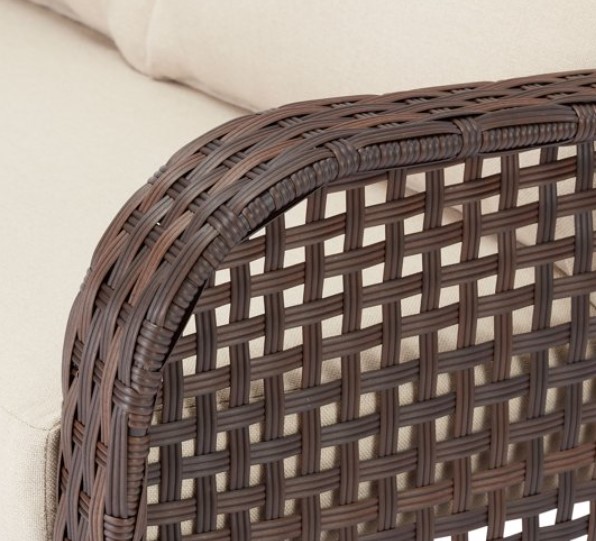 Most customers stated that it took quite a bit of time to assemble this set and said that an extra pair of hands would be a great help with aligning the holes for proper screw installation.
Some customers found that holes did not align properly when assembling the arms to the seating pieces. This is a common problem with patio furniture that is shipped as some companies do not handle with care. Having an extra hand or two will get most pieces back in alignment to install the screws.
Like other patio furniture, the proper care is to wash with a mixture of mild soap and water when needed. A damp rag will take care of most dirt.
Cushions should be stored out of any outdoor weather when not in use for the best results. Not storing them may make them last only a few years without replacing them. I have some storage ideas in my category here.
Most customers stated that they got 6 to 10 years of use out of the resin wicker finish before it started to have problems. This could be accelerated by animals chewing on your finishes.
Pros and Cons of the Tuscany Ridge conversation set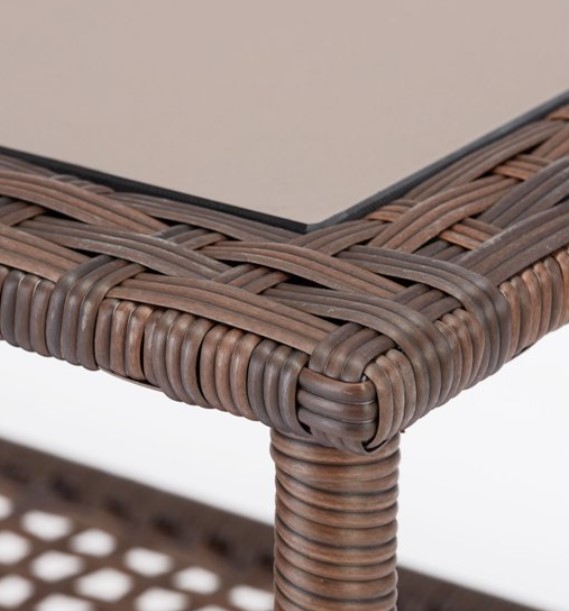 Pros
3 cushion colors

Cushions are available in three colors Blue, Red, or Tan. Easy to match most outdoor decor colors.

Resin wicker finish

The handwoven resin wicker finish will look great for many years after being outside.

Other items in this collection available

Many items and sets available in this collection. Chairs with movement, side tables, loungers, dining sets, and bistro sets.
Cons
Cushions will need a storage solution

The cushions will need to be stored out of the weather when not in use to last more than a couple of years.

Assembly can be tough

Soem customers stated the holes in the arms did not align very well. Some stated that it took two people a couple hours to put together.

No movement in the seating

All of the seating pieces have straight legs that will provide no movement for this set. Other pieces in this collection will provide rocking or gliding motion.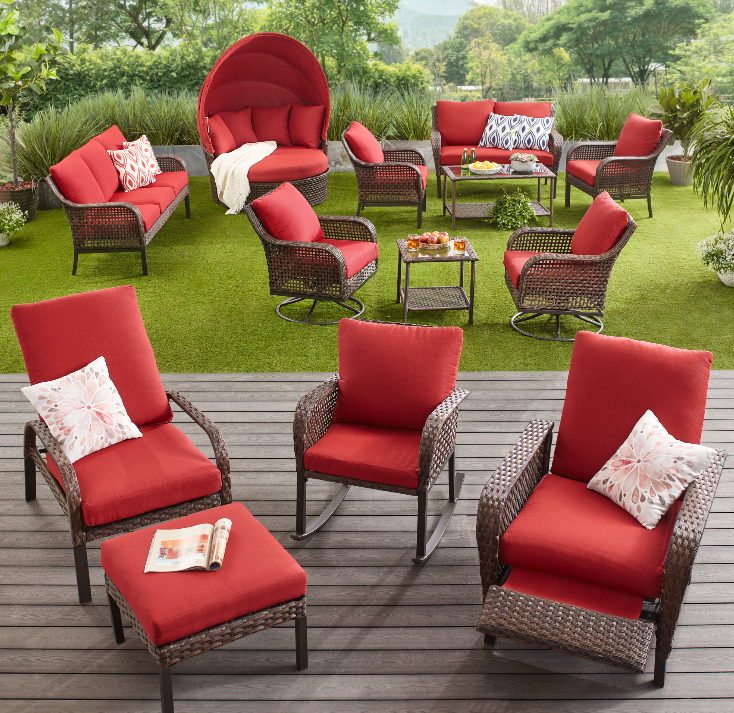 Other Wicker Furniture options
The resin wicker is a great finish for patio furniture today. It looks good and lasts very well in most outdoor weather conditions. The following is a list of resin wicker conversation sets that I have looked at on this site in the past.
For those ready to move to get their patio furniture, follow the link below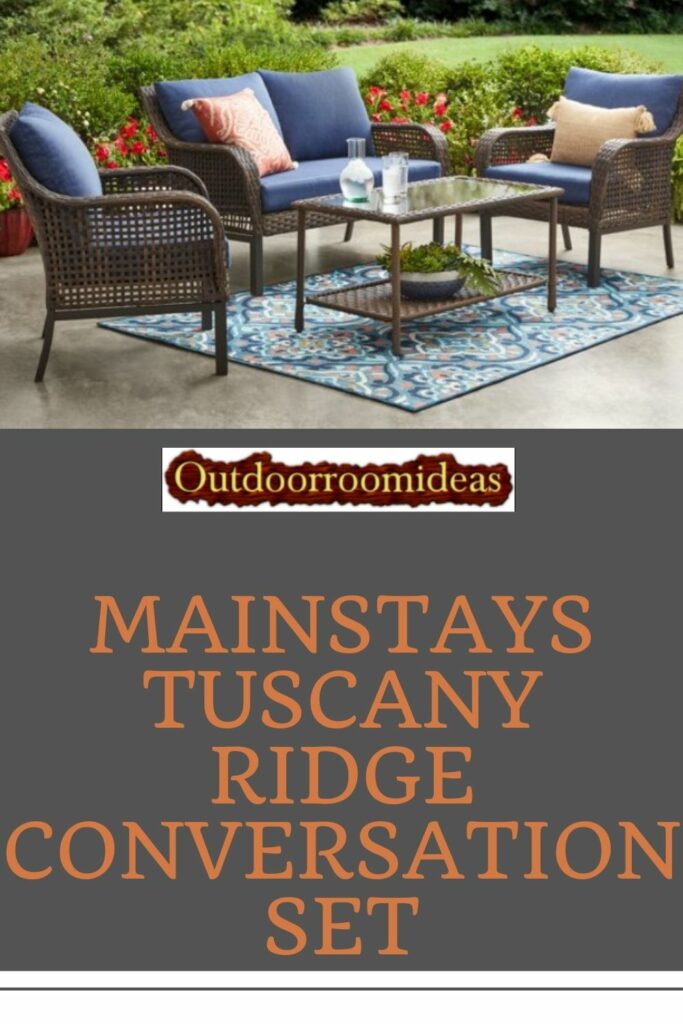 My final thoughts on this resin wicker furniture
For those with larger outdoor areas or small spaces, this collection of resin wicker patio furniture will look great and give comfortable seating. The great looks of resin wicker with the three color choices of cushions will match most outdoor decor choices.
For under $500 you can get seating for four with the opportunities of many other pieces or sets that match in the Mainstays Tuscany Ridge collection.
I would choose this set if you are looking to expand your outdoor patio furniture in the future with matching furniture. The three-cushion colors are available in most of the collection to match what you already have.
Any questions or comments, please use the forms below and I will get back to you shortly.