If you have a child that is under 8 or 75 pounds, this Ventura Kids Egg Chair may work for you. The chair will be great for those who are looking for seating for the little ones indoors or outside.
The egg chair will be very similar the the adult Ventura Egg chair that I have reviewed here. If you already have one of these or a hanging egg chair, the smaller version will be a great addition for those small grand kids.
For those who are looking for a simple chair that has a lot of looks, the Better Homes and Gardens Venture Kids Egg Chair will work for those small children.
Look at the simple details in the table below, for more details follow the blue links in the table of contents to skip to the information you are looking for.
Frame Material
Steel
Chair Size
21.65 inches wide
27.17 inches deep
39.57 inches tall
Weight Capacity
250 pounds
Cushion Colors
Pink, Gray, or Natural
Price
$127
My Rating
Kids Egg Chair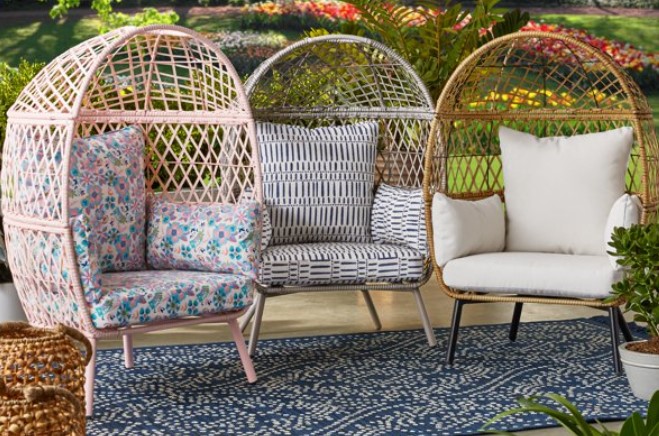 Table of Contents
Features and construction of this egg chair
This egg chair will have a steel frame with a painted finish. The upper part of the chair will have a loose weave of a resin wicker material in a light brown color to look like a natural rattan wicker.
Each chair will have an egg shape sitting area on a lower frame with four legs. A seat, two side cushions, and a back cushion will give your youngster long-term seating comfort.
The seat cushions have been filled with a mixture of 60 percent polyester fiber batting and 40 percent polyurethane foam. The back and side cushions will have 81 percent polyester fiber and 19 percent polyester fiber batting. The product description states that it has ties to hold cushions in place.
The polyester fabric covering for the cushions will come in three colors to match a lot of room decors and will work well in bedrooms as well as in outdoor spaces. The natural color will be a solid off-white, the pink color will have an off-white fabric with a Pink and blue floral design, the gray design will have the same off-white background with a dark gray printed design.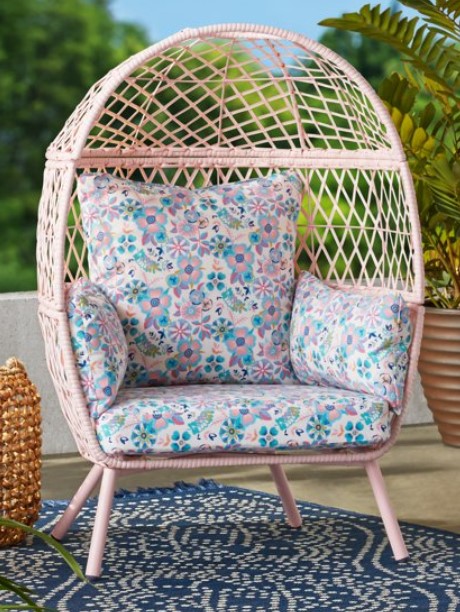 Size and special options for your chair
The chair will be 21.65 inches wide, 27.17 inches deep, and 39.57 inches tall. The product information states that it will support up to 250 pounds, this is much more than most children that will actually fit inside. It will be very similar in design to a hanging egg chair, just in a child's size.
The chair will weigh less than 18 pounds and come in a larger box because it is just in four major pieces. The box will be 25 inches wide, 29.75 inches long, and 12.5 inches thick, small enough to fit in most trunks or back seats.
The three different cushion color choices will allow you to match most outdoor color decors. The BH & G Ventura collection also includes an adult version of this egg chair, a matching chat set with regular chairs, or a rocker with a very similar design with wicker seats and backs.
Assembly and Care of your patio furniture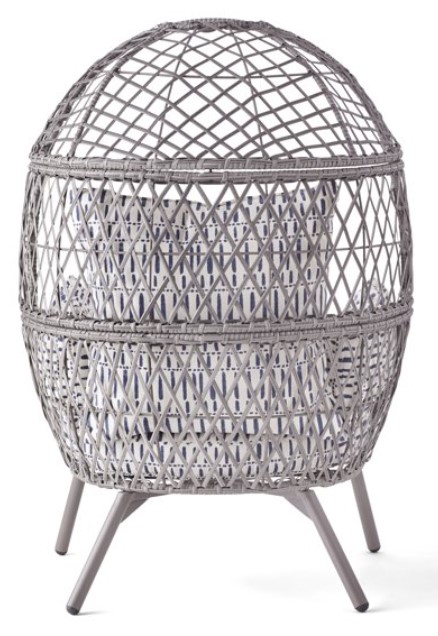 Most customers found that it took less than 30 minutes for the assembly and did not report any problems. Some had some hole alignment problems and were very discouraged, most can be adjusted with a little effort to make it work.
The chair seat will come in three parts that have to be attached together and then added to the leg frame. The cushions will be the last thing to put on this chair.
Care of this chair will be very similar to other patio furniture. The wicker will only need a damp cloth to clean most spills. A mild soap and water mixture will work of the rest of your stains. Do not use any harsh chemicals on this or any other patio furniture as it will damage the painted surfaces of the frames.
Cushions should be stored when not in use for the best results. I have several storage ideas on my site here, these should help prolong the life of your cushions.
Pros and Cons of the Ventura Kids Egg Chair
Pros
Matching furniture pieces

Other items available in the Better Homes and Gardens Ventura collection will be an adult egg chair, rocking chair with a wicker seat and back, or the Boho chat set with two chairs and a side table

Great weight capacity

This chair will support up to 250 pounds, this is well over the weight of the children that will fit in it. This is also great for the fact that a large dog could sit in this chair without damaging it.

Three cushion colors

The cushions will come in three color designs, a natural off-white, gray with a white and gray pattern, or pink, white background with pink and blue floral designs.
Cons
Children may quickly outgrow this chair

Because of its size, children may become too large to fit inside its closed design. If you use it for your pet, it will last as long as the cushions.

Cushions will need a storage solution

If your chair will be used outside, I would recommend storing them out of the weather for the best results.

Some found assembly difficult

Hole alignment was the biggest problem during assembly. I have noted before that some metal parts may be damaged during shipping causing minor alignment problems in assembly.
Other Child seating options for your patio area
I have not done any reviews or articles on children's outdoor seating. The following article does contain a link to the Goplus swing for two for kids.
To get your Kids Egg Chair today, use the following link
My final thoughts for this egg chair
This kid's egg chair is designed for the smaller child, if you purchasing for a child that is already 6 or 7, it may only last for the summer you purchase it. This chair will not sit a regular-sized adult, if you like the style and are bigger in size, see my information here on the full-sized Ventura egg chair.
I have used the adult version, I am a little big for the child sized model. The adult version is very comfortable and looks very nice in any outdoor or indoor seating area. The person who let the dog use it will get the longest se out of this chair if the seat cushion dose not degrade over time, she could always add a dog bed to the frame.
Any questions or comments on this or any other item on my site, leave me a not with the forms below and I will get back to you shortly.