Many people have an area around their outdoor space for some kind of grill to cook food for guests and family. Would it be a great idea to have a BBQ Prep Table with running water to help with your food preparation?
Enter the Cuisinart BBQ Prep Table, a great addition to anybody who spends the time outdoors to prepare a meal. A sink in this model will give you running water (with a water hose attached) and a drain for waste-water runoff. A small prep area will give you a place to keep all of you stuff when working your meal.
Look at the chart below for the quick details of this cart, you can use the following link if you prefer to just go to the website to purchase your own Cuisinart Prep Cart here.
Use the blue links below to go directly to my information in the table of contents below.
Frame Material
Stainless Steel
Size
45 inches long
22 inches wide
32 inches tall, top of the backsplash
Usable counter
35 inches long
22 inches wide
Weight Capacity
50 pounds-counter top
30 pounds-lower shelf
Price
$197
My Rating
9.1 out of 10
BBQ Prep Table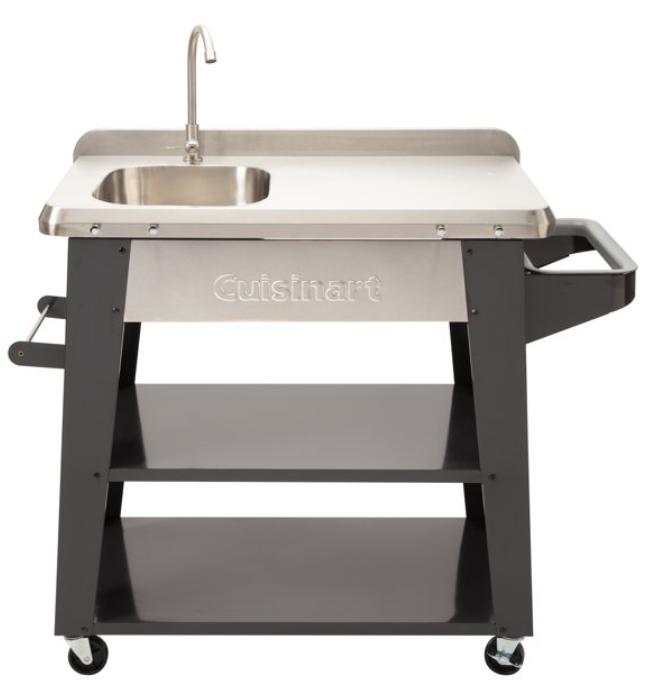 Features and Construction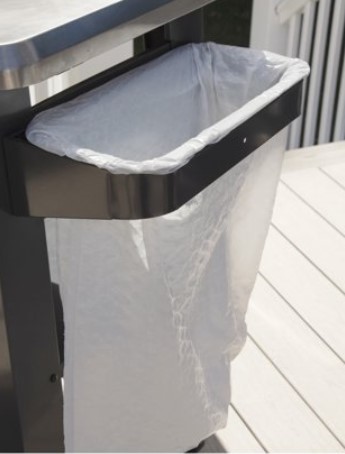 The BBQ Prep Table is made from stainless steel for the work surface, painted panels for the body, with a small sink, hose for water supply and drain, locking wheels, paper towel holder, a place to hold a trash bag, locking wheels, and two storage shelves. This will give you a lot of options on how to use it on your patio.
The sink will have a faucet that is feed by a garden hose connection (not included in purchase). The sink will have a drain hose that can be bent to allow the wastewater to be collected in a bucket (not included in purchase). This will allow you to clean your hands and dishware without going back indoors.
The small work space on to will allow a space to prep you food for cooking or a place to just hold your prepared food for people to just come by and fill their plates.
Need space to store your plates, glasses, spices, other cooking stuff, two lower shelves will give you room for some storage that is open to all sides. Four places that look like drawer knobs will be installed on the front to hang some of your utensils for use while BBQing.
The paper towel holder will allow you to have them handy to wipe your utensils while you are watching your meal cook. I would not leave paper towels outdoors when this unit is not in use, they will not take to the moist weather very well.
The handle for moving the cart can hold a 13-gallon trash bag so that you can collect any debris without having to go indoors or to the trash can. A ring will install over the trash bag to hold it in place while in use.
Four wheels will support this cart, two of them will lock to keep your table in place on a level surface. Just press on the lever to lock or unlock.
Size and Specifications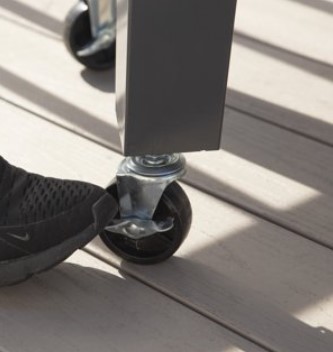 The top of this prep table will be 45 inches long and 22 inches wide. The top will be made of stainless steel for easy cleaning and sanitizing. The counter will have a small backsplash that is 32 inches off the ground to keep things from falling off the back. the weight capacity of the countertop is 50 pounds.
A small sink with a tall faucet will be on the left side. A lever on the faucet will allow you to adjust the water flow, you will need to attach a water hose (not included) and turn it on to allow this feature to work.
A flexible drain hose is attached to the drain on the sink. This will allow you to drain your waste water into a bucket or other suitable device to collect this water to dispose of latter.
Two lower shelves will allow for storage of a lot of stuff that is needed to prepare your food and feed your guests. Each shelf can support up to 30 pounds of weight.
Each of the four legs will have wheels to make your cart easy to move. Two of the wheels will lock to keep your cart in place when needed if the slope it is sitting on is not very steep.
Assembly and Care of your BBQ Prep Table
Assembly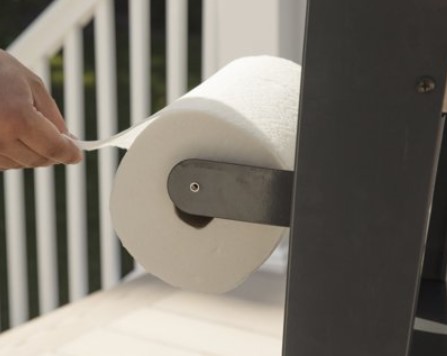 Assembly will take the average person about an hour depending on their sill level. A wrench is included in the hardware pack, a Phillips head screwdriver will be needed. A pair of gloves is recommended to keep your hands from getting dalmaged from sharp edges.
Add casters to bottom shelf, two locking ones on one end and two non locking ones on the other. Attach two uprights to the back of the lower shelf then add middle shelf. Add the two other uprights. Place on wheels on a flat level surface for best results when doing the final tightening of this hardware.
Install front and back headers next, then side headers. Add handle and paper towel holder, one at each end. The bar that supports the paper towels is installed by pulling the brackets apart.
The sink will be the next project. You will need to install the handle faucet combination on the back of the sink. The drain and hose will be the next item to install. Make sure you follow the instructions to make sure you do not develop any leaks.
The countertop will then be secured to the cart. Four knobs will be installed on the front rail to be used to hang tongs or forks for your BBQ. final item will be the ring installed on the handle to help hold the trash bag in place when used.
Care
Taking care of your BBQ Prep Table will be with a damp rag and a mixture of mild soap and water. Harsh chemicals will damage your paint finishes if used to clean this cart. Making sure that no water is in the pipes during freezing weather will make your pipes last longer also.
with or without sink
Pros and Cons of the Cuisinart Prep Table
Pros
Wet sink with drain

The small sink will have a faucet to hook up to a garden hose for water and a flexible drain hose to allow waste-water to go into a capture system you supply.

Paper towel holder

A paper towel holder on one end will allow a full-sized roll of paper towels to be attached for use. I would strongly suggest removing it when the cart is no in use to keep it from getting wet.

Trash bag holder

The handle is perfect for hanging a 13-gallon kitchen trash bag to collect any debris that your outdoor activities have made.
Cons
Need hose for water

The faucet for the sink has a short hose that has a fitting that will connect to a garden hose for a water source. A handle is included to adjust the water flow at the sink.

Need bucket for waste water

The sink has a drain with a large flexible hose attached. A bucket or other collection method should be used to collect the waste as if not it will drain on the shelf or ground.

Paper towels need to be removed

A paper towel holder is a great option, it is on one end of the cart. It is not covered and my experience tells me it will be trashed if left out in the weather for very long. Remove the roll after each use for the best results.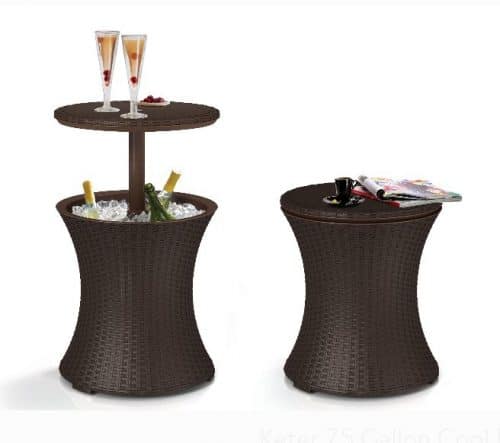 Other outdoor accessories
This cart is available without the sink option and I have done a few ice carts for outdoor use.
Cuisinart Prep table

This table is very similar to the one with the sink. It has a full top counter and only one shelf, the upper shelf.

Patio Beverage Carts and Coolers
To get your BBQ Prep Table today, use the following link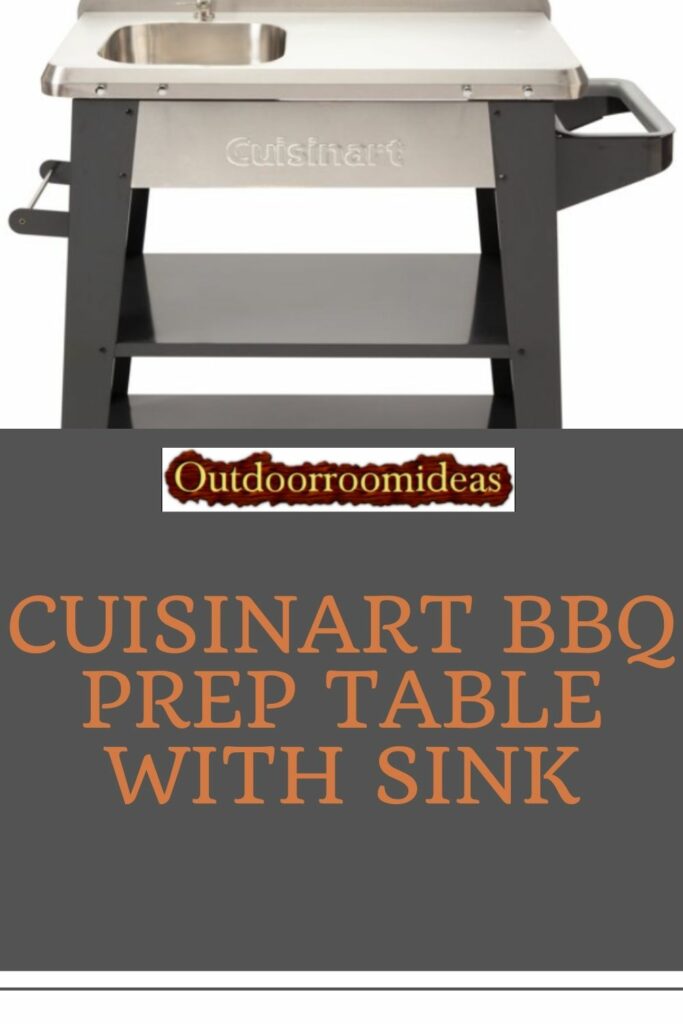 My final thoughts on the BBQ Table
For those who want to spend less time running back and forth to the inside kitchen, the Cuisinart BBQ Prep Table is for you. It will allow you to have running water, a small counter area, storage, and a few tools for cleanup after your meal is over. This little cart will do it all for under $200.
How much time do you spend getting stuff from the inside while your meat and veggies are on the grill now. How much better would it be if you could just spend your time by the grill until everything is done and served. The Cuisinart cart will handle a lot of the load for you with a little upfront prep like hooking up the water and drain.
If you do not want the sink, the other option in this line is the Cuisinart cart with just the stainless countertop prep area and no sink.
Any questions or comments on this or any other information on my site, leave me a note with the forms below and I will get back to you shortly.