When looking for a seating solution for you and your guests, a set of Patio Furniture with Cushions will give you plenty of seating comfort for an evening of relaxing with friends.
The Goplus metal conversation set with seating for four with cushions and a full metal coffee table will give you room for drinks, snacks or even a small meal.
No storage is found under the table on this set and it will have clean simple lines. The aluminum frames will give you a lightweight set that will be easy to move when needed.
Look at the quick information below for some of the details of this set. Use the table of contents to go directly to the information you are looking for. If you need to go directly to purchase this set, use this link to the Goplus purchase page.
Frame Material
Aluminum with Black Powder-Coating
Chair/Love Seat Size
25 inches wide
28 inches deep
30.5 inches wide
The love seat is 47 inches wide
Coffee Table Size
40 inches long
21 inches wide
16.5 inches high
Weight Capacity
300 Pounds per seating Position
Price
$415.99
My Rating
9 out of 10
Patio Furniture with Cushions
Table of contents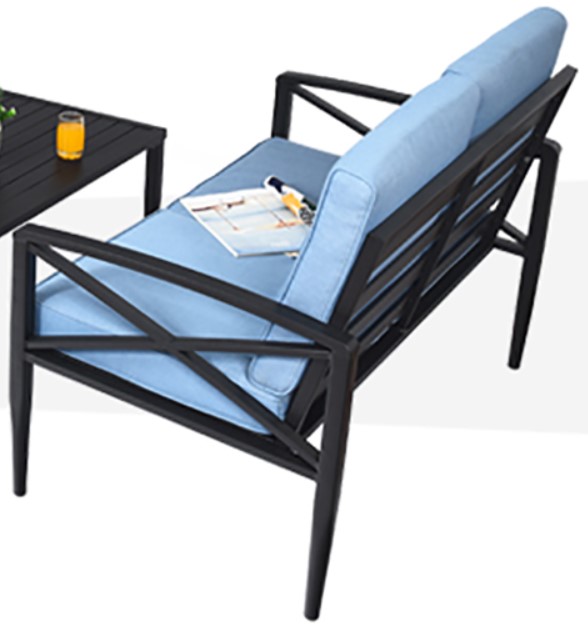 Features and construction
The Goplus patio furniture will have an aluminum frame with a black powder-coated finish. The back, seats, and tabletop will have a slatted design. The arms of the seating pieces will have an X design for extra stability and will support the curved armrest.
The cushions will have a solid sponge filling to give you seating comfort. The covers will be a light blue color and will have a zippered side for cover removal to clean them when needed.
Each of the feet of this set will have a pad to help keep your furniture in place and keep from scratching the surface that it sits on.
Size and special options
This set is a full sized set for full sized people, with the weight capacity of 300 pounds for each of the seating positions, bigger people will be able to use this set than most.
Each chair will be 25 inches wide, 28 inches deep, and 30.5 inches high. The love seat will be 47 inches wide with the same other measurements. The backs of the seating pieces will have a little slop to give them better seating comfort.
The seats will be 18 inches above the floor with cushions installed. The curved arms of the seating pieces will be 24.5 inches above the ground.
The coffee table will be 40 inches long, 21 inches wide, and 1+6.5 inches tall. It has the capacity of holding 250 pounds, it could be used for seating for a small adult or a couple of kids if needed. The slatted design will help drain water quickly after rain.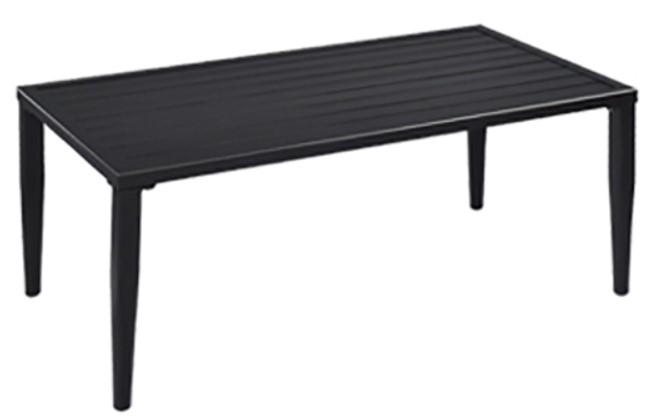 Assembly and/or care
The assembly should take the average person about an hour to put all four pieces together. Having an extra set of hands will make the process a little less stressful.
The seating pieces are made of four main pieces, the back, the seat, and a pair of arms with feet. The back can be attached to the seat portion and then one arm at a time can be attached. Make sure it is sitting on its feet on a flat level surface for the final tightening of the hardware for the best results.
The coffee table will just need the four legs attached, one at each corner with the supplied hardware. As with the seating pieces make sure it is on a flat level surface before the final tightening of the hardware.
Add the cushions and grab a cool refreshing drink, you are ready to enjoy your patio furniture.
The care of this patio set will be very similar to most, just clean the metal surfaces with a mixture of a mild soap and water. Any harsh chemicals will damage the powder-coated finish. The aluminum frames are not prone to rust, you just do not want the paint to fade and peel.
The cushions must be stored out of the weather when not in use for the best results. See some of my storage solutions here in my storage category.
The fabric covers will have a zipper so that they can be removed for proper cleaning when needed. This also makes it easy to get new covers to change your color pallet as this set will only come in the light blue shown.
Pros and cons of the Goplus patio Furniture
Pros
Aluminum Frame

The aluminum frames will not rust, even if scratched. This material makes this patio seating set lightweight and easy to move if needed.

High Weigh capacity

Each seating position will support up to 300 pounds of weight.

Slat top table

The aluminum slat top will not hold water when wet. It will drain quickly.
Cons
Cushions will need a storage solution

For any patio furniture cushions to last more than a few seasons, they will need to stored out of the weather conditions such as sun and moisture when not in use.

Sponge cushions may hold water

The internal sponge material will give you plenty of seating comfort. This same material will hold water when wet for some time.

Only one color fabric for cushions

The blue fabric shown is the only color available from the manufacturer. Some others will give up to three to four color choices.
Other metal patio furniture
I have reviewed several other metal patio furniture sets for your patio on my site. I will list a few below that are very similar to the GoPlus set in this article. If you would like to look at the details of any of these sets, select the name and it will take you to my article.
For a direct link to purchase this patio furniture, use the link below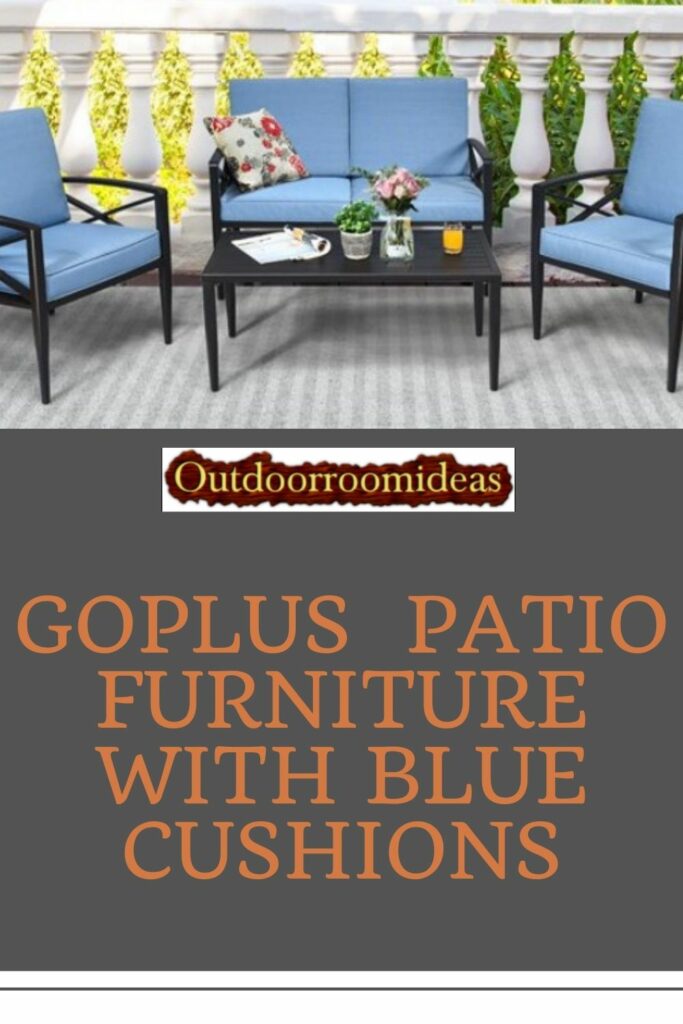 My final thoughts on this patio furniture with cushions
When looking for comfortable seating for your patio area, the Goplus conversation set has many good features. The biggest drawback to this type of patio furniture is the cushions, it would be very uncomfortable to use this set without the cushions.
I prefer to have sling seating for my patio furniture as they are comfortable without cushions and you have nothing to store when your patio set is not in use. I have several sets with this fabric and they have been in outdoor use for over years withou much extra care.
If you have any concerns, questions or comments, use the forms below and I will get back to you shortly with a response.