When you are looking for extra comfort in your outdoor seating, a set with Deep Seating Patio Furniture will keep everyone comfy. This set from the MF Studio collection with its Navy Blue thick cushions and blue-flowered pillows will work well for most.
I will cover the details of this set, and you will have to see if it fits your decor and seating needs for your patio area. The seating for four and the slatted top coffee table will be the standard format for most conversation sets.
Now for the quick details of the MF Studio conversation set, look at the chart below. Use the table of contents below to go quickly to any area of this post.
Frame Material
Steel with Black Powder-Coated finish
Chair/Love Seat size
23.6 inches deep
36.2 inches tall
24.8 inches wide Chair
46.8 inches wide Love Seat
Table Size
35 inches long
19.5 inches wide
17.5 inches tall
Seating Capacity
350 pounds per seat
Price
$399.99
My rating
Deep Seating Patio Furniture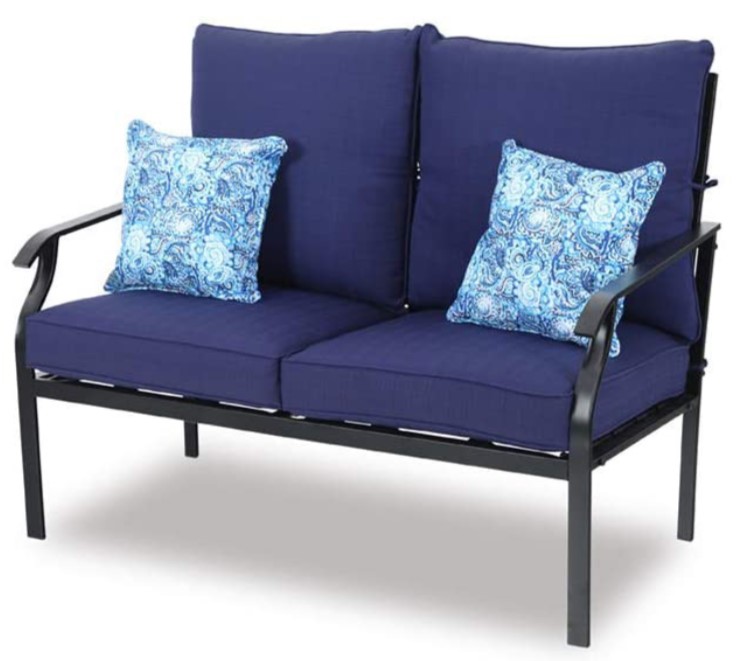 Features and Construction
Two chairs, a love seat, a coffee table, thick blue cushions, and four throw pillows will be included in this patio furniture set. This set will seat four, give you plenty of place for a small meal, drinks or snacks to keep you and your guests comfortable for hours.
The Frames will be made of steel with a black powder-coated finish to protect them from most outdoor weather conditions. Seat cushions will sit on plastic straps to give them a little more give to add to the comfort. Back cushions will be supported by steel bars funning from side to side of each sitting piece.
The cushions will have three layers of foam material to adjust to the amount of weight that is on them to add to the comfort. The Navy Blue Olefin fabric covers will have zippers so they can be removed for easy cleaning.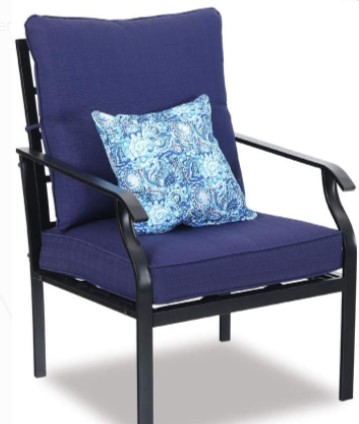 Size and Specifications
The chairs from this set will be 24.8 inches wide, 23.6 inches deep, and 36.2 inches tall. The love seat will be 46.3 inches wide. The seat will be 18.3 inches above the floor with the 3.9 inch thick cushions installed. The seat cushion will sit on rubber straps to help with seating comfort.
Each seating position will support 350 pounds, this is a lot of weight as most sets will only hold up to 250 pounds. The square heavy frame of this set is quite stout.
The coffee table is 35 inches long, 19.5 inches wide, and 17.5 inches tall. The top will have a slatted design running the length of the table, this will help when it gets wet to dry faster. The top will be supported by four straight legs one at each corner. The legs will have adjustable feet on them to correct any small imperfections on the floor to keep the table stable.
The cushions will be 3.9 inches thick with Olefin fabric covers, this is a better material for outdoor cushions and will last around 800 to 900 hours of outdoor weather and sun before starting to fade or weather. Storing this or any outdoor cushions is a must when not in use.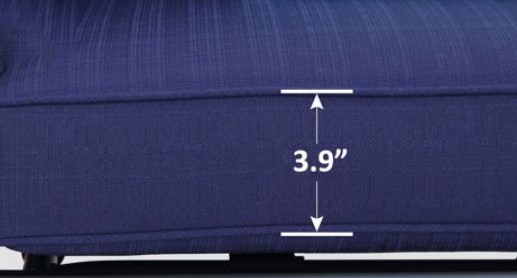 Assembly and Care
Minor assembly will be required for this set. Most stated that it took less than an hour, this will depend on your mechanical abilities.
The table will just need the legs installed in each corner, then just add the adjusting feet to the bottom of the legs. The feet will screw in or out to help level the table.
The chairs will need the seat base attached to the arms, then the seat back attached to this assembly. Make sure you wait for the final tightening of hardware until the chair is upright on its feet for best results.
Add cushions and you are ready to enjoy your patio furniture. The pillows included in this set are a great way to add some color accent to your patio area.
Care for your patio furniture should be to wash down with a damp cloth, do not use any harsh chemicals as they may damage the powder-coating. Some have had peeling paint or fading paint, it is because of cleaning chemicals most of the time.
Cushions will be the hardest thing to keep looking like new in any outdoor patio set. I prefer to store mine when they are not in use for any length of time. The number of cushions in this set will require a storage box or a closet inside to keep out of the weather. I have some storage containers on my site, follow this link for more details.
Pros and cons of the MF Studio Deep Seating Patio Furniture
Pros
Deep seating comfort

Cushions will have three layers of foam inside to control seating comfort. The soft Olefin fabric covers will help with comfort also.

Throw pillows included

Four throw pillows in a lighter shade of blue are included, They will have a floral type of design and will aid in the color accents of this set along with extra comfort for you and your guests.

Weigh capacity

Weight capacity is given at 350 pounds per seating position for this set, Which is above average for any conversation set that I have written on lately.
Cons
Cushions will need a storage solution

Any patio furniture cushions should be stored out of the weather when not in use. This will make them look new a lot longer.

No provision for shade

No hole for an umbrella in the coffee table for shade. This set would require an offset umbrella for shade if needed, See some of my offset umbrella ideas here.

Only one choice of cushion color

The Navy Blue with the blue accent pillows is the only color combination available at this time.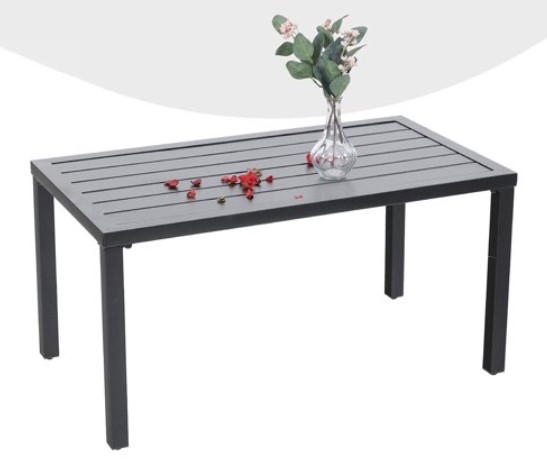 Other patio conversation set options
There are many different decors for patio furniture on my site here. The following are some that are similar to the MF Studio design here. Some will have different colored cushions and some will just have sling seating material.
Follow the link in blue to my article on these fine patio sets.
Mainstays Stanton Blue or red cushions

The Stanton set will come with either blue or red cushions. Tan cushions were available last year.

Walnew Black Sling Seating

This Walnew set will have sling fabric for both seats and backs.

Mainstays Seaton Creek

The Seaton Creek furniture will have gray seating cushions and gray pillows for seatbacks.
Use the link in the image below to purchase your patio furniture today
My final thoughts on this deep seating patio furniture
I think that the big advantage of the MF Studio conversation set is the fact that it is a Deep Seating Patio Furniture design. It is made to give the best comfort for sitting for long periods of time with thick cushions.
The extra strong frames will give this patio furniture the advantage of holding a lot more weight than other sets of this size. The biggest thing that I can think of for this set is the fact that you will have to find a storage solution for the cushions when they are not in use to prolong their outdoor life.
My favorite type of seating is still the sling material, I have had several sets of patio furniture that have lasted outdoors for more than 10 years with little or no upkeep. The sling material still looks new.
If you have any questions or comments for me, let me know with the forms below and I will get back to you shortly.