if you like the Boho style of patio furniture and want some stylish seating, look at the Willow Sage Patio Furniture collection. Each piece will come with cushions to give you hours of comfortable relaxation.
From a simple bistro set to a canopy chair with ottoman, seating with the wicker look in a great style is what you will see. You will have seating that your guest will love sitting on or taking a nap.
Follow along and I will give you information on these 4 different sets of Willow Sage Patio Furniture. Use the name of the product in the chart below to go directly to the information on that item.
| Image | Product | Current Price |
| --- | --- | --- |
| | Cuddle Chair and Ottoman | $369 |
| | Loveseat and Ottoman | $329 |
| | Bistro Set | $344 |
| | Canopy Chair and Ottoman | $399 |
Willow Sage Patio Furniture
The Willow Sage collection details
The frames for this collection will be steel with a brown powder-coated finish. Woven resin wicker will cover and connect the frames together.
The woven resin wicker will have a light brown color that looks like bamboo. Bistro tabletop and seat backs will have a tight weave, The arms will have an open weave.
The cushions will have a polyester cover in a beige color. Each piece will have seat and ottoman cushions, all except the bistro set will have back cushions for comfort. The cuddle chair will have cushions for the inside of the arms also.
Don't forget to have a storage solution for your cushions to make them last more than a few seasons. See some of my storage solution options here.
Clean up will be with simple mild soap and water for most stains. Do not use any harsh chemicals as they will damage the powder-coated finish and may damage the cushions as well.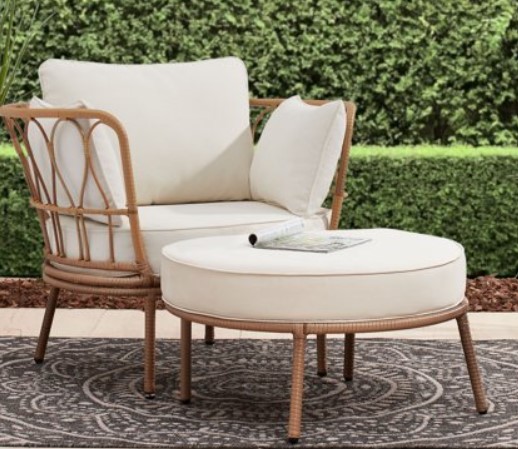 Cuddle Chair and Ottoman Set
The cuddle chair is just an oversized chair that still will only hold 225 pounds of weight. At 40 inches wide it is like a small loveseat for one. Extra cushions for the backs and sides of the seat will be where you can lean in any direction to get comfortable.
The ottoman is like a 3/4 moon shape with the flat side towards the chair. It is 24.5 inches on the short side and 30.71 inches from side to side. It will be 11.6 inches off the floor with the cushions installed. The ottoman can hold up to 225 pounds of weight also.
If you are going to cuddle with your favorite person in this chair, you will need to spread some of the weight on the ottoman to be safe.
It would be nice if this set came with a side table to place your drink and snacks on after a long day at work.
Loveseat and Ottoman Set
A true love seat that will support two average-sized adults that are a combined 450 pounds of weight. You will have plenty of space for two butts with a seat that is 50 inches wide.
A single cushion will cover the seat and two pillow-type cushions will cover the backs. Open weave wicker will keep things on the seat.
The ottoman will be 43 inches from side to side and 19.5 inches front to back. This will give you plenty of places to put your feet up or a place for one person to sit. The ottoman will hold up to 225 pounds of weight.
This will be a perfect fit for an area where you sit and talk with your favorite somebody after work.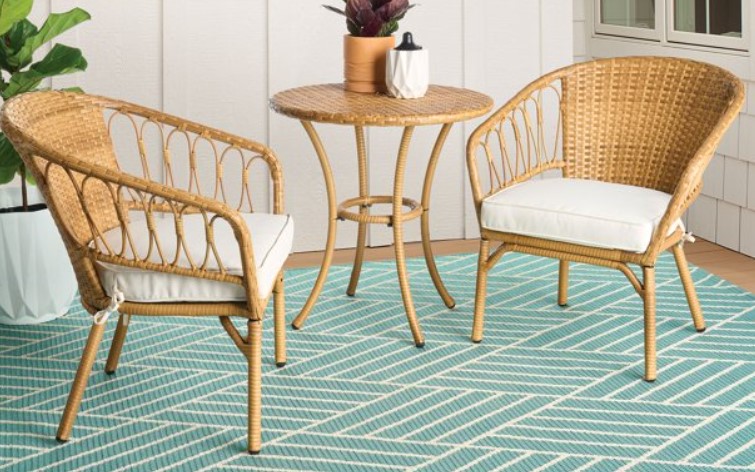 Bistro Set with Wicker Table
A simple wicker bistro set with two chairs and a table for your snacks and drinks. The chairs will have cushions for the seats and solid woven wicker back.
Each chair will have an open weave between the top and bottom of the arms. The weight capacity of each chair will be 225 pounds.
The table will have four curved legs that will have lower ring support. The round tabletop will have a tight woven resin wicker cover. The table will be 26.38 inches tall so you will not have to lean over to get your drinks and snacks.
This bistro set will work well for those with a larger space for a bistro set, it will take up more floor space than some of the smaller sets. See some of my expanded information on the Willow Sage Bistro set here.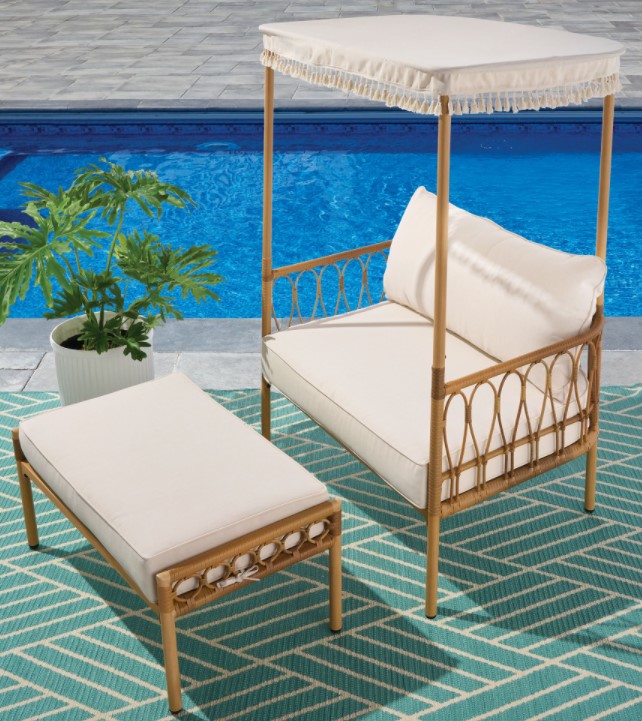 Canopy Chair with Ottoman
Have a sunny area in your outdoor space that you would still like to use to sit and relax after work, this set with a canopy over the wide chair will give your a little protection from the sun.
A single boxed cushion will cover the seating area of the ottoman and chair. A pillow-type of cushion will give you some back support.
The chair in this set is 41 inches wide on the outside, not quite wide enough for two butts. It will hold 400 pounds of weight, might catch a couple of teenagers snuggling up on this chair.
The canopy is 85.66 inches off the floor and offers plenty of space above your head. It will provide some protection from the sun if it is directly above the chair.
The ottoman is 35.43 inches wide and 20.47 inches from front to back. It will hold up to 225 pounds of weight. The seat for the chair and ottoman will be 15.75 inches from the floor to the top of the seat cushion.
What style of Willow Sage Patio Furniture would I purchase?
The style of the Willow Sage collection will work if you have larger patio areas that need seating. The pool will be the perfect place for some of the bigger sets in this collection. I only have smaller areas that the bigger sets would be too big for, the bistro set would be a perfect addition to my side deck though.
The resin wicker finish will give you the look of much higher-priced patio furniture, your friends will think you spent thousands on this furniture. The price is good, just protect your outdoor cushions to keep them looking fresh for more than a few seasons.
If you like the Boho style of patio furniture, look at some of my Boho collections here.