The name of this Steel Round Folding Table is a little misleading. The tabletop is round, not square as the name Mainstays Greyson Square states. Greyson Square is a collection of small seating and table pieces.
The Greyson Square table is available in 2 sizes and the smaller size will have 5 different tabletop finishes. The larger table is only available in the frosted glass.
For the quick details of this table use the information below. For my expanded details and color combinations use the table of contents below and go directly to the details of that category.
Materials
Frames-Steel with powder-coated finish
Tabletop-Tempered frosted glass or
Marble top-4 colors
Size of table
Small-18 inches tall and 18 inches wide
Large-25.9 inches tall and 25.9 inches wide
Price at the time of the article
$29.94-18inch
$50-30 inch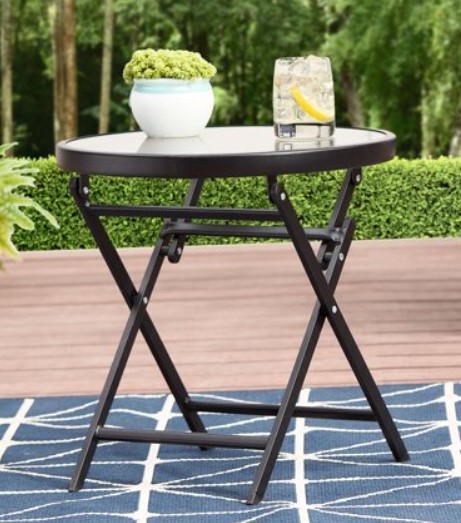 Round Folding Table


Table of contents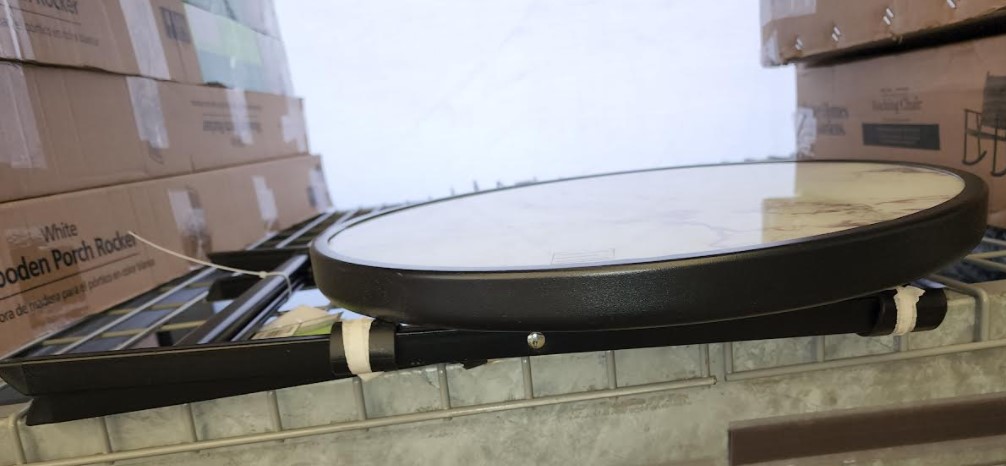 Features and construction
The steel frames will have several hinges for the legs. Folded up this table will store in a very small space, maybe 3 or 4 inches thick, and then the size of the tabletop.
There are a lot of moving parts to get this table from its collapse position to fully extended. Once it is set up it is very sturdy.
The round top will have a steel frame around a tempered glass insert. The small table will have 2 mosaic (black and blue) or marble-looking (white) glass tops, along with the frosted look that is available in both the big and smaller version of this table.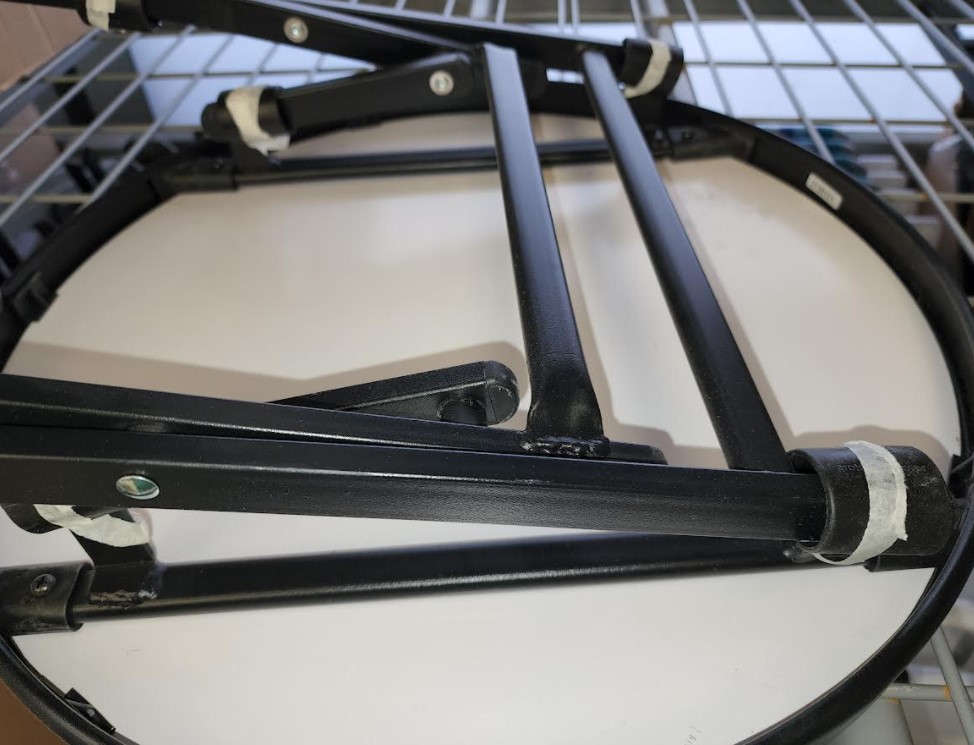 Size and special options
The smaller table will be 18 inches tall and wide. This is small for an outdoor side table. Playing cards or having more than a couple of drinks and a small snack will cover the top. It would be hard to do both.
The larger table will be plenty big enough for a small meal and drinks. I have a 30-inch round table at the lake and we have meals for four on it all the time without room problems.
Either of these table sizes can be used with any set of chairs. The table can be stored in a closet by the door to be unfolded and ready for use in minutes.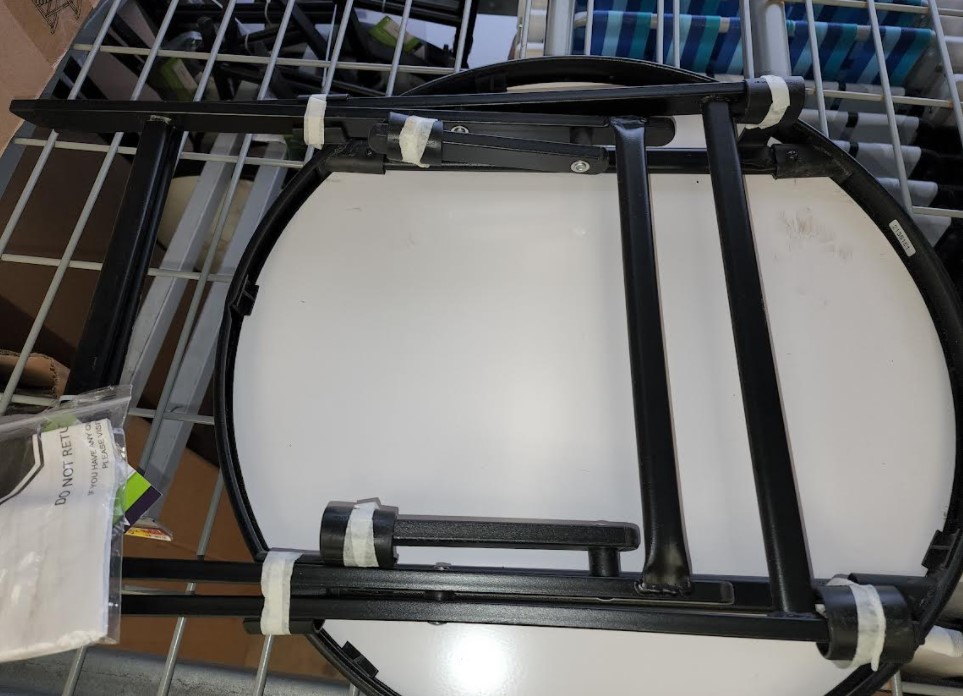 Assembly and care
No assembly will be needed except for removing the straps holding it closed. Once that is done, just unfold the table for use.
Care of your patio table will be with a damp cloth and mild soap and water for big problems. I would keep the hinged areas clean from debris and dirt. Maybe shoot a spray of WD40 to keep them from rusting in this spot.

Pros cons of the Mainstays Greyson Square-Steel Round Folding Table
Pros
Folds for easy storage
2 sizes to choose from
5 tabletop finishes to select from
Cons
The top will be hard to replace if broken
Hinged parts may start to rust over time if not treated with oil
Not big enough table for an umbrella for shade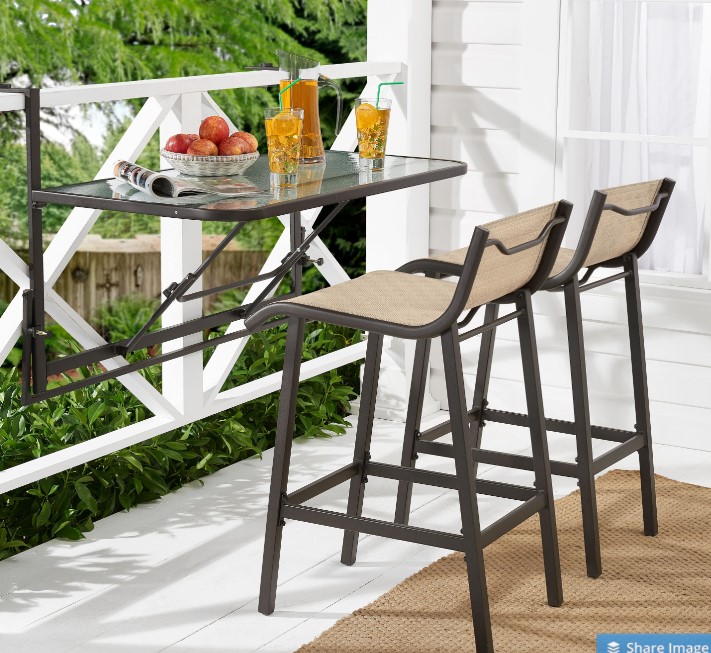 Similar products to look at
When looking for other items similar to these folding tables, I only found the much more expensive teak or acacia wood tables. I did not choose to put links to those items as they are 4 to 10 times the price of the tables in this article.
I do have a set of teak folding chairs and a table to match that I did pick up at a sale, they were still more than the cost of the tables shown here.
The Sand Dune bar height bistro set will have a folding table that mounts to the railing of a deck or balcony railing. Look at my post on the Sand Dune Bar Height set here.
Final thoughts on the Mainstays Greyson Square-Steel Round Folding Table
When you have a couple of chairs that could use a side table for your stuff (drinks or snacks), The Greyson Square folding table will give you a choice of 2 sizes to choose from. The smaller table would work great for a small front porch or balcony.
The ability to fold flat for storage when not needed will also be a great plus for either of these tables. The big drawback for me is if the top gets broken, the table is trash. For less than $30, you could go get another and be back to your drink in no time.
Any questions or comments for me, use the forms below and I will get back to you shortly.