In this article, I will look at 5 different Vintage Bistro Sets that will give you the look of 100-year-old cast iron without having to deal with 100 years of rust. The distinct look of the cast metal set will give you the look without the work.
Each of these sets will have 2 chairs and a small table that you can have your drinks and snacks on. Although four of these tables will have a hole for an umbrella, I do not think having an umbrella on one of these smaller tables is going to work well, the base is quite small to be stable enough even in light winds.
The table below will have images for each of the bistro sets in this article, use the highlighted product name to go to the information on that particular set.
Vintage Bistro Sets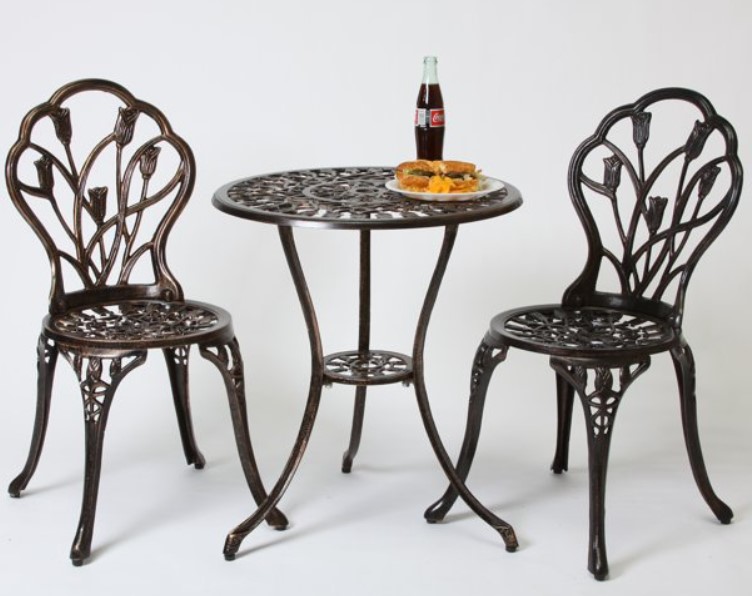 Matthews Set with Tulips
A dual metal bistro set that will have cast iron legs with the other pieces made from cast aluminum. The powder-coated finish is available in two finishes, the bronze shown in the image and sand color.
All surfaces will have a tulip design that has a very vintage look. The tabletop and leg support ring will have a hole for an umbrella.
The design will look like old-world hand-crafted metalwork. The tulip design is very timeless and will hold up over time very well.
Pros
Tulip design
Dual holes for umbrella
Rubber feet to not mark floor surface
Cons
Mixed metal design
Too lighteight to use an big enough umbrella that will provide shade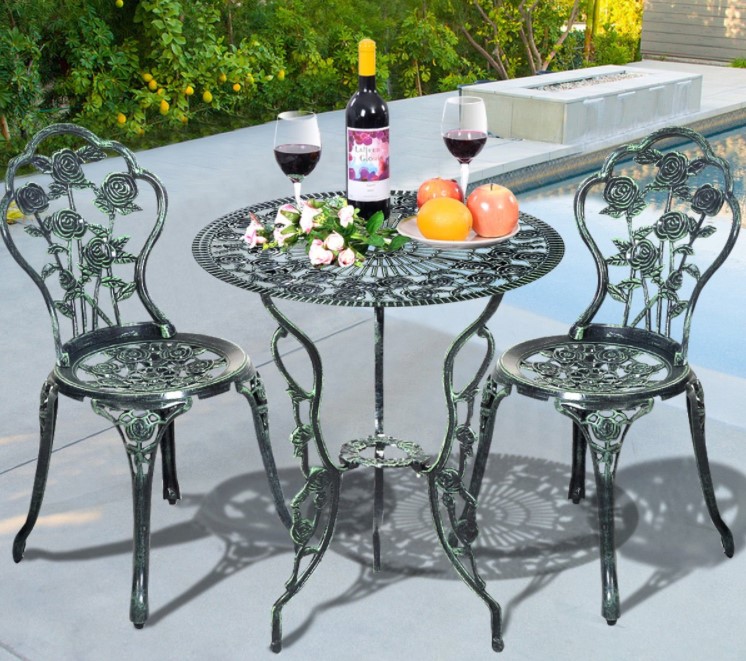 Costway Rose Bistro Set
This cast metal set will have rose insets on the tabletop, table legs, table leg support, chair sets, backs, and chair legs.
The cast metal will be both aluminum and iron. The tabletop and chair back are made from cast aluminum. The remainder of the pieces is made from cast iron.
The tabletop will be 23.6 inches across and have a 1.57-inch hole in the middle for an umbrella. The lower support for the three legs will have a much bigger hole and will not be much support if an umbrella is used.
Pros
Cast aluminum parts will not rust
Small hole for patio umbrella
Rose details
Cons
Mixed metals
Lower umbrella hole will not offer much support
Umbrella hole will not support a patio umbrella with a 2 inch pole
FlowerHouse Butterfly Bistro Set
This set will be a little different with the butterfly chairs and sculptured legs of the table. With all cast aluminum metal and an antique-looking powder-coated finish.
The chairs will feature wings for legs and backs with a round seat. A butterfly body will tie the 2 sides together. This will make for a very uncomfortable back to the chair.
The tabletop will have scalloped edges and legs that look like leaves. No hole for an umbrella for this set.
Although this set has a very nice look for a garden, it is not very practical for sitting.
Pros
Cast-aluminum with powder-coated finish
Great look for a garden area
Cons
Chairs not comfortable in the back
Butterfly design not for everyone
Most espensive set in this article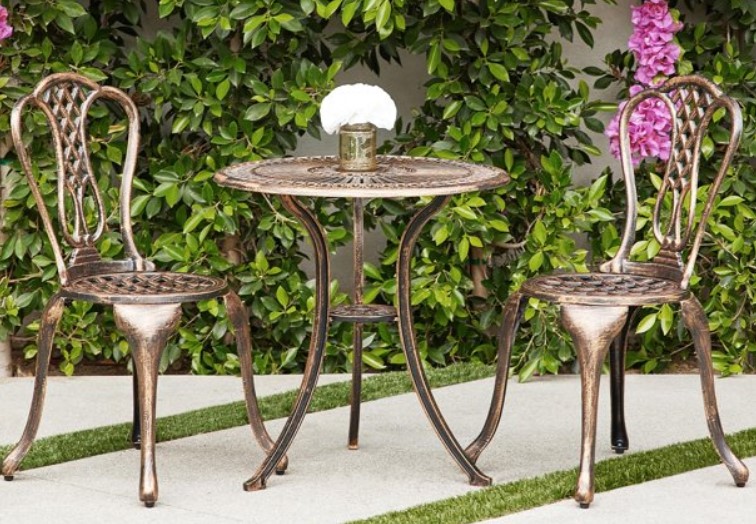 Belleze Bistro Set Bronze
This set will have a bronze finish on the mixed metal frames. The legs will be made from cast iron for stronger construction, the rest of the set will be made from cast aluminum.
The chair seats and tabletop will have a lattice type design, with the same pattern used in the center of the chair backs. Each chair will support 200 pounds.
The 24-inch wide tabletop will have 3 legs for support, with lower leg support. No provision for a patio umbrella on this table.
Pros
Antique bronze finish
Smooth lines
Cons
No umbrella hole in table
Mixed metal design
Chairs light weight capcity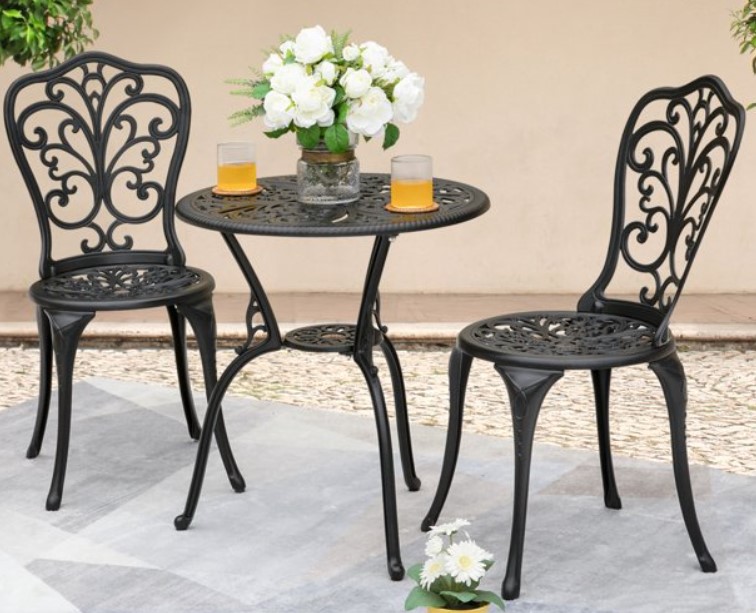 Nuu Garden Bistro Table Set
This set is all cast aluminum with a black powder-coated finish for the best protection from outdoor weather elements. It will have a scroll-type design in all of the seating and tabletop surfaces.
The 23.7-inch wide tabletop will have a 2-inch hole in the middle for a patio umbrella. The lower leg support will have a similar-sized hole to keep the umbrella in place.
This table will be supported by 3 curved legs. Each leg for the table and chairs will have an adjustable rubber base to keep them level on slightly uneven surfaces.
The chairs will have a scroll design in the round seat and shapely back. The 4 curved legs will support the chair and up to 280 pounds of butt.
Pros
All cast aluminum construction
2 inch hole for umbrella
Adjustable rubber feet
Cons
Lightweight wind may move this set
Not heavy enough to hole umbrella without a big umbrella base
My final thoughts on Vintage Bistro Sets
Each of these Vintage Bistro Sets will have its own best features. Depending on the style you are looking for, one of these sets may work for you.
The use of an umbrella with this size table will not work well, it will not protect from rain or sun very well. Thi type of patio furniture is not made for hours of comfortable sitting, people buy this style for the looks for a quick drink and snack.
The Costway Rose bistro set will have the most popular look and feel of these sets. I like the simple design.
Any questions or comments on this information, use the forms below and I will get back to you shortly.