When looking for a bistro set that has some protection from the sun and rain, look at some of these Bistro Sets with Umbrella Hole in Table for a solution.
None of these patio furniture sets will come with a market umbrella, all will have the capacity to add an umbrella for shade and rain protection.
I would like to start with the fact that most of these tables have a very small footprint and will not be very stable in moderate to heavy rain with an umbrella installed. If the umbrella is left open the chances of a problem is much higher.
The umbrella will be an item that will take a little more of your time that could be used to just relax in your outdoor time relaxing in my opinion. I would leave the umbrella for shade and water protection to larger tables that could hold up to 4 chairs.
This article is about patio bistro sets that have a table that will accept an umbrella. To go directly to that item in the images below, use the highlighted product name.
Bistro Sets with Umbrella Hole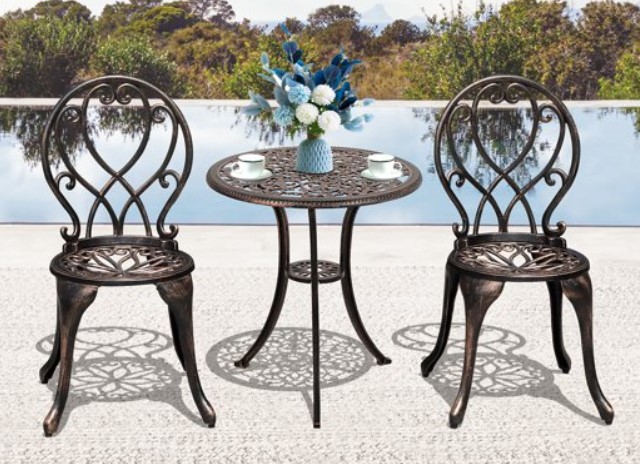 COBANA Bistro Table Set Bronze
This vintage style of bistro set will be made from cast aluminum with a bronze finish. The seats, seatbacks, and tabletop will have a scrolled design.
The frames will be cast aluminum with a bronze finish. All feet will have level adjusters for help with uneven surfaces.
The table will have 3 curved legs with a small legs support. The tabletop and leg support will have a 2-inch hole to support an umbrella.
The chairs will have round seats and oval backs with similarly curved legs. No arms or cushions for these chairs. Each chair will support 250 pounds of weight.
Pros
Classic vintage style
2 inch umbrella hole
Adjustable feet
Cons
Lightweight may not hold umbrella stable in wind
Metal seats may not be comfortable for long term sitting
No arms on the chairs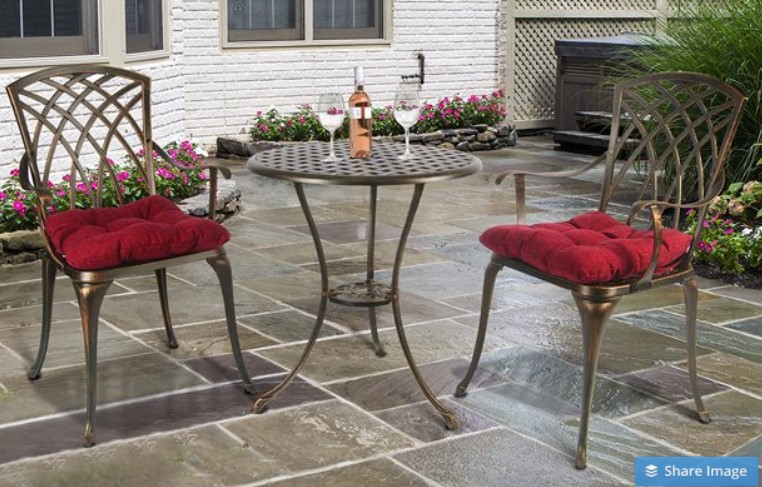 Polar Aurora Cast Aluminum Bistro Set Bronze
The Polar Aurora bistro set will have a cast aluminum frame that will come in three different shades, Black, Bronze (shown in the Image), and Brown. The bronze color will be the only shade that includes the red cushions for the seat.
A squared lattice design will be used on the seats and tabletop. An arched design will give the back support.
The table will have a 24 inch wide top with a 2-inch hole in the middle for an umbrella. The 3 legs will have lower ring support with a matching umbrella hole to help hold the umbrella in place.
The chairs will have four legs and flat top arms for more comfortable sitting. The capacity of each chair is listed at 250 pounds in the information from the vendor.
Pros
Chairs have arms for added comfort
2 inch umbrella hole in table and lower support
Cast aluminum construction
Cons
Table is very light weight may have trouble holding umbrella in windy conditions
The cushions will need a storage solution
Not all sets will come with cushions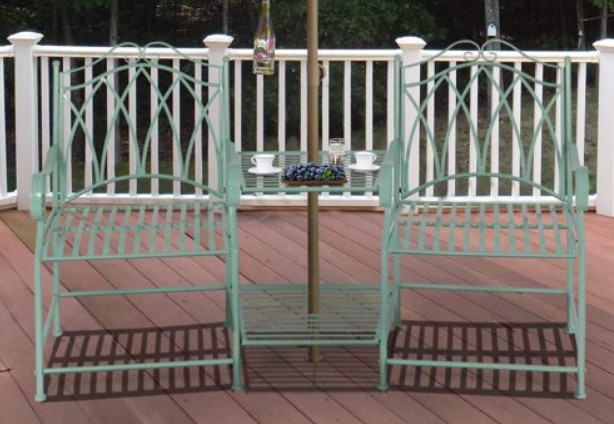 LAZZO 61″ Patio Garden Bench
This is a little different set with the chairs attached to the table in the middle. You will not be able to move this set around like the others. It will be better to sit against a deck railing or wall.
The iron frames will have a mint green painted finish. Each chair will hold up to 220 pounds of weight.
The chairs will have a slatted design for the seats and for each shelf on the table. The backs will have an arched lattice design with a scrolled top finish.
The table will be 4 inches narrower in the front than the back to give this assembly a little arched effect from the top view. A 2.1-inch hole on each shelf will accept a patio umbrella.
This set is a little more specific in its design, not all people will like the fact that it is all one piece.
Pros
2 inch umbrella hole
All one construction
Arched arms for extra comfort
Cons
Only holds 220 pounds for each seat
All one piece, cannot move chair independately
Only comes in mint green color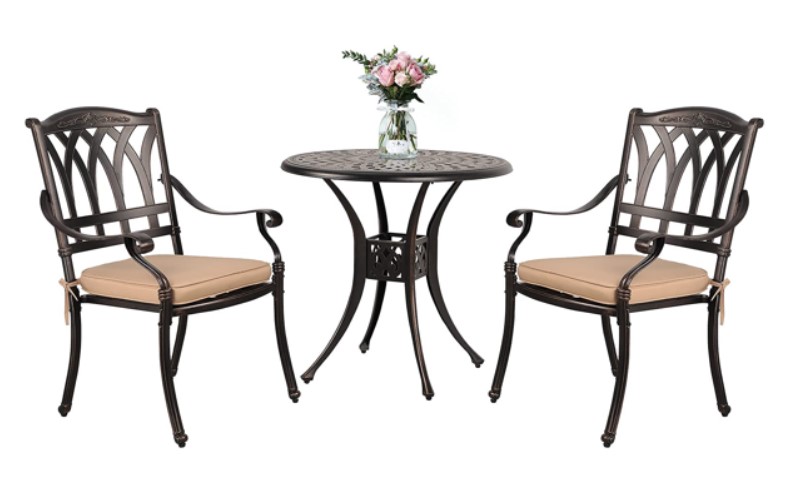 Soleil Jardin Bistro Table Set
This is a premium-looking bistro set with a heavier look, cushions for seats, scrolled arms, and 4 legs on the table for more stability than other bistro tables in this article.
The cast aluminum frames with an antique bronze finish will look great with the beige cushions. The cushions will be made from a polyester fabric with ties to hold them in place.
Each chair will have an arched lattice design for the backs and arched arms for extra sitting comfort. 250 pounds is the weight capacity of each chair. The chairs will stack if needed for storage.
The round top table will have 4 curved legs with a lower support band. The tabletop has a 1.9-inch hole for an umbrella, Some patio umbrellas have a 2-inch pole, please check for size before using. The lower leg support is different than others as it does not offer any support for the umbrella pole.
Pros
Chairs stack for storage
Adjustable feet for uneven surfaces
Cast aluminum frames
Cons
1.9 inch umbrella hold
The cushions will need a storage solution
Leg support does not hold umbrella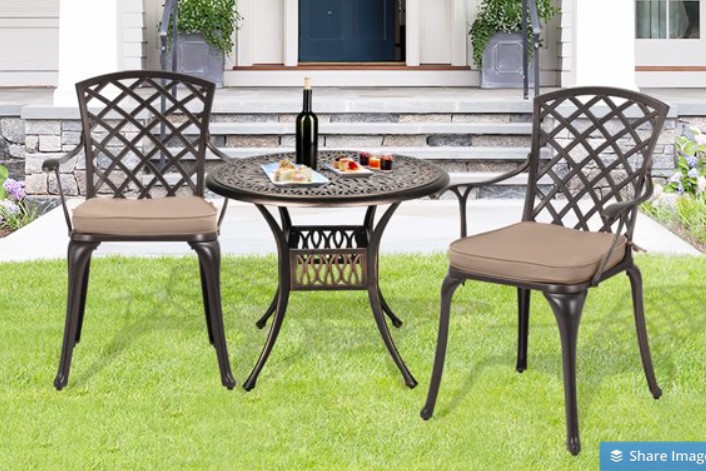 MAGIC UNION Bistro Set
The Magic Union bistro set will have cast aluminum frames with a bronze finish and the option of included cushions. The cushions are available in 2 colors, beige (shown in image) or red. Prices vary with the additional cushions.
The chairs will have a lattice design for the seats and backs. Flat arms will offer extra comfort while sitting. Each chair will support 350 pounds of weight.
The round top table with a 2-inch umbrella hole is larger than most at 35.5 inches across. This will be great if you are serving a small meal, not so good if you have a small space. The curved legs will have boxed lower support that does not provide any support for the patio umbrella.
All legs will have adjustable feet that will help with minor problems in uneven floor surfaces. Cushions will have zippers for cover removal for cleaning.
Pros
2-inch umbrella hole in tabletop
Adjustable feet for uneven surfaces
Arms and cushions for long term sitting comfort
Cons
No lower support for the umbrella
Cushions will need a storage solution
Larger table than other sets
My final thoughts on these Bistro Sets with Umbrella Hole in Table
Although having a patio bistro set with a hole in the table for a market umbrella sounds like a great idea, I think that it is something that most people would not use often.
The smaller tables will not be as stable as the 48 inch or larger tables. A bigger umbrella stand would be in order. Several of these tables don't even have lower support for the umbrella pole to help with stability.
I would just get a bistro set that matches your needs and decor tastes, if it has an umbrella hole in the table that is ok.
If you want a marker umbrella for your bistro set, get one that is no bigger than 6 feet, preferably only 4 feet across. Purchase the biggest umbrella base that will fit between the table legs and make sure to take it down in moderate to high winds to keep it from hurting someone or damaging your patio furniture.
Any questions or comments about this or any other information on my site, leave me a comment with the forms below and I will get back to you shortly.