There are several reasons to get a Bar Height Patio Furniture Set. One is that your knees will not let you get up from some of the lower deep seating sets or you have a high deck railing that is hard to see over on the shorter chairs.
For what ever reason that you select to purchase a high sitting bistro set, this selection from the better Homes and Gardens Hawthorne Park collection will be a great choice if you like the finish of the resin wicker.
The steel frames with a painted woodgrain finish on the table will be complemented by the woven resin wicker finish on the upper parts of the chairs. The seat cushions will give you extra padding for your backside for long term sitting.
Use the chart below for the quick details of this set. The table of contents will follow, you can go directly to a section of your choice if you use the blue links.
For those just looking for a link to purchase your Hawthorne Park high bistro set today, click here.
Material
Steel Frames
Woven resin wicker finish on chairs
Table all steel with wood grain painted finish
Chair size
25.98 inches wide
27.56 inches deep
43.3 inches tall
Seat height is 27.3 inches
Table size
27.56 inches across
35.8 inches tall
Price
$374.97
My rating
8.5 out of 10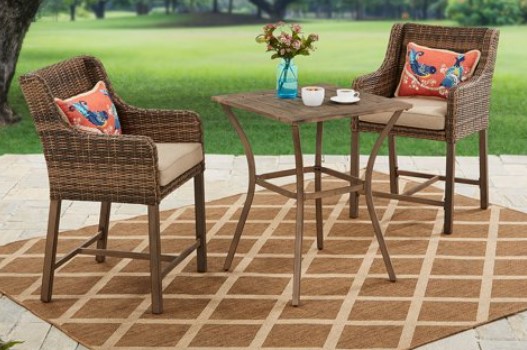 Bar Height Patio Furniture Set


Table of contents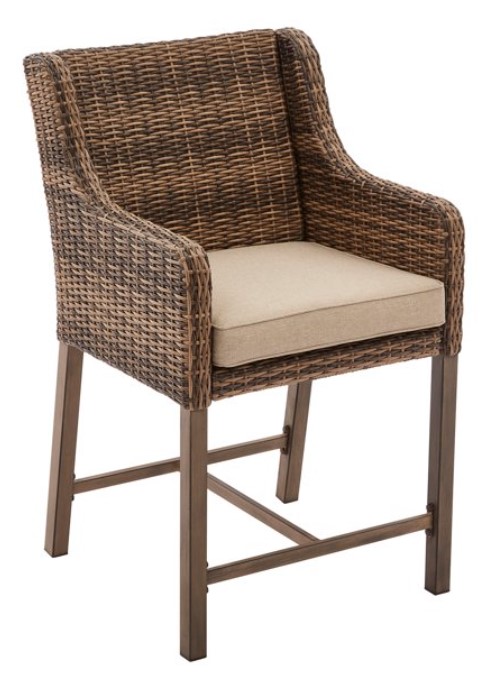 Features and construction
The frames and all of the table is made of steel with either an E-coated or Powder coated finish. The table will have a wood grain look for the legs and top. The steel slatted top of the table will look like wood planks but will last longer with the proper care.
The chairs will have steel legs with a double cross brace for stability. The upper portion of the chair will have a woven resin wicker finish in variable brown colors. A tan cushion will give you long-term sitting comfort, it will need a storage solution to last more than a couple of years in outdoor weather conditions.
Assembly does take some time even for those with some skills. Each piece will have screw-type adjusters on the bottom of each foot. This will help if you are sitting this set on a surface that is not completely level.
Size and special options
This patio bistro set will sit high, some found this helpful if they could not get out of a low sitting chair. Think of people with bad knees or backs, this could help them enjoy sitting outside.
Each chair will be 26 inches wide, 27.5 inches deep, and 43.3 inches tall. The seat will be 27.3 inches from the floor. The lower support bars will give you a place to rest your feet if you are not super tall and can touch the floor.
The legs and support bars are made from square stock steel with a powder-coated finish. The upper portion of the chair will have a woven resin wicker finish.
The square-topped table will have a slatted top that looks like wood planks. It will have a complete steel construction with an E-coated finish that looks like wood grain. The four legs will have a lower support bracket to give it extra stability.
The table will be 27.5 inches across and 35.8 inches tall. It will weigh enough to keep it stable in most windy conditions.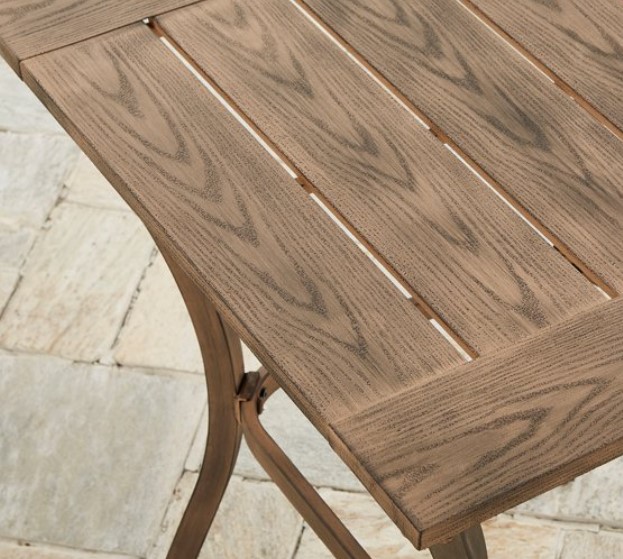 Assembly and care of your patio furniture
The assembly for this set will take some skills to get it together quickly. All tools needed will be included in the hardware pack. Have a level surface for the final tightening of the hardware for the best results.
Each chair will need the seat and back attached to one arm set. Attach the other arm set and then the lower support bar. The cross brace only fits one way correctly, follow instructions closely. After all hardware is attached, sit the chair on its feet for final tightening for best results.
The table with the top upside down. will need the legs attached and then the leg brace. sit up on its legs before the final tightening of the hardware for the best results.
Care of this patio furniture will be dirty surfaces to be wiped down with a damp cloth for most spills. Tough marks will need a mild soap and water mixture. Do not use any harsh chemicals as they will damage the painted surfaces and they will start to discolor or peel.
The cushions will need a storage solution to last more than a few years in outdoor weather conditions. The covers do have zippers so they can be removed for cleaning. For some of my storage solutions, see my information here.
Pros and cons of this bar height patio furniture
Pros
Resin wicker finish

The multi-colored woven resin wicker will give a rich look to the chairs.

High sitting position

Bad knees could prevent some from getting out of the low-sitting deep seating patio furniture sets. Others could have some obstacles that they cannot see over while sitting in low chairs.

Easy assembly

Most found assembly easy if you follow the instructions closely and tighten the hardware when the pieces are sitting on their feet.
Cons
No Motion in the chairs

The straight-leg chairs will give no motion while sitting.

Cushions will need a storage solution

All outdoor cushions should not be left out in extreme weather conditions to last more than a few years outside.

Cushion foam not dense enough

The cushions covers have zippers that will allow replacing the seat foam if needed. some found the cushions not stiff enough.
Similar products to look at
Crosley Palm Harbor 3-Piece Outdoor Wicker Bar Set

This set will also have a wicker finish. No backs to the chairs though

Royce Outdoor 46″ Wicker Barstool, Set of 2

This set of chairs will have a wicker finish, the table is not included.

Palmerton Landing seating for four.

Not a wicker finish, sling fabric for bar and chair seats. 2 low back chairs, and 2 high back chairs.
For the current pricing and availability, use the following link.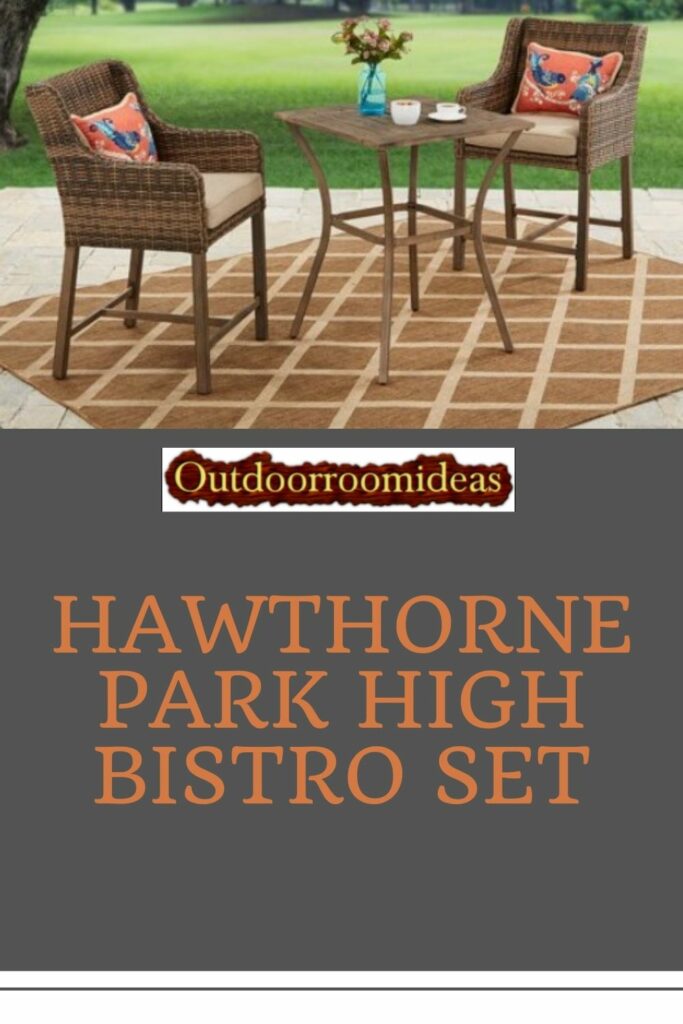 Final thoughts on this patio furniture
For those looking for a Bar Height Patio Furniture Set, this choice from the Hawthorne Park collection will be a great choice. Things to watch for are when opening the package making sure all parts are straight and taking your time when assembling to get the parts in the right place and direction.
I like the looks of the resin wicker finish on the chairs and the wood grain look on the table. For other choices on bar height bistro sets, see my post here.
If you have any questions or comments, use the forms below and I will get back to you shortly.