Outdoor Propane Fire Pit for Tables
For those looking for a little heat for their patio area and who do not want to spend a lot of money, this Outdoor Propane Fire Pit for Tables from the Better Homes and Gardens collection at Walmart will come in at less than  $70.
A small flame that is highlighted with the clear glass rocks will give your guests plenty to look at.  With an 8000 BTU's heat output, you will not melt your guest, you may keep them warm on a cool night.
Now let us look at some of the details of this fire pit so you can make an educated purchase.  For other gas fire pits and some other tabletop examples, see some of my other posts here.
Product: Better Homes & Gardens Round Table Top Fire Pit
Price when this article was written: $64
Where to get the best price online: Walmart.com
What do you get in the box?
In the box, you will get the fire pit, 2 pounds of clear glass rocks, a plastic cover for when the fire pit is not in use, and the nut to hold it tight to the table.  You will need some kind of a table to mount this fire pit on top of, a dining table is chosen the most for patio umbrellas, I like the idea of a side table for this fire pit.  They make them with a hole for an umbrella and they have plenty of room under the top for the tank to hang.  For some examples of side tables that can hold an umbrella, see my post here.
The fire pit will be 10.25 inches across and 7.25 inches tall above the table.  It will weigh a little over 6 pounds without the tank and produce 8000 BTUs of heat on the high setting.  The amount of heat will not keep you toasty on a cold night, this fire pit is more about the ambiance of the flame.  This would work fine for sitting with your favorite person with a glass of wine relaxing and talking about your day.
This is a great addition for when you do not need your umbrella in the cooler months to your patio furniture.  Having a side table that it will mount to will let you use this fire pit with your conversation furniture or bistro set.
Assembly and use of your fire pit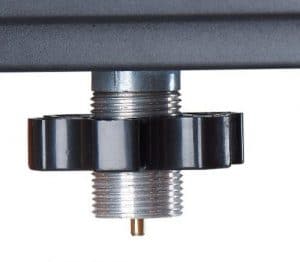 The body of this tabletop fire pit will be already put together.  You will need to add the 2 pounds of fire rocks to the burn bowl, secure your fire pit to a table with the included nut, then aad a 1 pound propane tank.   You must mount to the hole in a table for this fire pit to work properly and to be able to connect your tank by screwing it into the bottom of the fire pit below the tabletop.  Make sure that the table that your fire pit is attached to has enough room to attach and change the propane tank.
To light this propane fire pit, you will need to expose the burner by moving the glass fire rocks, then turn on the gas tank.  Push in the control know and hold while turning it on high.  Add a flame from a long match or long lighter to ignite the flame, hold the control knob for 20 seconds, and then adjust to desired flame height.
Turning off your fire pit will be simple, just turn the control knob off and turn off the propane tank.  Do not cover until cool to touch, it will melt the plastic cover.
A damp rag should be all that is needed to keep your fire pit looking like new.  Make sure that the burner holes are not blocked from time to time to make the best use of this fire pit.  During warmer weather or when not going to be used for a while, you should store your fire pit out of the weather in the home or a storage container.
Pros
Will give off a little heat
Will lock into tabletop
Uses smaller 1 pound propane tank
Cons
Must mount in umbrella hole in a table
Must go under the table to change the gas tank
No electronic fire starter
---
To find current information on this propane fire pit, follow the link below

What are my final thoughts on this fire pit?
When looking for ambiance or a little heat for your patio, an Outdoor Propane Fire Pit for Tables that mounts in the hole for an umbrella will be a great solution without spending a bunch of money.  Easy to light and can be stored without a lot of trouble during the times you need the shade of an umbrella.
Have you used a tabletop fire pit before? Let me know your thoughts or if you have any questions use the forms below and I will get back to you shortly.