Metal Patio Conversation Set
Want a durable Metal Patio Conversation Set, like the finished look of wood, this patio furniture set from the Better Homes & Gardens Belle Haven will give you both.  With a brushed painted finish to look like wood grain, you will get a great-looking patio conversation set with comfortable sitting for five.
The sofa will give you comfortable seating for three, add two straight-leg chairs for a total seating of five for this set.  The modern clean lines will give you a very clean look in your patio furniture.
Now let us look at some of the details of this set and see if it meets your needs.  For other metal conversations set on this site, follow this link.
Product: Better Homes & Gardens Belle Haven Metal Patio Conversation Set
Price when this article was written: $747
Where to get the best price online: Walmart.com
with
What do you get in the boxes?
This set will come in two large boxes, if you do not have it delivered to your home, you will need a big SUV or pickup truck to get it home.  The metal frames will have a dark brown powder-coated finish that will look like woodgrain.  The brush-stroked look finish does look very much like this set is made from wood instead of metal.
The straight lines of this patio conversation set will give you a great modern design and clean look.  Each seating piece will have metal bars for holding up the cushions on the seats and backs, the backs in a smooth verticle design.
The coffee table will have a one-piece tile top that can be replaced if broken or you want to change your decor color.  The table will be 39.5 inches long, 21.5 inches wide, and 19 inches tall.  It will weigh under 35 pounds and will support 125 pounds of weight.  You could have a small child sit on this table without having it break.
Each chair will be 31.5 inches wide, 30 inches deep, and 33.5 inches tall.  Each will weigh under 30 pounds and hold 250 pounds of butt.  Feet on the bottom will give you some adjustability on semi-smooth surfaces.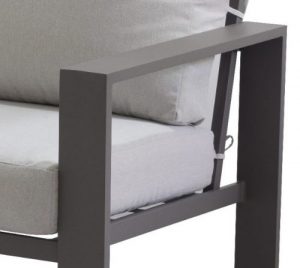 The sofa will be 30 inches deep, 79.25 inches wide, and 33.5 inches tall.  The weight capacity of the sofa is only 500 pounds, three full-sized adults may be too much for this sofa.  It will weigh about 65 pounds, it will need more than one person to move if needed.
The cushions for seating will be made from a polyester fabric material, this is a good material for patio furniture cushions.  They will only last a couple of years if you do not store them out of the weather when not in use.  Fabric ties will hold your cushions in place.
With the wood grain look, neutral-colored cushions for comfort, great clean lines, and tile top table, this patio furniture from the Belle Haven collection will work great for those looking for a modern design.
Assembly and care of your Metal Patio Conversation Set
The assembly of this set will take a modest amount of work, most people with some skills will be using their furniture in less than an hour.  All tools needed will be included in the hardware pack.
The table will need the two-leg assemblies attached to the top frame at each corner.  After sitting on the feet, you can add the one-piece tile top.
Each of the seating pieces will need the arm sections attached to the seat, back pieces.  The sofa has extra supports in the middle that will have to be added.  Add cushions and you are ready for a rest.
If you are in need of instructions for this set, use this link.
Belle Haven instructions for table and sofa
To take care of your patio furniture, you will only need mild soap and water mixture for the frames and tile top.  Do not use any harsh chemicals as they will damage the painted surfaces.
Cushions should be stored when not in use to last more than a couple of seasons.  For some of my storage solutions see my post here.

Pros
Powder-coated woodgrain finish on the metal parts
Ties to keep cushions in place during windy conditions
The table has adjustable feet
Cons
The tile top is one piece, may need to be specially ordered to fit
Cushions and pillows will need a storage solution
Woodgrain finish may be hard to fix if scratched
---
Follow the link below for the current details on this patio conversation set
Who is this conversation set for
If you are in the market for a Metal Patio Conversation Set and like the modern look, this set from the Belle Haven collection will work well.  The squared clean lines and woodgrain look will give your guest plenty to talk about.  The tile top table will look great also.
I like this set because of the simple look and extra seating on the sofa.  Two big things to watch out for are storing the cushions when not in use and keeping the tile top in one piece.  These things will give you a headache when trying to replace them.
If you have any questions or comments, leave me a note with the forms below and I will get back to you shortly.