Pergola with Fabric Shade Covers
When looking for a shade solutions for your patio area, look at this Pergola with Fabric Shade Covers from the Better Homes and Gardens collection.  The Emerald Coast Pergola will have a fabric cover that is adjustable for your shade preferences.  The 10 foot by 12 foot coverage area will give you plenty of room for your seating or dining furniture for you and your guest.
This pergola with fabric top will give you shade with a cover that will have to be removed during high winds or extreme weather.  One customer stated that she can remove the cover by herself, this will extend the life of your fabric if you follow the recommendations.
Now lets look at some of the details of this pergola and see if it works for you and your patio area.
Product: Better Homes and Gardens Emerald Coast Pergola
Price when article was written: $345 Free freight shipping
What do you get in the box
First lets talk about the box, it is quite large and heavy.  If you are able to, have it delivered to your driveway for free, it will weigh close to 200 pounds and be 89.25 inches long, 22 inches wide and 11.75 inches thick.  This would take several people and pickup or a trailer to get home.  Having it on your driveway when you get home is a much better option.
When you open the box you will get a pergola with a steel frame with a brown powder coated finish.  The frame will have four legs with feet with provisions to secure to a ground surface with stakes.  It is not recommended to secure to a deck or concrete surface with screws, this will void any warranty.
The outside of this pergola will be 10 foot by 12 foot.  The measurements inside the feet are 131 inches long, 107 inches wide and 90 inches tall.  This will be the measurement for your patio furniture area.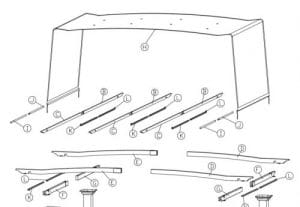 The polyester fabric canopy top will hang down on the 10 foot sides, it can be lowered to 21 inches from the ground on one side for extra sun protection, this will leave less protection on the other side.  Pooling on water on top of the canopy can occur if adjustment lets it sag too much.  Making sure water does not stand on the canopy top will keep you from getting water stains and tares from the weight, there are some drainage holes, sometimes they are just not in the right place.
Top will have ribs for the canopy to sit on and slide for adjustment.  Poles on each end of the canopy will secure to the post to keep the canopy in place.  Canopy should be removed when not using your pergola for shade for a while or when extreme weather conditions hit your area.
To remove the canopy, you will have to undue your ties, remove the tie down poles from each end and pull the canopy off.  Putting it back on will take a little more effort as you have to pass it through its channel on the top, you may need a ladder and extra hands.
This Pergola with Fabric Shade Covers will look great and work well for those who have a sunny area for their patio area.  The shade is adjustable and can be removed if not needed or for protection.  At this time contact customer service for canopy replacement availability at Customer Service at 1-800-457-4652 and provide the item number to your gazebo in order to check parts availability.
Do not use a grill or any fire producing piece under this pergola, you may cause a fire on the fabric canopy. If you are need of a cover for your grill or fire pit, see my metal topped pergola details in a post here.
Assembly and care of your patio pergola
Having the box in the location for assembly will be a great help, it is recommended to have at least four people when putting this pergola together, have plenty of cool beverages for your assembly crew to keep them happy as it will take at least an hour and a half to put this pergola together.  All tools needed for assembly are included in the hardware kit.
The legs will need to be attached to the top assembly and then secured to the ground, a nice boot will cover the ground attachment.  attaching to the ground with the 16 included stakes will secure your pergola to most light to moderate winds.  Adding canopy will take all four people and a short ladder for each person.
Care of the fabric canopy will be to make sure water does not pool on the top after a rain, this will be different for each application.  If high winds or extreme weather is coming, you should remove the canopy for its protection.  I would store it during the winter months or if you are not going to use your pergola area for a while to prolong its outdoor life.
Frame can be cleaned with any mild soap and water mixture, do not use harsh chemicals as they will damage the powder coated finish over time.  It is not recommended to secure this pergola to any solid surface like a deck or concrete patio.
Pros
Shade can be adjusted to protect from the moving sun
Can be secured to the ground
Big enough for plenty of patio furniture
At this time replacement canopy is available
Cons
Can take a little work to assemble
Needs some work when extreme weather is expected
Fabric canopy should be stored when not needed for a long time for extra life
Too heavy to move to multiple locations in your outdoor area
Should not use a grill or other fire producing elements under the fabric top
---
For more information on getting this pergola to your driveway today, follow this link
My thoughts on this pergola
For those seeking a Pergola with Fabric Shade Covers, the Better Homes and Gardens Emerald Coast 10 by 12 foot pergola will work well. A conversation set or a medium sized dining set will fit under this pergola with ease.  You will not feel crowded or the need to have some sit outside the shaded area.
With any patio furniture or equipment, you must protect your investment with the proper storage of the fabric materials.  At less than $350 with free shipping you can solve your patio shade needs in an afternoon of assembly.
These pergolas are movable, just very heavy and hard to move.  The poles come with hidden anchor system that you can secure your pergola to a ground surface.
Any questions or comments on this or any other post on my site, please use the forms below and I will get back to you shortly.