Metal Outdoor Furniture Patio Set
When looking for a Metal Outdoor Furniture Patio Set that does not cost a lot, this set from the Carson Creek collection with red cushions will cost less than $300 with free 2 day shipping.  The dark brown metal frames will give you good support for your sitting and table items.  The brick red cushions will give you a bright color decor.
This conversation set will give you seating for four with a regular sized coffee table with a tempered glass top.  This is a standard set for most conversation sets, two straight legged chairs and a love seat with seating for two.
Now lets look at the finer details of this set and see if it fits your outdoor patio furniture needs. If you want to look at other metal conversation sets, see some of my ideas here.
Price when article was written: $299 with free two day shipping
What do you get in the box
You will get one box that is about 100 pounds with the measurements of 54.5 inches long, 32.25 inches wide and 33 inches tall.  Some customers got this box in the back seat of their car, why not just have it delivered to your front door for no extra cost.  The box will contain the two chairs, a love seat and a coffee table.
The frames will be steel with a dark brown powder coated finish.  Table top will be tempered glass and cushions will be a brick red color.  Seating pieces will have straight legs and no motion, arms will have a stylish curve to the end where the hand sits.
Each chair will be 27 inches wide, 29.5 inches deep and 29 inches tall.  Love seat will be 54.5 inches wide with the same other measurements.  Each seating position will support 250 pounds of butt.  Cushions will be supported by vinyl straps that can sag over time if too much weight is put on them.
The red cushions will be one piece for each sitting position.  They can be reversed to get double the wear out of them.  Velcro straps will hold them in place.  The cushions will have a polyester fibre material for fill and polyester fabric for covers.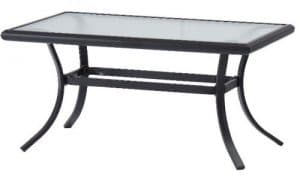 Coffee table is a little shorter in length that standard at 38 inches long, 20 inches wide and 18 inches tall.  The four curved legs will give you a flowing design that matches the curved arms.  A band will connect the legs at the innermost part of the curved legs for additional stability of the table.  The top will have a support a frame around the tempered glass top, this does not provide a shelf for storage under the table top.
This is a great patio conversation set for a low price.  For those who are looking at a metal patio furniture set with cushions, this will work well if the red cushions will work for your decor.  For some of my other conversation set solutions for under $300, look at this link.
Several other pieces and a bistro set are available in the Carson Creek collection of patio furniture.  If red is your color of choice, this collection will give you many matching pieces for your outdoor patio furniture, with a bistro set, swing with canopy, lounger and rockers available.
Assembly and care of your patio conversation set
Assembly will take a little over one hour for those with some assembly skills.  You can put this set together by yourself if needed, no big pieces to hold while starting hardware.  All tools needed should be in the hardware kit.
Chairs and love seat will need the arms attached to the seat and back pieces.  Make sure that you sit on a level flat surface for final tightening of the hardware for best results.   Add cushions and you are ready for hours of comfortable sitting.
Table will require the table top to be laid upside down to attach the legs, I use the box to lay mine on to make sure it does not get any scratches.  Attach the four legs, then the lower support ring.  Make sure you sit on a level surface before the final tightening of all of your screws, this will give you a level table in the end.
Care of your patio furniture should be with a clean cloth and a mild soap in water mixture.  Do not clean the table top with glass cleaner, as this may damage the powder coated painted surfaces.  Some customers have complained about peeling and discolored surfaces, this is caused by the cleaning materials.
Cushions should be stored when not in use to prolong their outdoor life, see some of my storage solutions here. If your cushions do become damaged due to animals or weather, contact the vendor or look at some of my replacement cushions at a post here.
Pros
Less than $300 to your front door
Easy assembly
Velcro straps to hold cushions in place
Cons
Cushions will need storage to last for more than a couple of seasons
Vinyl straps for cushions can sag over time
No motion for seating pieces
---
For your conversation set with red cushions, use the following link

My final thoughts on this patio furniture
If your outdoor decor could use some bold brick red cushions, this Metal Outdoor Furniture Patio Set from the Mainstays Carson Creek collection will work well for a great price.  With two chairs, a love seat and standard sized coffee table, this set will will give you comfortable seating for four and a place to put your adult beverage when needed.
The shortcomings of this set are the cushions will need storage when not in use, direct replacements may not be available.   The frames will outlast the cushions if you do not store them.
Any questions or comments on this patio furniture set, use the forms below and I will get back to you shortly.