Outdoor Propane Fire Bowls
When looking at a smaller propane fire pit for your patio area, take a look at one of the Coral Coast Cypress Outdoor Propane Fire Bowls.  With a 10 foot gas hose you can hide your propane tank from view and just have the round fire bowl in view.  If you choose to add the available tank table you can hide your tank in plain site and have a small side table for snacks or drinks.
The steel cover will convert this fire pit to a small side table when a fire is not needed, you can keep this fire pit out all year round with out it looking out of place.
Now lets look at some of the details of this fire bowl and see if it will enhance your patio area with heat this fall when the weather turns cooler.
Coral Coast Cypress Gas Fire Pit
Price when article was written: $162.22
What do you get in the box
You will get a bronze finished steel round bowl fire pit with lava rocks for the burn bowl.  A open design for the sides will allow you to warm an area all around the fire pit and you will have the ability to see the flames from any location that you can see the fire pit from.
A round burner will give you enough flames to give you 50,000 BTU's of heat on high setting.  A control knob and igniter button on the bottom of the fire pit will allow adjustment of the flame and easy starting.
Fire bowl will be 26 inches across and 19 inches tall.  It can be used on wooden or composite deck with care, because the flame is on the top and no heat is displaced to the bottom.  You must still maintain the proper distance away from all flammable materials for safety.  The fire pit will weigh about 25 pounds without the tank and be easy to move when needed.
A steel lid for the fire pit is included.  When you do not have a fire, you can put the lid on and use the fire pit as a small side table.  A poly cover is included to keep your fire pit out of as much weather as you can.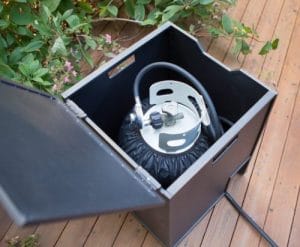 A electronic igniter will give you a fire in seconds after you have your gas supply attached.  This fire pit comes with a 10 foot hose to attach to a 20 pound propane tank (not included in purchase).  A stand for the propane tank is included and will keep your tank off of the ground.  Getting a remote tank hideaway table will be a great option for those without some other way to hide the tank.
This gas fire pit is a great option for those who want a clean look and are willing to find a solution to hide the tank when getting the propane tank option.  This option will allow you to move your fire pit to different locations, as it will only weight about 60 pounds without the tank.
The hideaway table solution shown here is available to purchase separately, several models and styles are available.  I will look into them in a future article.
Assembly and care of your patio fire pit
For the most part your fire pit will come assembled.  You will have to add the lava rocks to the burn bowl, battery to the igniter and hook up your gas supply.  A stand is supplied if you do not opt for the Propane tank table, you will just need to attach the 10 foot hose to the tank and you will be ready for your first fire.
Keeping your fire pit covered when not in use with the included cover will prolong its life outside, some customers complained about the paint fading on the bowl after a couple of years.  The included cover is made from a poly material and will last only about 2-3 years out in the weather, getting a replacement when yours gets bad will be the best option.
Checking the burner for clogged holes at the start of each season will make enjoying your fire pit a much better experience.  This will make for a much more even flame around the burner and avoid hot spots.
Pros
No assembly of the fire pit
Tank hideaway table available for extra cost
Can be used on wooden or composite decks
Cons
Gas hose may be a trip hazard
Must find a way to hide propane tank
Keep covered when not in use to protect finish
---
For more information on the accessories or just to purchase, use the following link
My final thoughts on this gas fire pit
Finding the right choice of Outdoor Propane Fire Bowls for your patio area may take a little research.  Each person will have different needs or wants.  This version of propane powered fire pit, the Coral Coast Cypress fire pit will have a lot of great features and looks.  I think that the heat output will warm up most outdoor areas with very little work.
No getting firewood, moving firewood, dealing with smoke, cleaning up the mess when you are done, this fire pit can also be used on most wooden or composite decks without any other protection from heat damage.
This is a great choice for those looking for good looks, great amount of heat and very little work for your fire.  The biggest drawback that I see is that you will have to purchase a propane tank storage cabinet to keep it out of view unless you have a bunch of bushes next to your burn area.
As always if you have any questions or experience with this product, leave me a not with the forms below and I will get back to you shortly.