Cosco Lakewood Ranch Conversation Set
​Looking for a great wicker conversation set for a budget price, look at the blue version of the Cosco Lakewood Ranch conversation set.  This set will come in two colors for your outdoor decor Blue and Tan cushions.  We Will look at both in this article.
Having wicker patio furniture will give you a set that will need little care, just store the cushions when not needed and the frames and wicke will just need a rinse and wipe to get rid of most stains.
Now lets look at the details and see if the Cosco Lakewood Ranch conversation set will work for your outdoor decor.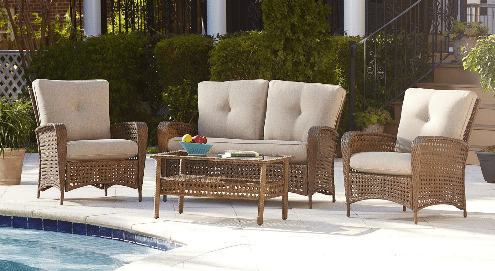 Price when article was written: Not in stock at this time

What do you get in the box
​You will get two chairs, a love seat and coffee table with this set.  Powder coated steel frames will be covered with a woven resin wicker material.  Thick 4 inch cushions with buttons in the middle of the backs will give you plenty of style and comfort.  If you have a space that is bigger than 8 foot by 8 foot, this set will fit nicely.
Seating will give you four places to sit.  Cushions fit tightly in place and can be easily removed for storage or cleaning.  250 pounds is the recommended capacity for each sitting position.The resin wicker skirting will go almost all the way to the floor.
Chairs will be 32 inches wide, 31 inches deep and 34.25 inches high.  They will weigh only 18 pounds without cushions.  Back cushion is 24 inches wide, 22 inches wide and 4 inches thick.  Seat cushion is 24 inches square with a button in the middle.
Love seat is 55 inches wide with the same other dimensions as the chairs.​  The love seat is 27 pounds without  cushions.  The back cushions are the same as chairs, seat cushion is one piece that is 47 inches wide and 24 inches deep.
​Table will have a tempered glass top that is removable, if it gets broken you can replace it.  It does not have square corners, a glass shop will have to custom cut you a new one.  A woven resin wicker shelf will support the legs and give you someplace to store your reading material.
The table will be 40 inches long, 21 inches wide and 19 inches tall.  It is a standard size for most outdoor coffee tables.  It will weigh 25 pounds with the glass top inserted.  It is recommended not to put over 100 pounds on the table, have to keep kiddos from sitting on it to prevent the top from breaking.
Assembly of your conversation set
​This set will come in two boxes.  Assembly will take a little time and all tools are included in the hardware pack.  Two people will make assembly of the chairs and love seat a little less of a pain.  Trying to hold things in place while starting the screws can be a pain.  Do not tighten hardware until all are started in the piece that you are putting together.
Table will require the legs to be attached to the top.  Then the support shelf ties the legs together.  When all hardware is started, set on legs and tighten, this will insure it will sit flat when done.  Insert glass top and you are ready.
Sitting pieces will require the back to be connected to the seat.  Then the arms need to be attached to the seat/back assembly, this is the time when extra hands will be most useful.  When all screws are started, you can tighten them.  Apply cushions and you are ready to sit.
Approximate assembly time depends on your skills.  It should take an average person about an hour with a helping hand when needed.  A cool refreshing adult beverage should get someone to help when needed.
Care of your patio furniture
​A simple mild soap and water will be all that is needed to keep your patio conversation set looking like new.  Do not use any chemicals to clean this set, even glass cleaner will damage the painted surfaces.
May want to check the screws for tightness once a season to keep your set stable.
Cushions should be stored when not in use to prolong their life.  I do have some storage solutions in a post here.  If you need replacement parts, please contact our Consumer Relations team at 1-800-628-8321, depending on availability you can get replacement cushions and glass table top.
If you do not store your cushions, get a cover for your set for storage when not in use.  See some of my patio furniture cover solutions here.
Pros
​Glass can be replaced if broken
Come replacement cushions are available from manufacturer
Resin wicker will last a long time in outdoor conditions
Cons
​Cushions should be stored when not in use
May need extra hands during assembly
Cushions are not held in place with any straps

My final thoughts on this conversation set
If you are looking for an upscale patio conversation set for a great price, the Cosco Lakewood Ranch conversation set will work great.  Available in two colors to match most outdoor decors, the Resin wicker design will give you years of service.
Need sitting for four next to the pool or just want a quite place to relax in your indoor or outdoor space, this set will work well with the Blue cushioned set under $400.
Till looking for something else in conversation sets, see my information on what is available for the spring of 2019 here.
​Have a question or more information is needed, send me a note with the forms below and I will reply shortly.